As you may know, Creative Suite 6 was announced on Monday with a big launch event webcast worldwide… So we've learned about what's new and different, and now we're waiting patiently for the actual release date. But there is some official news today that will affect the buying patterns of many customers.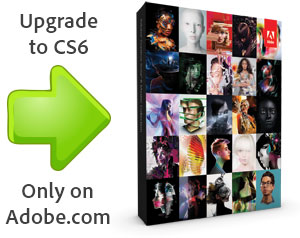 Starting with Creative Suite 6, all individual upgrades — both for CS suite editions and point products like Photoshop CS6 and Illustrator CS6 — are available for purchase only through the Adobe website.*
Normally after a new release comes out, you can find the many upgrade packages at other sites or vendors. But effective with CS6 in many major geographies, Adobe will no longer offer upgrades through resellers, retailers, or other third parties* – including Amazon…
So now in the USA, Canada, Mexico, Australia and New Zealand, the only place you can buy a CS6 upgrade from any earlier version of Adobe software is directly at Adobe's online Store. The rest of the world (including Europe) will continue as before.
* Upgrades for volume licensing customers are still available on Adobe.com or through channel partners.
This should be better in some ways because upgrades have always been a confusing part of the process – there are a lot of different combinations and paths from different products, and it was hard for other vendors to present them well and make sure customers bought the right thing, were qualified with the correct prior version, etc. There will also now be zero risk of software piracy for buyers of upgrades going forward.
So now a lot of that experience should be improved, and hopefully we'll have fewer comments here from bewildered visitors wondering why the Photoshop they bought for $199 from Best Buy doesn't work on their computers (…because it was an upgrade version and they didn't own a prior release) – or the one they got from eBay doesn't work at all and put malware on their system. It also means that customers will always have the choice to download and run their upgrades instantly if they want, or order the box.
Keep in mind too Adobe's other recent Upgrade Policy change which sets a year-end deadline for folks still on CS3 or CS4 versions to receive discounted upgrade pricing to CS6.
Will this affect you at all? See the price of a CS6 upgrade direct from Adobe, for your product in your region… although until May 6th, you should probably be upgrading to CS5.5 instead because it usually comes out less and you will receive a free further upgrade to CS6 when it ships.
For more information and details on Creative Suite 6 worldwide pricing, upgrades, availability, and system requirements, see our companion CS6 Launch Guide. Or read more about how CS6 is different from previous versions like CS5.5, including a detailed product-by-product breakout of what's new in every application.
Or get started using Creative Suite 6 right away by downloading the free trial and then taking advantage of 30 hours of free new video tutorials or over 1,000 pages of free downloadable e-books to learn it.
Do you have any questions about CS6? Just ask them below and we'll get you answers fast!
Keep up with the latest on Adobe software — follow us on Facebook or Twitter, or subscribe to our RSS feed… You can also enter your email and have new articles sent directly to your Inbox. We are reader-supported; when you buy through links on our site, we may earn an affiliate commission.