[UPDATE (April 23rd) – Creative Suite 6 is unveiled! Learn when it will ship.]
The wait is over, the date is set! After months of hints and "sneak peeks", Adobe has just confirmed they will be officially launching Creative Suite 6 on Monday, April 23rd, 2012…
This lines up well with our earlier forecast for the announce date – and we continue to expect the shipping date to come in early May, as suggested by the current CS6 Grace Period Offer.
The Creative Suite 6 Launch Event will be webcast worldwide on Monday at 10am PT / 1pm ET and 5pm GMT – and naturally it will be recorded so you can watch the video on demand thereafter.
Naturally there are a lot of details left to unfold but here are some of the earliest… Be sure to tune in here: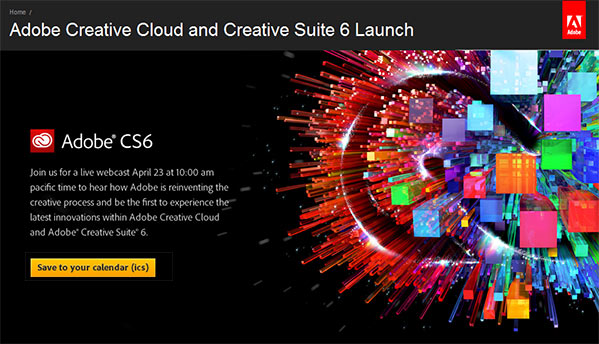 And the invitation itself:
Join us for a live webcast April 23 at 10am Pacific Time (see the hour in your timezone) to hear how Adobe is reinventing the creative process and be the first to experience the latest innovations within Adobe Creative Cloud and Adobe Creative Suite 6.
Importantly, this means time is running out to take advantage of the money-saving grace period for a free CS6 upgrade when you buy CS5.5 now – because as soon as CS6 is released, Adobe will stop selling Creative Suite 5… and it's very likely to be less expensive to upgrade to CS5.5 now (with CS6 gratis) than up to CS6 later.
It's also the last chance for anybody still running CS2 to upgrade, due to Adobe's "three versions back" limit! For owners of CS3 and CS4, the recent upgrade policy changes mean that you have only until the end of 2012 to receive discounted upgrade pricing to CS6, and after that it will be full price to anybody not on CS5.
For some punch, the launch trailer:
Can't wait till next week? No problem – you can download the Photoshop CS6 beta release now, or enter to win Photoshop for free…
Also check out these resources:
— Adobe: CS6 on Track for "Late in Q2" with Very Compelling New Features
— Sneak Previews of CS6: Dreamweaver, InDesign, Flash Pro, Illustrator & Premiere
— Revealed! What's New in CS6 for Premiere Pro, After Effects, and Audition
— First Look: The Adobe CS6 Production Premium Suite
— What's the Difference Between Photoshop CS6 vs. CS5 – What's New in Features?
We'll have a lot more coverage of the Creative Suite 6 rollout right here as we progress to the launch date, and beyond…
To follow this story going forward, subscribe to our RSS feed or like us on Facebook or Twitter… You can also enter your email and have new articles sent directly to your Inbox. We are reader-supported; when you buy through links on our site, we may earn an affiliate commission.