[UPDATE – See all of Adobe's current deals & discounts!]
Adobe is continuing its special "Deal of the Day" program and the next big deal is a huge 50% off their bestselling consumer product, Photoshop/Premiere Elements 10 with coupon code – just in time to use your 2011 tax refund and save today…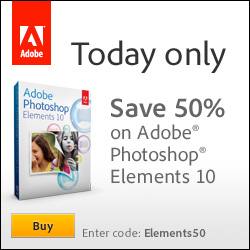 This means – for one day only – for either product Photoshop Elements 10 or Premiere Elements 10 you can pay just $50 instead of $99… and for the complete bundle containing both Elements products you can pay just $25 more: $75 instead of $149!
[ See: What's new in PSE 10? Check the reviews. ]
This isn't an upgrade – it's the full retail version, available for instant download on either Windows or Mac OS, in any available language (the boxed ship­ment is not offered at this low price).
But note, to take advantage of this deep discount you must activate the deal with this promotion code linked: ELEMENTS50.
The 50% off is available in North America – but in Europe and the UK, the offer is still nice: Save up to 30% on the Elements family of products, with free delivery included.
This incredible special doesn't apply to the Education editions or for upgrades from older versions, there's no additional break for those – but this price is lower than the upgrade price anyway so you still come out ahead…
The new release will work side-by-side with any previous version(s) of Elements you may own. If do you have an older product installed, you can automatically import and convert your work.*
This "One Day Deal" is available for purchases made directly from Adobe by retail customers on Monday, February 16th, 2012 only, before 11:59pm PDT. The discount will be reflected in the shopping cart just prior to checkout when coupon code is activated. Pricing is available only through the Adobe Store, one discount per customer. Education, OEM, and volume licensing customers are not eligible.
So if you've been thinking about making the jump to the #1 selling consumer photo- and video-editing software† , here is a terrific entry! If you prefer to try before you buy, you can immediately download the fully-functional free trial, and then just convert it before midnight to secure the lower price.
[ Compare the differences between Photoshop CS vs. Elements vs. Lightroom. ]
Bottom line, this savings will not be available anywhere else and is the lowest price ever offered for Photoshop and Premiere Elements, and that probably ever will be… Don't miss out on this great oppor­tunity before it expires.
Check out our great free resources for Elements:
Waiting for CS6? See:
— CS6 Grace Period! Buy CS5.5 Now + Get Free Upgrade to CS6 When It Ships
— Adobe: CS6 on Track for "Late in Q2" with Very Compelling New Features
— Sneak Previews of CS6: Dreamweaver, InDesign, Flash Pro, Illustrator & Premiere
— Win New Photoshop CS6 + Lightroom 4 FREE! ($1000 Giveaway)
— What's the Difference Between Photoshop CS6 vs. CS5 – What's New in Features?
To hear of future major Adobe promotions, follow us on Facebook or Twitter, or subscribe to our RSS feed… You can also enter your email and have new articles sent directly to your Inbox. We are reader-supported; when you buy through links on our site, we may earn an affiliate commission.
*
Elements 10 will not overwrite earlier versions. If you install PSE 10 or PRE 10 on a computer with older software, both versions will be on your system until you remove one. You can upgrade a copy of your catalog to move everything over the first time you launch Elements 10. If that doesn't happen automat­ically, you can force it to happen via
File > Catalog > Convert
.
† Source: The NPD Group/Retail Tracking Service (January 2007 to March 2011) based on units sold in the Video and Photo Editing categories.