[UPDATE (May 7th) – Here it is, Creative Suite 6 is out!]
On a publicly-available conference call this week, Adobe's CEO shared some new details on the timing and features of an upcoming CS6 release… It was the most information given to date on the question, and it confirms the expectations from our recent forecast.
Adobe CEO Shantanu Narayen

In our Digital Media business, recent research shows our customers are excited about our upcoming launch of Creative Suite and the Creative Cloud. Among creative professional customers and students, we found that over 40% of those surveyed are waiting for the new release to upgrade.

Our upcoming Creative Suite release will include major updates to all of the core CS products, including Photoshop, Premiere Pro, After Effects, InDesign, Illustrator and Dreamweaver. We have created significant anticipation for the release through a series of "sneak peeks" of great new features. One sneak video featured a break­through Photoshop innovation called Content-Aware Move, which has driven more than a million online views.

The upcoming CS release will also advance our HTML5 and mobile content creation and app development offerings, where we see strong interest to help our customers deal with the complexity they face. All of this is on track for delivery late in Q2.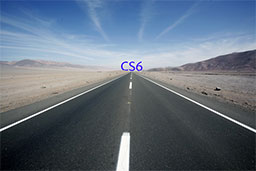 Q2 means the second quarter – which for Adobe's Fiscal Year will run through the end of May… So Narayen can be interpreted here to mean: expect CS6 to ship sometime in May 2012. This concurs what we've seen posted elsewhere, as well as the new grace period for free CS6 upgrades that the company just announced.
But in recent years, both CS5 and CS5.5 came out during the month of April – so wouldn't this be a bit later than in the past?
And, how about the launches of CS6 outside of the U.S. – in languages besides English – don't those usually come later still?
Answer:
I would say it's probably a little bit later than you would have seen in prior releases. As we move to the annual cycle, we want to make sure that we get both the desktop products as well as the Creative Cloud offering available at the same time. So I would say it's a little later in the quarter than in prior cycles.

As it relates to international releases, we are moving increasingly to a simultaneous release in the major geographies, which, in addition to the U.S., tend to be the U.K., Germany and Japan and France. So expect to see that.
What about new features in CS6, any color there?
Let me talk a little bit about what is coming in the next version, so to set the stage for what we are going to do as it relates to pricing and what we are hearing from customers.

The first thing is, clearly with imaging and Photoshop, it's not been updated for close to two years. And that's our longest gap in a Photoshop release and with significantly more features. So imaging continues to be very high among what people are looking for with the next release, and folks are really excited about what's coming.

But the second one is HTML5. On the HTML5 side, the innovation with brand new products like Edge and Muse, as well as mobile application development. PhoneGap is being downloaded, for example, at almost 1 million a year run rate, and we had the most number of unique visitors there. So as people are creating applications across multiple app stores, that's continuing to gain traction. So we now have support for that, both as new services that we'll introduce, as well as in Dreamweaver and our other applications.

On the Publishing side, we've continued to make InDesign a must-have to go with the Digital Publishing Suite so that enterprises can deal with multiple screens. As of Q1, approximately 600 publishers have delivered more than 1,500 applications for devices like the iPad, generating 16 million downloads of their apps. We expect this growth to continue, particularly with the Single Edition of Digital Publishing and the upcoming release of InDesign with its innovative Liquid Layout capabilities.

Video. In high-end video, we're now the leader. And clearly, in the next release, there's significant new innovation that's happening in the video market.

And on Flash-HTML compatibility, we have millions of Flash developers who will be able to continue to innovate using Flash and easily convert to HTML5 using CreateJS capabilities. We've demonstrated that as well.

So the millions of Flash developers who are out there, they can now, with a single button with the next version, not only output Flash, but they can also output HTML that will work within browsers. And so it actually enhances their productivity. And so while we continue to see the new version of Angry Birds taking advantage of Flash with Stage3D, suddenly the same tool opens up new vistas for all of these Flash developers to develop animated or interactive content for HTML5.

Clearly, what customers are telling us is they are excited about Creative Suite 6. And I think we have a fair amount of new innovation to attract developers and designers to upgrade when the next release comes out.
No official word yet on whether a Photoshop Image Deblurring feature will be part of CS6.
Regarding the additional availability of the Creative Cloud, do you expect people to move to that?
Frankly, most of the customers have been telling us, "Can we have a little bit more time to evaluate all of the offerings?" So I think new users will be the primary usage of subscription, that's what we've seen in all of the pilots that we're running. Piracy will be one of the issues that we hope to address with the cloud offering, better pricing for people to adopt the platform.

But like we said, we think adoption will be at a slower pace on the subscription offering. I think customers who've been relatively current with our products will probably continue with the perpetual [permanent] licenses.
And in fact, our own independent polling shows that 85% of Adobe users prefer the traditional model of permanently owning their tools rather than rentals/subscriptions.
What else are your customer surveys showing?
This recent survey was designed to really understand interest in CS6 and resonance of the value proposition with customers across designers and developers, and how much they knew about the product. So what was surprising was, first, the knowledge of CS6 was higher than what we've seen at similar cycles in the past. And that's clearly as a result of us doing more sneak peeks, which gave us confidence. And the second one was the actual number of people who said that they would upgrade was quite a bit higher than previous.

In this particular survey, we didn't survey for pricing – this was just about interest level, understanding of the message and value proposition.
If you buy CS5.5 near the time when CS6 is launched, will there be a "grace period" for free upgrades (as there has been in the past)?
The answer: quite possibly…
This is the quarter where we start building up some free-of-charge upgrade deferral for CS6 and for Lightroom 4.
[UPDATE (March 26th) – CS6 Grace Period Savings: Buy CS5.5 Now + Get CS6 Free!]
Any additional comments?
We feel confident that everything that we've shown customers, the long lead press, our advanced customers, the excitement and the value associated with Creative Suite, the next version, is going to be evident as soon as it ships. So we're confident. As I said again, imaging hasn't been updated for a long time. And the new features are very compelling.
Here's a demo of the new HTML5 exporting feature that the Adobe Flash Professional team has been working on for CS6… The CreateJS extension will allow designers to continue to leverage many commonly used animation and drawing tools of Flash Pro and convert that content to nicely formatted, readable and editable JavaScript code:
Listen to the entire conference call here, or read the transcript for more details.
See Also
— CS6 Grace Period! Buy CS5.5 Now + Get Free Upgrade to CS6 When It Ships
— Sneak Previews of CS6: Dreamweaver, InDesign, Flash Pro, Illustrator & Premiere
— Revealed! What's New in CS6 for Premiere Pro, After Effects, and Audition
— Win New Photoshop CS6 + Lightroom 4 FREE! ($1000 Giveaway)
— What's the Difference Between Photoshop CS6 vs. CS5 – What's New in Features?
Give your input before it ships – what would
you
like to see in CS6? Please share your thoughts below or at Adobe's
official feature request "wishlist"
…
To follow this story going forward, subscribe to our RSS feed or like us on Facebook or Twitter… You can also enter your email and have new articles sent directly to your Inbox. We are reader-supported; when you buy through links on our site, we may earn an affiliate commission.
[Photo credit: Adam Hart-Davis, Atacama Desert, Chile, South America.]