This very cool InDesign "sneak" comes fresh from the big Adobe MAX conference earlier this month… What's a sneak?
We've gone through the company and found the 11 coolest demos of technology that are at work within Adobe. These are things that are on the cutting edge of the technology. They may show up in a product, they may not. The demo may work, it may not. But this is your chance to get closer and really understand where we're going and what we're doing.
OK fair enough. Here's the set up: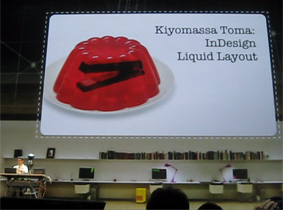 "I want to show you some things we're thinking about on the InDesign Team. As you know, it's actually been about a year since we launched Digital Publishing Suite, and we've had fantastic traction in terms of getting great-looking content on tablet devices. So I have an iPad here and as you see I can turn it over and tilt it, let the accelerometer do its trick. We're actually seeing two different layouts here – two different layouts – which creates two different files. So designers actually have to create two separate InDesign files for this one device.
Another thing that's happening is you've got another device like the Motorola Xoom – and on the Xoom you've got an totally different size, shape, aspect ratio. And the best we can do right now is if you notice the black bands here – this is all white space – you have to scale down the layout to fit on this size screen. It drives designers crazy – God abhors white space – and this just drives us insane. But it's the best that we can do right now.
So, we're thinking about this on the InDesign Team, and here is a sneak peek on how to solve this problem. As the number of devices increase, as we get more and more tablets on the market – the question we ask is, do we have to actually redesign and relayout this for every single device and screen and pixel density out there? Most designers, when they realize how much effort is involved, say "oh my God, if this is future, I'm quitting – I'm stopping right now."
So, how are we going to make things a bit easier for the designer?"
The InDesign Sneak
For the rest, words can't accurately capture what happens in the demo, so the video is the only way:

Thanks to Adobe presenter Kiyomassa Toma. Notice the new Adobe Edge even makes a guest appearance of sorts, with the embedding of the HTML5 animation in the document displayed across multiple platforms.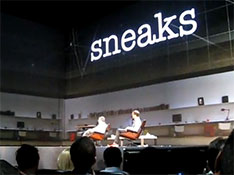 So, could this whizzy new capability be coming in InDesign CS6? Well, Creative Suite 6 could be about six months away or so – and the smooth and polished nature of the demonstration suggests to us that (hopefully) this kind of thing could be ready to go by then. That contrasts with the "prototype" feel to the (nonetheless impressive) Photoshop Image Deblurring sneak that was shown by Adobe at the same session.
Certainly, this type of liquid layout feature – to be able to automatically adapt layouts across devices and screen orientations – is hugely needed as the number of smartphone and tablet models continues to skyrocket, all with different profiles. It also becomes an even bigger deal with the announcement of the new Digital Publishing Suite Single Edition at MAX, for smaller publishers.
See more from the show – including the keynote presentations plus over 160 hours of free tutorials and training sessions from the experts, on a wide range of topics covering all major Adobe products. And we'll have more MAX sneaks here for other Adobe products in the coming weeks… For instance, the aforementioned, much-buzzed-about Photoshop sneak.
[NEWS (Oct. 17th) — You can now watch the complete collection of all sneaks from MAX online!]
[UPDATE (March 2012) — This is now a confirmed feature in Adobe InDesign CS6…]