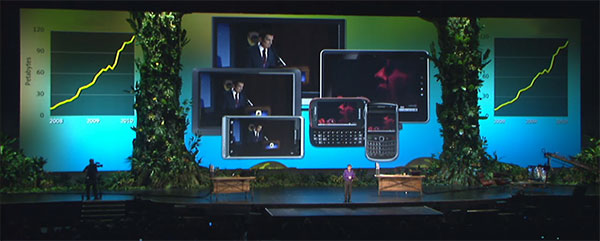 [UPDATE (Oct. 2022) – Watch over 200 new courses & tutorials from MAX 2022 – free!]
Adobe MAX 2011 – the worldwide user conference – runs this week and if you aren't in Los Angeles, the two major keynotes will be broadcast free, with both live and on-demand streaming… The company is promising lots of big news and announcements, so if you can't join us there in person, you can see it all unfold online.
What's more, over 160 free hours of the best training and tutorial sessions from this year's show will also be available.
Adobe Dreamweaver tweets, "To hear BIG Adobe MAX announcements, register now to listen LIVE to the keynote presentations Monday & Tuesday morning…"
Adobe Creative Suite posts, "The countdown has officially begun for Adobe MAX! Even if you can't make it to the live event, you can still join in on the fun! To hear the BIG announcements we have planned, register now to listen LIVE to the MAX keynotes Monday & Tuesday morning."
The MAX team writes, "Adobe MAX keynote sessions are the highlight of the event. You can sign up to watch the event yourself and get all the technology news, celebrity appearances, and product announcements delivered to your desktop or mobile device."
We think one of the major announcements will be "a broad new set of Adobe tablet apps," for starters…
Here's the official invitation:
Watch Adobe MAX 2011 keynotes live
While there's nothing that compares to being there in person, you can still experience some of the excitement of MAX 2011. Join Adobe executives, product experts, and special guests as we focus on present and future technologies, time-saving techniques, and inspiring work created by the best in the industry. See the keynotes live as they're happening in the Nokia Theater.

1. Creativity unleashed
Monday, October 3, 9:30 a.m. – 11:30 a.m. PDT (convert time zone)
Join Adobe CTO Kevin Lynch and guests to learn how Adobe is transforming the creative process across mobile devices, personal computers, and the cloud.

2. Creating the very best user experiences
Tuesday, October 4, 10 a.m. – 11:30 a.m. PDT (convert time zone)
Join us as we explore the best solutions for delivering highly expressive and usable experiences, both in the browser and as apps. We'll look at a variety of technologies and products, highlighting current opportunities, and peering into the not-so-distant future.

Watch on demand
If you can't watch the keynotes live, you can view them immediately on demand. Bookmark this page and check back for updates.
The video coverage will be available for both desktop computers as well as mobile devices – including Flash-enabled devices as well as Apple iOS devices.
"The MAX keynotes are always inspiring, exciting, and entertaining. And if you think the last few years were cool, wait until you see what we have planned this year. The stage is 180' wide and hosts an absolutely gigantic screen, the venue boasts 11,000 amps of power and 548,500 watts of lighting; the side screens themselves are almost 500 square feet each! You won't believe what all that is capable of, and so we are going to … oops, sorry, I got carried away there. Look, I've been part of the keynote team for 13 consecutive years now, so you can trust me when I say that you won't want to arrive late for the opening keynote. Really." — Ben Forta