[UPDATE (April 23rd) – Creative Suite 6 is out!]
With a barrage of Photoshop sneak peeks plus many for other CS6 products, you knew that finally Adobe Illustrator was bound to get more love of its own… Adobe has now slipped out two cool looks at the new Illustrator CS6, the next generation of the industry-leading vector graphics tool.
Similar to Photoshop, it's been two years now since a major new version was released – and similar to Photoshop CS6, the new edition of Illustrator will also have a redesigned user interface that is both darker and more modern. The idea here is by making the background darker and the controls more streamlined, the content itself will more readily shine through and stand out.
Here below AI Product Manager Brenda Sutherland shares two quick peeks into a bit of what's new for Illustrator CS6 as part of the upcoming Creative Suite 6 – a terrific new Gradients on Strokes feature that lets you create artwork that looks complex but is easy to edit, plus an exciting new way to create seamless, repeating vector patterns… check them out:
Notice there are three different ways to use this new capability: "Apply gradient within stroke," "Apply gradient along stroke," and "Apply gradient across stroke" – to apply gradients along the length, across the width, or within the stroke itself. This has to be one of the most requested features for Illustrator for quite some time – and means no longer trying to to use a gradient brush as a workaround.
Here's the second AI CS6 sneak on patterns:
As Adobe's Terry Hemphill says:
On-artboard controls let you create and edit patterns interactively. One-click tiling arrangements let you experiment quickly so you can spend more time being creative and less on planning.

If you've ever struggled with creating seamless patterns in Illustrator (and I know I have) , you're going to love this new way of working.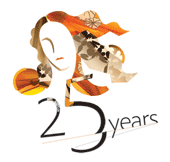 One big question customers are now asking: Will there be 64-bit and/or multiprocessor support in Illustrator CS6, with the improved performance that would bring? No indication has been given in the videos or anywhere else, but with all the time since the last release and the way other products are going, it would make good sense for Illustrator CS6 to have native 64-bit support, don't you think?
[UPDATE – CS6 Grace Period: Buy CS5.5 Now + Get CS6 Free!]
As a side note – and in the hard-to-believe category – Adobe Illustrator celebrates its 25th anniversary this year… Ever wonder (or remember!) what the earliest versions of this flagship vector drawing tool looked like?
Well, if you're up for a blast from the past, here are some nostalgic old and original demo reels of versions 1 (featuring Adobe co-founder John Warnock) and 2 (a.k.a. Illustrator 88)!
Give your input before it ships – what would
you
like to see in CS6? Please share your thoughts below or at Adobe's
official feature request "wishlist"
…
To follow this story going forward, subscribe to our RSS feed or like us on Facebook or Twitter… You can also enter your email and have new articles sent directly to your Inbox. We are reader-supported; when you buy through links on our site, we may earn an affiliate commission.