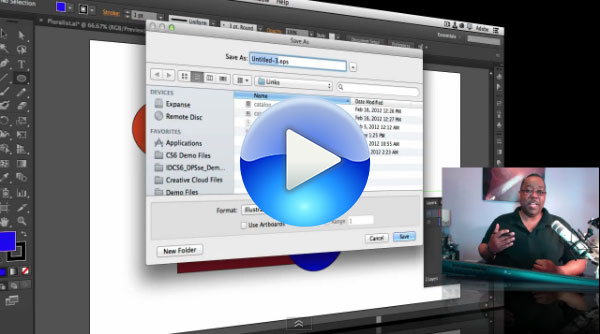 Adobe Evangelist Terry White has a great new training session out showing you how to get started achieving immediate and productive results using new Illustrator CS6… This 42-minute class covers all the basics and walks through how to accomplish the top 10 techniques that beginners always want to know how to do. Earlier Terry did similar introductory primers for Photoshop, Lightroom, and InDesign – and now it's Illustrator's turn.
Here's the overview:
Now let's dig in and see how to get started, for brand new Illustrator users – assuming that you've had very little experience with the tool, or are even opening it for the first time. So if you're an Illustrator pro, you probably know a lot of this – but if you're just getting started with Illustrator then this is what you would want to know how to do, the first ten things.
And here's what you'll learn in this tutorial – there's a lot!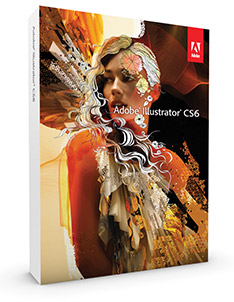 What Illustrator Can Do for You
How Illustrator Is Different from Photoshop
Creating Artwork Even if You Don't Draw
How to Open/Create a New Document or Template
Choosing the Document Profile: What Type of Art?
What's the Difference Between the Profiles?
How to Draw Vector Objects
Creating a Box Object
How to Set or Change Colors, or Go Back to B&W
What Are Stroke and Fill – What Do They Mean?
What's the Difference Between Stroke vs. Fill?
How to Make an Object Transparent
What Are the Different Ways of Selecting?
How to Keep Objects Proportional in Size
Using the Selection vs. Direct Selection Tools
How to Rotate or Scale an Object
Using the Rectangle and Ellipse Tools
How to Move and Combine Shapes
Why You Should Consider Using a Tablet
How to Draw a Perfect Circle
What the Smart Guides Do and How They Help
How to Align Objects Exactly
What the Shift, Control, Option & Alt Keys Do
How to Duplicate Objects or Shapes
Using the New Shape Builder Tool
Merging and Cutting Out Shapes
Easily Filling Your Shapes
How to Draw Freeform Shapes
Using the Pen Tool and Line Tool
Different Options for Line Ends and Arrows
The Difference Between the Pen vs. Pencil Tools
What the Blob Brush Tool Can Do
Terry's Most Used Tool: The Paintbrush
Changing Brushes with the Brushes Panel
Drawing with Custom Brushes You Create
Opening and Accessing Brush Libraries
Adding Decorative Banners and Seals
How to Place and Trace a JPEG Image
Using CS6's New Automated Image Trace Feature
Creating Vector-Based Art from Pixel-Based Images
Modifying the Traced Image with the Expand Function
Accessing Saved Colors with Swatches
New in CS6: Using and Making Vector Patterns
What are Artboards in Illustrator?
How to Create a New Artboard
Using the Layers Panel and Manipulating Sub-Layers
How Illustrator's Layers are Different from Photoshop's
Moving Objects Between Layers
Options and Formats for Saving Your Work
Why Saving in EPS or PDF formats is Important
How to Export Your Document to Many Different Formats
Saving Down to Older Versions of Illustrator
If you don't have the Illustrator CS6 application itself yet, then just download the free trial and you can start using it right away – either standalone, or as part of the Creative Cloud:
Install now: Get all new Creative Cloud 2024 direct download links and free trials.
OK, all set? Here is the free 42-minute Illustrator CS6 introductory tutorial:
Want more? Try these 100 additional minutes of free Illustrator CS6 video tutorials…
[ What are the differences between Illustrator CS6 vs. CS5 vs. CS4? ]
Another helpful resource for understanding the product is the complete online documentation for Illustrator and all Adobe applications.
The video session above is also available as a free downloadable podcast for offline viewing (61MB, MPEG-4 video format). Hope you get a lot out of it!
Do you have any questions about Adobe Illustrator? Just ask them below and we'll get you answers fast!
Keep up with the latest on Adobe software — follow us on Facebook or Twitter, or subscribe to our RSS feed… You can also enter your email and have new articles sent directly to your Inbox. We are reader-supported; when you buy through links on our site, we may earn an affiliate commission.