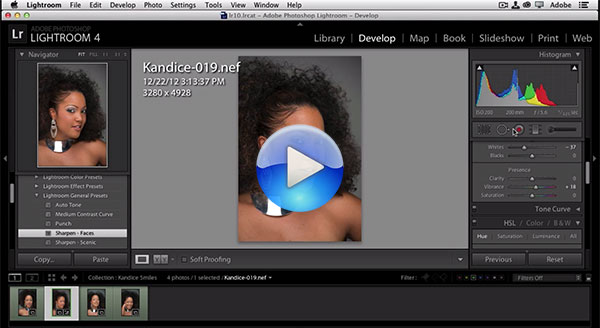 Adobe Evangelist Terry White has a terrific new training session out showing you how to get started achieving immediate and impactful results using new Lightroom 4… This 37-minute class covers all the basics and walks through how to accomplish the top 10 things that beginners always want to know how to do.
Here's the overview:
In this episode we're going to take a look at how to get started with Lightroom 4 – the ten things beginners want to know how to do. It's kind of keeping up with a primer series I've been doing: I started with Photoshop and then I did InDesign, and now it's time to do Lightroom. So let's jump right in and talk about the 10 things beginners want to know how to do right off the bat.
And here are some of the things you'll learn in this tutorial:
Introduction to the Lightroom 4 User Interface
Understanding How Lightroom Works
Using Catalogs: Lightroom's Databases
What Lightroom Does and Does Not Store
Importing Photos from Your Disk, Memory Card, or Camera
Organizing and Keywording Your Images
What 'Copy as DNG' Does
Photos in RAW format vs. Photos in JPEG
How to Shoot with Live Tethered Capture
Understanding Lightroom Workflow
The Difference Between Catalogs, Folders and Collections
Creating Collections: Groupings Within a Catalog
Reviewing Your Photographs: Picking, Rating and Labeling
Removing Shots You Don't Like or Want
How and Why Collections are Like Playlists
The Develop Module: Making Nondestructive Adjustments
Adjusting Tone, White Balance, Highlights, Exposure
Localized Adjustments to Certain Areas Within an Image
Pumping Up Vibrance, Sharpening Faces, Adding Brightness
Deleting Control Points to Undo Adjustments
How to Integrate Image Editing in Photoshop
Retouching Your Photos Externally in Photoshop
Using Spot Healing to Touch Up Blemishes
Creating a Custom Identity Plate to Replace Lightroom's Logo
The Printing Module: Using Templates, Setups and Layouts
Adjusting Print Margins, Spacing, Strokes and More
Uploading to Print Service Providers
Adding Your Custom Identity Plate to Printing Output
Exporting Images from Lightroom, as JPEG or Other Formats
Sending Photos to Email, Hard Drive, Web, or CD/DVD Disc
Understanding the Different Image Export Settings
Creating New Presets to Save Commands for Future Use
How to Put Your Own Custom Watermarks on Your Work
Using the New Email Command to Quickly Send Photos
Lightroom 4 Shortcuts, Tips, and Tricks
If you don't have the Lightroom 4 program itself yet, then just download the free 30-day trial and you can start using it right away:
OK, all set? Here is the free 37-minute Lightroom 4 introductory tutorial:
Want more? Try these 4 additional hours of free Lightroom 4 video tutorials…
Another helpful resource for understanding the product is the complete online documentation for Lightroom and all Adobe applications.
[ What's the difference and what's new between Lightroom 4 vs. 3 vs. 2? ]

Lynda.com, by far the top online training site for Adobe software, also offers 22(!) courses on just Lightroom alone – and even better, you can sign up for a free 30-day trial with unlimited access to thousands of in-depth courses and instructional videos throughout the entire site.
KelbyOne – from Scott Kelby of NAPP and Photoshop World fame – is another terrific option for taking your Photoshop, Lightroom and photo­­graphy knowledge further under the tutelage of renowned industry experts and luminaries… Grab this exclusive 20%-off discount (with code: kelby20proup) on their unlimited Pro membership, which includes full access to 900+ different courses and tutorials, plus a subscription to Photoshop User magazine.
The video session above is also available as a free downloadable podcast for offline viewing (59MB, MPEG-4 video format). Hope you get a lot out of it!
Do you have any questions about Adobe Lightroom? Just ask them below and we'll get you answers fast!
Keep up with the latest on Adobe software — follow us on Facebook or Twitter, or subscribe to our RSS feed… You can also enter your email and have new articles sent directly to your Inbox. We are reader-supported; when you buy through links on our site, we may earn an affiliate commission.