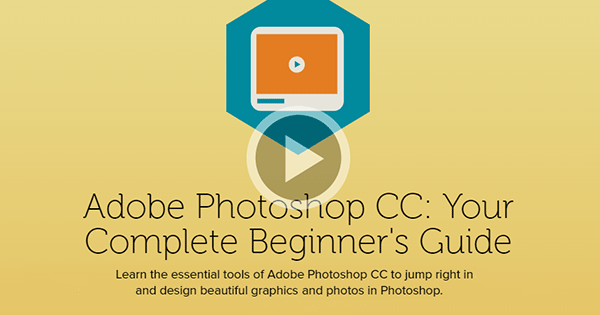 Here's a fantastic new resource that you should not miss – and even bookmark/share… It's a complete introductory-level class on how to best use Photoshop from the excellent training team at Adobe KnowHow – a course worth hundreds of dollars, but now completely FREE with no catch. It includes 5½ hours of high-quality instruction broken out into 16 chapters with 58 video tutorials (in HD or SD), covering everything you need to know to really get going with Adobe Photoshop – the world's leading graphics and photo editing application – at no cost!
This professional course breaks down the features of Photoshop into easily-digestible segments, increasing your ability to absorb and retain the material. You will learn how to: get around the Photoshop user interface, retouch photos, design graphics, create composite images, make selections and shapes, edit raw photos nondestructively, use different blend modes, and much more. Expert instructor Phil Ebiner shares his favorite tips and techniques and shows you how to use key tools such as layers, filters, textures, text, dodge & burn, and many other adjustments. (See below for the comprehensive table of contents.)
Want to know how to whiten teeth? It's there. Fix red-eye? Yep. Create an animated GIF? Ditto. Remove objects from the background? Definitely. Smooth wrinkles and blemishes? Yes, you got it.
Install now: Get all new Creative Cloud 2024 direct download links and free trials.
You can browse, jump, and watch anywhere you want within the set of lessons – so you can get a lot out of this great class whether you're already using Photoshop CC or if you're an absolute beginner. Downloadable practice photographs and Photoshop (PSD) files are included, allowing you to follow along with the author throughout the course. You will be granted full access to these tutorials so you can learn them at your own pace.

IMPORTANT UPDATE: The KnowHow courses are no longer available – however, you can now get 6½ hours of free Photoshop video training from the pros at LinkedIn Learning.
Bonus! If you're looking for a more advanced Photoshop "how-to" class (or after you finish this one), then be sure to check out this 13-hour training course, which goes further and covers even more. For customers who are also using Lightroom to manage their photos, don't miss this Lightroom overview class (70 minutes). Both of those are also free!
If you don't already have Photoshop CC installed on your computer but would like to get started today (and work side-by-side with the lessons), you can easily download the free trial for Windows or macOS – then install, run, and start your training… When your free trial is up, take a look at Adobe's Photography Bundle, which gives you the latest versions of both Photoshop CC and Lightroom CC – desktop tools which used to cost over $1,000 – for only $9.99/month.

And if you also like learning in print, then you'll love this awesome set of free Adobe books you can download (over 30 different titles to choose from). Another helpful resource for understanding the product is the official manual – free PDF documentation – for Photoshop (or any other Adobe application).
Here are a few user reviews for the 5½-hour Photoshop CC class:
"I enjoyed watching this course, you've been a great teacher! I had learned a lot during this class and I must admit that it exceed my expectations!"

"I greatly enjoyed this course and I learned so much about photoshop! It was easy to follow and fun to watch. Thank you!"

"I'm very satisfied with this training series. Thanks Philip."

"Interesting, I'm very glad to start my brand new lessons. I've never used PS ever."

"Great tutorials Philip."

"Thank you very much for this terrifically helpful course, and all the more because it didn't cost a thing!"
And here is the complete course description and table of contents, listing all topics covered:
Getting Started (15 minutes)
Welcome Video – 02:27
Jump Right In! Design a Blog Graphic – 12:22
Photoshop Basics (38 minutes)
Understanding the Interface – 07:59
Customizing Your Workspace and Panels – 05:58
Creating a New Photoshop Project – 10:28
Placing Photos into Your Project – 07:10
Selecting, Zooming, and Moving Around Your Project – 06:09
Photoshop Layers Panel (41 minutes)
Intro to the Layers Panel – 12:55
Using the Align Tools – 04:06
Stacking, Copying, and Deleting Layers – 03:17
Merging Layers – 04:50
Using Layer Masks – 06:32
Exercise – Create a Non-Destructive Vignette – 06:23
The Eraser Tool and Why I Don't Use It – 02:54
Editing Raw Photos (56 minutes)
Camera RAW Basic Adjustments – 13:59
Camera RAW Editing Tabs – 12:50
Camera RAW Top Tools – 11:30
Saving Images from Camera RAW – 08:20
Exercise – Edit a Travel Photo – 07:41
A Note about XMP Files – 01:21
Editing Photos in Photoshop (14 minutes)
Basic Image Adjustments – 08:05
Non-Destructive Photo Editing – 03:22
Crop and Straighten Images – 02:29
Selections in Photoshop (25 minutes)
The Selection Tools – 06:10
Refining the Edge – 06:31
Select by Color Range – 04:16
Remove Person from White Background – 07:16
Dodge, Burn, and Sponge Tools (15 minutes)
Intro to Selective Exposure and Saturation Adjustments – 04:55
Non-Destructive Dodge and Burn – 04:16
Exercise – Improve a Photo with Dodge and Burn – 04:54
Retouching Photos (26 minutes)
The Clone Stamp Tool – 05:28
Healing Brushes – 05:09
Removing Objects from the Background – 03:37
Removing Wrinkles and Blemishes – 05:00
Fixing Red-Eye Photos – 00:43
Whitening Teeth – 05:55
Shapes in Photoshop (14 minutes)
Create Custom Shapes with Pen Tool – 05:19
Re-Design a Shape Logo – 08:31
Blending Modes (15 minutes)
What are Blending Modes? – 03:19
Darkening Blending Modes – 02:41
Lightening Blending Modes – 02:31
Contrast, Inversion, Cancelation and Component Blending Modes – 05:55
Adding and Editing Text (31 minutes)
The Type Tool – 04:20
The Character and Paragraph Panel – 05:44
Warping Text – 02:18
Adding Styles – Drop Shadow, Bevel & Emboss, Strokes – 08:36
Design a YouTube Thumbnail in Photoshop – 09:11
Photoshop Filters (13 minutes)
Adding and Adjusting Artistic Filters – 05:30
Changing Opacity and Blending Mode of Filters – 01:40
Create an Oil Painting Photo – 05:08
Create an Animated GIF (13 minutes)
Start Your Project and Placing Video – 05:06
Adding Text to a GIF – 02:31
Saving Your GIF – 04:42
Saving from Photoshop (8 minutes)
Saving as a Photoshop File – 02:30
Saving for Print and Web – 05:01
Bonus Tutorials (18 minutes)
How to Composite Images in Photoshop CC Tutorial – 13:32
How to Add Textures in Photoshop – 04:06
Conclusion (2 minutes)
What are you waiting for? This in-depth course is 100% free for you with zero downside – so go for it! Please tell your friends and colleagues too, and let us know what you think of the course in the comments below.
You want to learn how to use Adobe Photoshop, right?

Start using Photoshop to edit photos and design beautiful graphics today!

Either you're completely brand new to Photoshop, or you've played around with it but want to get more comfortable with Photoshop. Either way, this course will be great for you.

Adobe Photoshop is the worlds's #1 photo editing application. This full course is the best way to learn how to use it.

We use the latest Creative Cloud version, but if you have a previous version (CS6, CS5, CS4, CS3), you can still learn to edit like a pro. This course is great for Mac and PC users.

Edit photos and design graphics the way you imagine them!

By the end of this course, your confidence as an image editor will soar. You'll have a thorough understanding of how to use Adobe Photoshop for fun or as a career opportunity.

Go ahead and click the enroll button, and I'll see you in lesson 1!

Take It Farther

Lynda.com, by far the leading online training site for Adobe software, now offers over 1,000(!) hours of tutorials on just Photoshop alone – and even better, you can sign up for a free 30-day trial with unlimited access to thousands of helpful courses and instructional videos through­out the entire site – covering technical skills, creative techniques, and much more.
KelbyOne – from Scott Kelby of NAPP and Photoshop World fame – is another terrific option for taking your Photoshop, Lightroom and photo­­graphy knowledge further under the tutelage of renowned industry experts and luminaries… Grab this exclusive 20%-off discount (with code: kelby20proup) on their unlimited Pro membership, which includes full access to 900+ different courses and tutorials, plus a subscription to Photoshop User magazine.
See Also

What do you think of this free Photoshop course? Please let us know below!
Keep up with the latest on Adobe software — follow us on Facebook or Twitter, or subscribe to our RSS feed… You can also enter your email and have new articles sent directly to your Inbox. We are reader-supported; when you buy through links on our site, we may earn an affiliate commission.