Adobe's finally done it. In case you haven't heard yet about the new Photoshop Playbook, you should.
After years of offering free video tutorials – and following on to Senior Product Manager Bryan O'Neil Hughes' success with his "Hidden Gems" series – Adobe has built a new collection of bite-sized lessons that cover exactly the kinds of things that many, many people want to (know how to) do with Photoshop.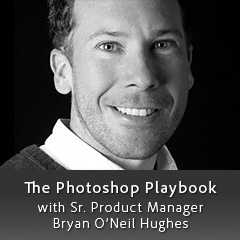 It's called the Photoshop Playbook. There is no waste or fluff here. Just the key time-saving techniques to solve common problems and get your essential work done. These powerful videos answer the top questions the company gets across all of its social media channels.
Of course, Lynda.com is amazing – but for the money (free) and time spent (3-4 minutes apiece), we find these nuggets to be among the most helpful and effective tutorials we've ever seen.
And if you don't have Photoshop yet, just download the free trial and get started. You will need a recent version (the current Photoshop CC, or older CS6) for most of these how-to walkthroughs:
Here's the Playbook episode listing thus far – we hope even more courses will be added going forward:
[UPDATE (January 2014) – There are now 50 total episodes in the complete Photoshop Playbook! Watch them all here.]
Can't get enough? Watch more free Photoshop tutorials – nearly five hours of training covering a lot of ground. If you've got a recent version of Photoshop, then don't miss this helpful free primer for beginners getting started, or dozens of free downloadable books.
Get the complete manual – free online documentation – for Photoshop or any Adobe tool.
See Also

Keep up with the latest on Adobe software — follow us on Facebook or Twitter, or subscribe to our RSS feed… You can also enter your email and have new articles sent directly to your Inbox. We are reader-supported; when you buy through links on our site, we may earn an affiliate commission.