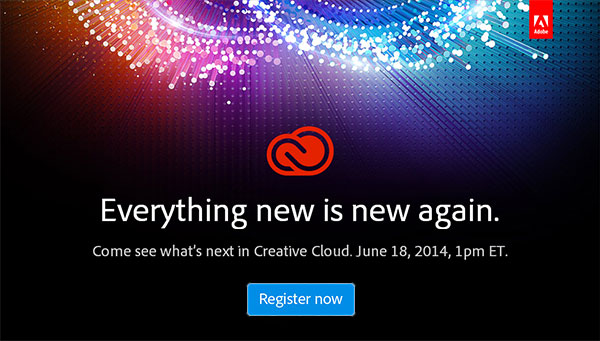 BREAKING NEWS — This just out from Adobe:
The 2014 release of Creative Cloud is coming: Watch the keynote live online.

On June 18th at 1pm ET, see the next evolution of Creative Cloud. All-new desktop and mobile apps, new creative hardware, hundreds of new features and other surprises – all designed to accelerate your creativity and make everything you do every day easier and faster.

Watch the free keynote live on June 18th: Catch the replay.
This looks to be the major upgrade to Creative Cloud that Adobe's CEO referred to in March, which all current CC subscribers will receive as part of their memberships:
"We are excited about the amazing innovation we will deliver in a major update to Creative Cloud in the next few months…"
The initial CC release first shipped last June, replacing Creative Suite – and there have been many further product updates added since that time. Because all ongoing upgrades (like this one) are included, people wondered if Adobe would still have big launch events and if future major releases would still be called "CC," or perhaps "CC2," "CC3," and so on (similar to how CS became CS2, CS3, etc.).
Now, this question is answered. Adobe is moving forward with the CC name, and that won't change. However, they are adding a calendar year identifier to the version name to anchor and distinguish it from earlier and future releases. So in June we'll get the Photoshop CC 2014 release, together with all the other Creative Cloud tools. To map it into terms of the previous "Creative Suite" model, this would have been CS8.
[UPDATE (June 18th) – The all-new CC 2014 release has launched, and is now available for download and free trial!]
The reason these major milestones are necessary is so folks can communicate clearly what software they are using – for the sake of inter-version file format compatibility, writing tutorial books, developing training and coursework, giving certification testing, changing operating system requirements, specifying external plug-in compatibility, providing technical support, and more.
Importantly, the CC 2014 release will not replace or overwrite any previous versions you may have installed on your computer… It will install and run side-by-side with earlier software such as the current CC 2013, as well as any older CS release(s). Subscribers can decide when to upgrade, as well as when or if to uninstall any prior versions. Meanwhile, Adobe will keep the older CS6 and CC 2013 versions available in an online archive for all Creative Cloud members to access and use as/if needed.
So tune in to the free webcast replay of the keynote address and see what the next gener­ation of creative tools is all about!

And after the CC 2014 launch event, Adobe will commence the Create Now 2014 World Tour – a free live seminar in a city near you where you can learn the latest innovations in Creative Cloud, sharpen design skills with timesavers in Photoshop, Illustrator, InDesign, Premiere Pro & more, try new products, meet fellow creatives and get inspired. Sign up now!
And from time to time, Adobe will give sneak peeks of features in future tools prior to the public announce of the product. Today, they are sneaking a new feature in Photoshop CC 2014 called Focus Mask. It's a very interesting technology that allows you to quickly select those areas of an image which are in focus – check it out:
See Also

To follow this story going forward, follow us on Facebook or Twitter, or subscribe to our RSS feed… You can also enter your email and have new articles sent directly to your Inbox. We are reader-supported; when you buy through links on our site, we may earn an affiliate commission.