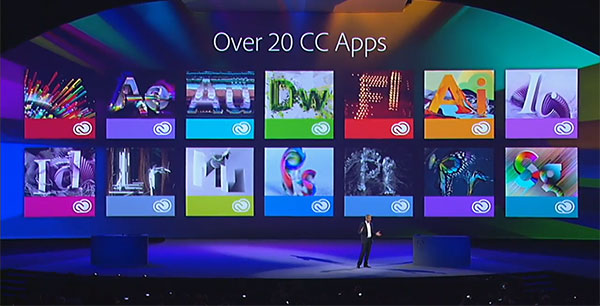 [UPDATE (Oct. 2022) – The all-new Creative Cloud 2023 release has launched and is now available! See what's new in features and all the differences compared to older versions.]
Adobe has just unveiled the new "CC" release to follow CS6 (it's not CS7) – and one of the upgrade ques­tions people are asking is what's new, what's different, what's changed in CC (Creative Cloud 2013) compared to the previous version? The company says it "brings together everything you need to create your best work with incredible new versions of our flagship desktop tools, services that take publishing content to the next level, and making it easier than ever for creatives to collaborate and share their work worldwide." So our job here is to give you a quick "cheat sheet" on top new features, to help you decide about upgrading…
Adobe CC (2013) updates almost all of the individual products from CS6 – including Photoshop, Illustrator, InDesign/InCopy, Dreamweaver, Flash Pro, Premiere Pro, After Effects, Audition, Prelude, SpeedGrade, and Story. In addition, Adobe Muse and the Edge family of tools are now also branded with the "CC" moniker.
The CS6 tools not revisioned to CC are Fireworks and Encore – although the CS6 versions of both continue to be available within Creative Cloud. Acrobat XI Pro and Flash Builder 4.7 are also included but remain the same editions as before.
Special: Legally download dozens of free Adobe books for a limited time!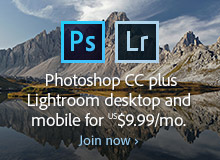 Adobe CC works on a subscription basis starting as low as $9.99 a month, which includes future upgrades automatically at no additional cost… The standard Creative Cloud member­ship includes complete access to all of the software and services for one price. Alternatively, static versions of last year's CS6 tools & suites are still available for direct purchase for those that may prefer traditional licensing.
The new release shipped on Monday, June 17, 2013 – with brand new free trial downloads of all the CC desktop applications available via the Creative Cloud free level of membership. In addition, the CS6 free trials continue to be downloadable as well.
Adobe is offering many specials and discounts now for the new product launch, but for exact details and information on Adobe CC worldwide pricing, see their "CC Plans" page.
You can read more about why Adobe is making this move here:
« Apples, Oranges, and Creative Cloud: Thoughts on Adobe CC »
What's New in CC (2013) vs. CS6? A Version Comparison
Some key elements of what's new with Adobe CC generally:
A slick and solid new Creative Cloud Desktop App that unobtrusively replaces both the Adobe Application Manager and the Creative Cloud Connection, and does file versioning too.
Cloud-based syncing and sharing of all your customized tool settings like preferences, presets, brushes, shortcuts, workspaces, styles, fonts, colors, and more.
The ability to share and publish your work directly from within your creative tools up to Behance in the Cloud as desired.

680 individual Typekit fonts will now be download­able and installable locally on your desktop (a nearly ,000 value if purchased commercially).
Customers with annual memberships will be now able to use all CC products for up to 99 days offline without revalidation or needing to be connected to the Internet (eventually to be 180 days).
The new CC apps will install and work alongside any older versions of Adobe software like CS6, CS5, etc., and will be able to backsave or export to CS6 file formats.
In fact, Creative Cloud members will have access to download and install prior versions from an archive of selected desktop releases starting from CS6 onwards.
Free Stock! Download 1,000,000+ premium assets from the new Adobe Stock Free Collection
Major New Features in Adobe CC (2013)
And here's a quick run-through of some of the top new features in CC for major applications…
[UPDATE (October 2013) – Many more new product features (on top of those listed below) have already been added & upgraded since CC was initially released – find out more here.]
— Photoshop CC: All-new Smart Sharpen, Perspective Warp, Intelligent Upsampling, Sync Settings and Save to Cloud, New Camera Shake Reduction (Image Deblurring), Conditional Actions, Improved 3D painting & effects, Copying of CSS attributes, Editable rounded rectangles, Multi-shape and path selection, Camera Raw 8 support, all "Extended" features now included. [SEE DETAILS]
— Illustrator CC: Touch Type tool, Images in brushes, Font search, Multiple-file place, CSS extraction, File packaging, Unembedded images, On-art Free Transform, Area and point type conversion, Auto corners for pattern brushes, Sync Settings/Fonts/Colors, Faster type performance, Expanded Links panel options, a more connected Illustrator. [SEE DETAILS]
— InDesign/InCopy CC: New modern user interface, Native 64-bit support for fast performance, HiDPI and Retina display support, Instant font preview, QR Code Creator, Font favorites, Adobe Exchange panel, EPUB enhance­ments, Font search and filter, Sharing with Creative Cloud, Sync Fonts, InCopy now included in CC. [SEE DETAILS]
— Dreamweaver CC: New CSS Designer Tool, Modernized & streamlined workflow, enhanced Fluid Grid Layout interface, Edge Web Fonts support, Modern platform support, jQuery UI widgets, Sync Settings & Preferences, Behance Integration, Source Code Pro font for Code View. [SEE DETAILS]
— Muse CC: Create stunning effects with new Parallax scrolling, Live in-browser editing, a more connected Adobe Muse as part of the CC family. [SEE DETAILS]
— Flash Pro CC: Reengineered and streamlined user interface, New 64-bit architecture, High-definition export, Improved HTML publishing, Real-time mobile testing, Powerful new code editor, Real-time drawing, Unlimited pasteboard size, Sync Settings & Shortcuts to Cloud, Code profiling in Adobe Scout CC, Timeline time-savers, Custom metadata APIs. [SEE DETAILS]
— Premiere Pro CC: Link & Locate, Editing finesse, Lumetri Deep Color Engine, Precise audio control, New Closed captioning capabilities, Adobe Anywhere integration, Enhanced Mercury Playback Engine, Mezzanine codecs built in, High-fidelity interchange, Sync Settings, Improved multicam editing, Adobe Story panel, Project browsing, Multiple GPU export support, Adobe Exchange panel, Broad format support, Enhanced monitoring, and more. [SEE DETAILS]
— After Effects CC: Live 3D Pipeline with Cinema 4D, Refine Edge Rotoscoping Tool, Warp Stabilizer VFX, 3D Camera Tracker improve­ments, Pixel Motion Blur, Adobe Anywhere integration, Bicubic resampling, Streamlined user interface, Snap to Layer features, Find Missing Assets, Optimized and accelerated performance, Improved multiprocessor and GPU support, Sync Settings, and more. [SEE DETAILS]
— Audition CC: New Sound Remover Tool, Preview Editor, 64-bit performance, Frequency Band Splitter, Enhanced multitrack editing, New Sound Design tools and effects, Audio finesse, ITU loudness metering, Enhanced Spectral Display, Editable Favorites with Favorites Panel, a more connected Adobe Audition, and more. [SEE DETAILS]
— Prelude CC: Thumbnail hover-scrubbing, Rough cut export, File renaming and custom metadata on ingest, Script scenes as metadata. [SEE DETAILS]
— SpeedGrade CC: Redesigned user interface, Shot Matcher, Mercury Transmit, Film stock emulations. Powerful layer-based grading, Snapshot browser, Expanded control surface support, Adobe workflow integration. [SEE DETAILS]
These are just a few highlights of what's new in the CC toolset as there are now over 1,000 new features since CS6.
See Also

Do you have any questions about Creative Cloud? Just ask them below and we'll get you answers fast!
Keep up with the latest on Adobe software — follow us on Facebook or Twitter, or subscribe to our RSS feed… You can also enter your email and have new articles sent directly to your Inbox. We are reader-supported; when you buy through links on our site, we may earn an affiliate commission.