[UPDATE (May 6th) – Major news out: Adobe Unveils New "CC" Release (CS7)…]
Adobe just slipped out a brief sneak peek of the upcoming new version (perhaps CS7?) of its popular InDesign application, "InDesign Sneak Peek: See What's Coming Next." This short preview shows a revamped user interface demoing a new "Generate QR Code" feature.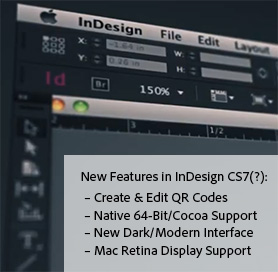 Based on public information, we've previously written on how the next release of InDesign will be a native Cocoa app with full 64-bit support for high performance, and – if it's been fully rearchitected like the similar changes coming for Flash Pro – then it should be much faster.
There's also a customizable new user interface with light and dark themes (similar to what Photoshop got in CS6), as well as the long-awaited support for HiDPI displays (like the MacBook Pro Retina).
Finally, there's now the capability to add and edit QR codes directly in any document, with a new command on the Object menu:
Want to create and edit QR codes directly in InDesign? This sneak peek shows you something we're working on for the next version of InDesign. See more exciting developments on May 6 at Adobe MAX.
Check out additional first looks at the upcoming releases of Photoshop and Dreamweaver & Flash Pro, as well as new versions of the Creative Suite pro video tools.
Or see what's new in all of the Creative Suite "Next" tools.
These are just partial feature lists of what's coming, and all new releases and features will be included for Creative Cloud members at no additional cost – so if you've been thinking about going that route, Adobe says:
The new version's release date has not been announced, but there is a great way to get yourself to the front of the line. If you join Creative Cloud now, you will immedi­ately receive the entire stable of currently shipping CS6 applications AND you will automatically receive the new versions of all your favorite Adobe applications as soon as they are available."
See Also

Do you have any questions about CS6 or the Creative Cloud? Check out our extensive Creative Cloud FAQ, or just ask them below and we'll get you answers fast!
Keep up with the latest on Adobe software — follow us on Facebook or Twitter, or subscribe to our RSS feed… You can also enter your email and have new articles sent directly to your Inbox. We are reader-supported; when you buy through links on our site, we may earn an affiliate commission.