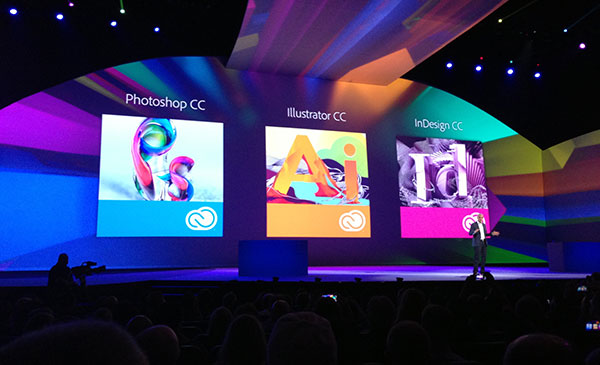 = BREAKING NEWS =
We're coming to you today direct from the MAX Conference, where Adobe has just made a blockbuster announcement.
The next generation of Creative Suite products – sometimes referred to as CS7 or CS-Next – will actually be called "CC" (as in "Photoshop CC") and from here on out will be available exclusively through the Creative Cloud. So there will not be a line called "Creative Suite 7."
What this means is that we've reached the end of the line with the traditional high-priced boxed releases – the last one was CS6, which came out over a year ago. Adobe will continue to offer CS6 for purchase and free trial going forward (in download form only), for those who need perpetual licensing – however, if you want the the new versions of Adobe's creative tools with the latest features and upgrades, then getting Adobe CC via the Creative Cloud is now the only way to do it.
Adobe sees the old model of static, monolithic 12-to-18-month software releases as outmoded in an increasingly fast-moving, connected, and collaborative world… Creative Cloud was introduced 18 months ago and since that time adoption has exceeded expectations: the Cloud has gained millions of users and received nearly 5-star reviews from customers, and so the company is now putting all of their resources into it.
"Adobe's desktop tools, previously known as Creative Suite (CS) are now branded CC to reflect that they are an integral part of Creative Cloud and have been reinvented to support a more intuitive, connected way of creating. In all, Creative Cloud will now consist of more than 30 tools and services that enable professional grade content creation and delivery across print, web, mobile apps, video and photography. Focusing development on Creative Cloud will not only accelerate the rate at which Adobe can innovate but also broaden the type of innovation the company can offer the creative community."
You can read more about Adobe's reasons for the move in their online message to customers:
« Open Letter from the Creative Cloud Team to Our Creative Users »
What's New in Adobe CC?
The company has added hundreds of new features into the CC release since CS6, focusing on productivity, performance, and connectivity. The 15 new CC products will download and run locally on your desktop just like normal; they are not web applications nor do they require continual Internet access to use.
They will be available automatically to all Creative Cloud members on the "CC" release date of Monday, June 17th – and free new 30-day trials will be offered for download, even if you already have the free level of Creative Cloud membership and/or have used the CS6 trials.
[UPDATE (June 17th) – Right on schedule, Adobe's new CC release is now available!]
Even after the CC release ships, Creative Cloud members will continue to be able to download and/or run all the CS6 tools if desired, on the same computer(s). In fact, the CC applica­tions can co-exist side-by-side with all earlier CS versions. As a reminder, Creative Cloud apps can be installed on up to two systems, including both Windows and Mac.
If you don't want or need the whole Creative Cloud at this time, then Adobe also offers single-app memberships for $19.99 a month. And if you own any previous CS tool (from CS3 to CS6), then you can subscribe to any individual app for just $9.99 a month for the first year. So for example, a Photoshop CS3 user can get Photoshop CC for that price.
Adobe will continue to offer Student & Teacher Editions with discounts up to 70% off the regular prices for education customers including students, teachers, and academic staff. Just be sure you know the key differences between Adobe's academic versions vs. regular. Here is the link to buy the CS6 education editions if you want that instead of the Cloud.
The company has put together an excellent FAQ that addresses a lot of general questions about the new release. There's also an extensive set of CC overview videos on Adobe TV.
Here are some important aspects of what's new with Adobe CC generally:
For more in-depth coverage, see our CS6 vs. "CC" Version Comparison Guide just published.
Give your input before it ships – what would you like to see in the next release? Or do you have any questions about what's coming? Share your thoughts in the comments below or at Adobe's official feature request "wishlist"…
See Also

To follow this story going forward, subscribe to our RSS feed or like us on Facebook or Twitter… You can also enter your email and have new articles sent directly to your Inbox. We are reader-supported; when you buy through links on our site, we may earn an affiliate commission.