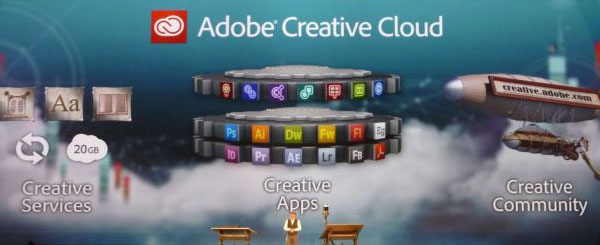 Arguably the biggest announcement to come out of the annual Adobe MAX Conference last month was the unveiling of the Adobe Creative Cloud…
It was the major focus of the first day's keynote address, and then different components of it were covered in greater detail in a number of the later educational sessions.
[UPDATE (May 7th) – Creative Cloud is out and now shipping with CS6.]
What Is the Creative Cloud?
Adobe CTO Kevin Lynch describes it as a membership-based program built from three pillars: Creative Services, Creative Community, and Creative Applications.
The first is Creative Services, which are hosted services that you can use in your production work, in the delivery of your content. This includes a font service like Typekit, which Adobe recently acquired, which enables the use and delivery of a broad foundry of cloud fonts across all of your work. A second area is Digital Publishing, which enables publishing rich media to tablets via the cloud. And the third category is Business Catalyst, which supports designing and operating websites for small businesses, with pre-built services for things like handling e-commerce, doing customer relationship management, and integrating with social networks. More services will be added over time.
The second pillar is Creative Community, which is all of you creatives around the world and enabling you to connect more easily with other creatives – it's a place to share, to communi­cate, and to inspire each other with your work and really collaborate as you're working. The community is a critical part of our whole ecosystem, and it's a critical part of the cloud. At the center of this is the web presence of the Creative Cloud, which is creative.adobe.com. And one of the great things there is it will understand all the formats you're using in your creative work – so PSD files, InDesign files, Illustrator files. Where other cloud services might show you an icon describing the file type, this will show you the actual content, and you can interact with it in a context-sensitive way. It's a much deeper understanding of creative content.
And lastly the third pillar is Creative Applications – and these are enabling you to create not only on personal computers, but also wherever you are with mobile devices, all connected through the Creative Cloud. This includes a whole new collection of Adobe touch apps to run on tablets and other mobile devices, including Proto, Kuler, Debut, Collage, Carousel, Ideas, and Photoshop Touch. In addition, membership also includes access to all Adobe creative desktop products you know and love, including Photoshop, Illustrator, and Dreamweaver and Premiere and InDesign, possibly Lightroom, more. You can download and install any of these applica­tions you choose as part of your membership, and these are all connected to Creative Cloud via desktop sync. They also interact with the touch apps, and you can move files between desktop and touch as you're working.
[UPDATE (April 23rd) — Adobe says there will be a permanently free level of membership to the Creative Cloud that will include many exclusive tools and services for life.]
Why Is It Important?
So why should you care, if you're quite happy with your current set of desktop Adobe products, and less interested in services or tablet apps?
Well, because this looks to be a key direction Adobe is going in, a new (additional) model for offering their software and how it is used. The company started off with a toe in the water with CS5.5 software subscriptions, but is expanding that option substantially here. Creative Cloud membership is essentially a broader subscription-based program for their flagship tools. To quote a press release yesterday, "Adobe's Digital Media growth strategy revolves around its recently announced Creative Cloud and will enable the company to rapidly deliver new product capabilities and services, penetrate untapped market segments, and increase overall engagement with customers."

As implied, this model of software is going to be a significant change because it means Adobe's engineering teams can improve the applica­tions more frequently, and as they come up with new ideas, they can put them in the app and you can get them, not just once a year.
Overall with Creative Cloud, they're changing how they provide software from the traditional desktop model now to devices and also to the cloud. Twenty-one years ago they started with point products like Photoshop or Dreamweaver you could get individually, and then they added the Creative Suite bundling, and that was a great breakthrough for creative software and how you can acquire it, and this now is the most popular creative software in the world. Now their next step is moving to Creative Cloud, and it's going to be a whole new way people can interact with the software.
So as Adobe says, "this is a great new adventure for us, and there's a ton of innovation ahead for us, so it's going to be a very exciting time."
Availability and Pricing
The touch applications are going to be available on the Android market in November, along with a beta of Creative Cloud so testers can immediately start using the storage and the synchronization with those applications. Then full Creative Cloud membership is going to be available next year – likely with the release of CS6. Adobe says the Creative Cloud is going to be attractively priced, and they'll be announcing pricing in November as well, so we'll learn more about that soon. In the meantime, you can read more in the Creative Cloud FAQ – or express your view: what do you think about this new model?
[UPDATE (Nov. 10th) — Adobe has just released more important details about the Creative Cloud. See also how Acrobat, Lightroom, and Elements will be affected.]
See the best from Adobe MAX 2011 – including both keynote presentations plus over 160 hours of on-demand free tutorials & training sessions from the experts, on a wide range of topics covering all major Adobe applications, plus more on the Creative Cloud.
Do you have any questions about the Creative Cloud? Check out our extensive Creative Cloud FAQ, or just ask them below and we'll get you answers fast!
Keep up with the latest on Adobe software — follow us on Facebook or Twitter, or subscribe to our RSS feed… You can also enter your email and have new articles sent directly to your Inbox. We are reader-supported; when you buy through links on our site, we may earn an affiliate commission.