[UPDATE (May 2013) – CS4 and CS3 users no longer receive upgrade discounts to CS6, but to the new Adobe CC release instead.]
[UPDATE (January 2012) – Adobe has listened to customers and just reversed this change! CS3, CS4, & CS5 are all good for upgrade to CS6 now.]
Earlier this month Adobe made a major change in the Creative Suite upgrade policy that has been in place since CS3 came out in April 2007…
Have you heard about it yet? If not, you might want to read the new upgrade policy for CS6.
Also helpful: see Adobe's planned new business model, a membership-based Creative Cloud.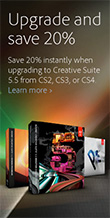 OK, all caught up? Good. So, how will these changes affect you?
First off, for anybody currently running the latest major release, Creative Suite 5 (either 5.0, 5.1, or 5.5), you're fine. You will not be affected by this revision, and will be eligible for the discounted pricing on upgrades when CS6 comes out.
For everyone else, if you're still running older versions – like CS2, CS3, or CS4 – when CS6 releases, you wouldn't qualify for that upgrade price break. And customer reaction on this point has been understandibly unfavorable.
Adobe is trying to mitigate the impact of this change by offering an extra 20% off all CS5.5 upgrades worldwide until the end of the year the extended date of March 15, 2012 (see banner).
But in trying to figure out what this means for everybody, it might be helpful to first take a step back with the Creative Suite release history and expected future schedule… Here's how the big picture looks:
So if Adobe continues as they anticipate, anybody who is running CS5 (or CS5.5) right now will be able to get low upgrade pricing to CS6 (or CS6.5) until that cycle completes in mid-2014. That's over two years from now.
In other words, it's likely that part of Adobe's reasoning for moving from "three versions back" to a "one version back" upgrade policy is that the major releases are now spaced out to once every two years – so that someone who bought CS5.0 the moment it came out in 2010 could still qualify for discounted upgrade pricing to CS6.5 nearly four years later in 2014.
But for "version skippers" and other folks still running prior releases, what are your options?
Here are what the choices look to be:
Upgrade to CS5.5 now so you're current, taking advantage of the additional 20% discount – and then revisit the question again before CS7 comes out in 2014.
Wait now, and then pay full price for a new copy of CS6, CS7, or a subsequent release.
Keep using the older software that you own now.
Convert to the "Creative Cloud" model, with access included to more applications and services so long as you're paying the per-month subscription fee.
So, which will it be, what will you do?
And regarding Adobe's business focus here, with the cloud model – what do you think, will it work? Is it the right move, at the right time? Or do you feel otherwise?
Take our instant poll:
Adobe's Changes in the Model
Tell us more below – here's your chance to express your thoughts and feedback!
See also: Acrobat, Lightroom, and Elements – How Will They Be Affected?
[UPDATE (January 11th, 2012) – After feedback, Adobe has now deferred this policy change.]
See Also

What do you think of the new policies for Creative Suite 6? Share your thoughts below or at Adobe's
official feedback form
…
To follow this story going forward, subscribe to our RSS feed or like us on Facebook or Twitter… You can also enter your email and have new articles sent directly to your Inbox. We are reader-supported; when you buy through links on our site, we may earn an affiliate commission.