[UPDATE (Jan. 2017) – Adobe just stopped selling CS6 entirely – here's why.]
When Creative Suite 6 arrived in 2012, there came with it a new way to buy Adobe software that the world had not seen before: the Creative Cloud. Traditionally, most Adobe products had only been sold with "perpetual" licensing that doesn't expire. The flip side is that these best-in-class tools often come with a steep price tag that is out of reach for many folks – though there have always been substantial discounts when upgrading from recent older releases, plus much lower pricing for some market segments like students and teachers…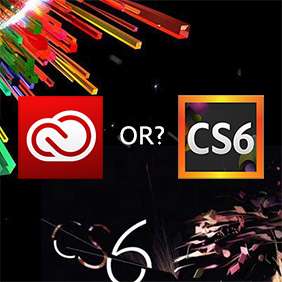 When Creative Cloud first entered the scene, there was (and still is) some uncertainty about what it meant and where it was going… But despite that skepticism, the Cloud has since gained strong adoption to become the company's dominant product line with most customers choosing it over CS6, which Adobe still continues to sell for people who want it. With Creative Cloud you receive the newer "CC" release that succeeds CS6 as the latest and greatest toolset, and generally gets high ratings from users.
Related: Compare Features – What's New in Adobe CC vs. CS6?
Adobe CC is available only via a subscription model which, yes, is cloud-based in some ways – but the name has been called confusing and misconceptions abound because in fact the major applications are not online or web-based, but still run locally on your computer as before. What's more, the company has been clear that powerful tools like Photoshop may add some online capabilities but will never run completely in the cloud.
So at its core, this is primarily a different way of buying and using all the Adobe products you know and love (plus more). Creative Cloud membership is served as an "all-you-can-eat buffet" of the best software out there for any creative purpose, for one affordable monthly price ($29-$49/month standard in the US). The central premise is you can continue to use the same applications and services you always have – plus many more available at your disposal – with a term-based membership that includes ongoing product upgrades and new feature additions over the period.
What's in Creative Cloud?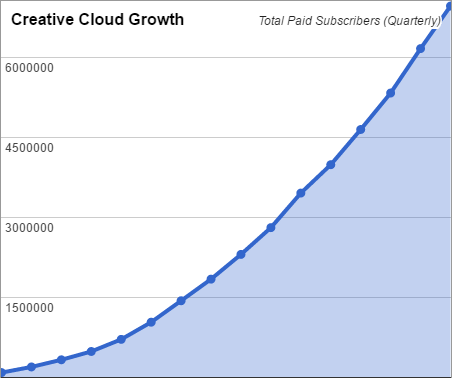 Creative Cloud contains new CC versions of all applications that were part of Creative Suite 6 (effectively the entire Master Collection), as well as others like Lightroom, Adobe Muse, Adobe Edge, plus a host of professional publishing services for getting your work out there. As noted, most of these components do not run over the network – they download and install on your system desktop just like normal, and only need to be connected to the Internet once every 99 days for annual membership revalidation.
That said, however, there is an online collaborative Cloud component envelop­ing it all which allows easy web-based file storage, sharing, browsing, and syncing between computers and devices. For those who don't have a paid subscription, there is a free level of Creative Cloud membership that provides the same commu­nity features but with 2GB of free storage instead of 20GB… The best part about this cloud storage is that your colleagues or clients do not need to have any of the actual Adobe tools installed to view or comment on the files you upload.
Special: Legally download dozens of free Adobe books for a limited time!
CC or CS6 – Which Is Right for You?
So there have been a lot of changes in recent years – and with all these developments in mind, how do you decide which one to buy? The answer depends to a large extent on how you use the software, with these questions to ask:
How long will you be using the products?
How frequently do you usually [like to] upgrade?
Which Adobe programs do you want or need to use now?
Which tools would you like to expand to using in the future?
How nice is it to always have the latest releases and best features?
Do you own a prior product you can upgrade from, or would you buy full?
What will your regular annual costs be when comparing the two different options?
How important is it for the software that you use to be supported long into the future?
Before we get to some cost comparisons, it's important to note that it's not just about price. Adobe says they are supporting CS6 on the current releases of Windows and Mac OS, but do not have plans to support it on the next releases coming out from Microsoft and Apple… In other words, within less than a year it's likely that CS6 will not be supported to run on newer operating systems. By contrast, Creative Cloud is a service as much as a product and will always be supported and updated for the latest platforms, devices, and technologies.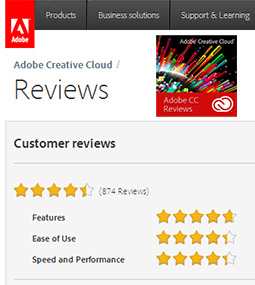 The cost of Creative Cloud is $US49.99/month for a yearly plan, or $74.99 when purchased month-to-month with the ability to turn it on and off as needed. It's $29.99 per month for the first year for those upgrading from a prior Creative Suite product with Adobe's introductory offer, and $19.99/month for current students and teachers. Doing the math that's about $600/year for regular customers, $360 for CS upgraders, and $240 for education customers… In sum it's around $1-$2 a day. So when you look at these plans versus the tradi­tional CS6 price sheet or the cost of upgrading your current tools, which is more attractive?
Well, if you're a solid user of Creative Suite and a happy upgrader, then the Creative Cloud could be a good deal for you. The CS6 Master suite, for example, sells for $2,600 full, or $1,050 to upgrade from CS5 – and that is for an older static version that will never evolve or improve. So paying $1,200 spread over two years for CC (and $240 less for upgraders) could work out well considering that all upgrades and future support are included, and you can run the latest releases of all the top tools Adobe makes.
Or as Bloomberg Businessweek says, "One benefit is not having to lay out $2,500 every few years. It would take more than four years of monthly $50 subscription fees to reach the cost of an all-at-once software purchase, and the programs will always be up to date."
But what if you don't want the complete package? If you only use Photoshop (normally US$700-$1000 full, $200 upgrade) and Lightroom ($150 full, $80 upgrade) and don't see yourself ever growing into other tools like Illustrator, Premiere Pro, Muse, or Acrobat, then there's another choice: the new Photoshop Photography Bundle which includes both PS + LR for US$9.99 a month. And if you need any other single standalone application (like, say, After Effects CC), then see the next section below for a final possibility.

It goes without saying that the Cloud option is absolutely ideal for situa­tional and tempo­rary needs like project-based work, contract employment, freelancing, and so on – you only pay when you need it. It's even possible to start out with a month-to-month membership if you want to see how you like it, after your 30-day free trial is up.
Single-App Membership – The Lesser-Known Option
If the complete Creative Cloud is too much, there's an additional choice that many people aren't aware of – Adobe also offers subscriptions for just a single tool like Photoshop, Illustrator, InDesign, Acrobat Pro, Premiere, and others for only $14-$19/month, and that low pricing is available to everybody… The sign-up and download is all online so you can get going right away – and all upgrades are included, so you're always running the latest version.
Any of the new CC tools are available on an annual as well as month-to-month basis (start-and-stop) in all languages for both Windows and Mac together, so pretty flexible. And if you happen to decide later that you want to upgrade to the complete Creative Cloud package to access all applications (at any time), then Adobe will credit back your account for the remaining amount due on your existing membership.
So when you compare that pricing of $19/month versus $1,000 to buy (say) After Effects CS6, it's definitely worth considering – and you'll find all the details here:
» Don't Need the Full Cloud? Get Any Adobe Product for $9-$19 a Month
Creative Cloud vs. Creative Suite 6 – Pros & Cons
For a complete side-by-side analysis, check out our detailed Adobe CC vs. CS6 Comparison Chart with all the pros and cons to consider for each option.
Do you have any further questions about the comparison or your decision? Just ask them below and we'll get you answers fast!
See Also

Keep up with the latest on Adobe software — follow us on Facebook or Twitter, or subscribe to our RSS feed… You can also enter your email and have new articles sent directly to your Inbox. We are reader-supported; when you buy through links on our site, we may earn an affiliate commission.