[UPDATE (Jan. 2017) – Adobe just stopped selling CS6 entirely – here's why.]
You most likely already know the news that Adobe ended the Creative Suite line (there is no CS7), and that new releases of all the CS tools (and more) have been relaunched as "CC" – and these new versions are available only via a Creative Cloud membership…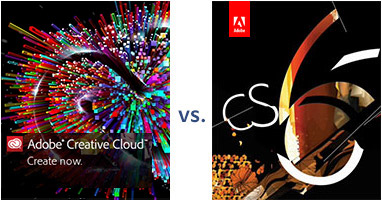 At the same time, Adobe is continuing to sell 2012's CS6 version for people that prefer the traditional licensing model instead of CC sub­scriptions, though statistically fewer than 1 in 5 customers are still going that direction.
Meanwhile, the 15 new CC applications have brought hundreds of new features and enhance­ments compared to CS6, with more being added all the time through ongoing upgrades that are included free with all memberships… Thus far, the latest CC tools have been getting nearly 5-star reviews from customers, as they sign up at the rate of 65,000 per week. But still, because of the relative newness of the Creative Cloud offering, some confusion abounds and there remain a few big myths floating around out there.
So all in all, there has been a lot of change to digest over the past year, and folks often ask us which route is best to take – what are the pros and cons of each option?
In response, we thought we'd put together a practical feature list for the two major choices that should help you decide when comparing them side-by-side…
And so here it is, the comparison chart – just click on any of the highlighted links in the table to find out more about that topic:
Important
Attribute
Creative
Cloud
Creative
Suite 6
For product-by-product differences, see CC vs. CS6 Features
Install and use all the top Adobe applications
Yes
No
Benefit from the latest/greatest release, CC
Yes
No
Upgradeable to future versions
Yes
No
All ongoing product upgrades included
Yes
No
Over 1,000 new features added since CS6
Yes
No
Buy at higher price to own a static version
No
Yes
Pay a lower monthly membership price
Yes
No
Apps continue to run if subscription ends
No
N/A
Can purchase prepaid in advance if needed
Yes
Yes
Can buy just one tool if that's what you want
Yes
Yes
Supported on next Windows/Mac OS versions
Yes
No
Run tools locally on desktop, not over web
Yes
Yes
Can activate on up to two of your computers
Yes
Yes
Can install on both Windows and Mac OS
Yes
No
Use without a continual Internet connection
Yes
Yes
You decide when/if to install your upgrades
Yes
Yes
Available in dozens of countries worldwide
Yes
Yes
Includes multiple language use & switching
Yes
No
Can run on same machine as older releases
Yes
Yes
Can easily move it between two systems
Yes
Yes
Can get a software disc/DVD from Adobe
Yes
No
Includes library of exclusive training/tutorials
Yes
No
Can try it out first with a free 30-day trial
Yes
Yes
Covered by full 30-day return/refund policy
Yes
Yes
Pricing discounts for owners of older CS tools
Yes
Yes
Student & Teacher discounts are available
Yes
Yes
Volume licensing for groups is available
Yes
Yes
Special package offered for photographers
Yes
No
Can use short term, turn on & off as needed
Yes
No
Has a free level of membership & use, for all
Yes
No
Do you have any further questions about the comparison or your decision? Just ask them below and we'll get you answers fast!
See Also

Keep up with the latest on Adobe software — follow us on Facebook or Twitter, or subscribe to our RSS feed… You can also enter your email and have new articles sent directly to your Inbox. We are reader-supported; when you buy through links on our site, we may earn an affiliate commission.