Almost five years ago, in the spring of 2012, Adobe launched two major products at one time: Creative Suite 6 and the Creative Cloud. The Creative Suite 6 suites were well received and cost from US$1,300 to $2,600 – while Creative Cloud, a subscription to their full range of creative applications, had a much lower cost of entry and gave customers access to the CS6 tools and services, as well as ongoing upgrades. A year later, Adobe announced that CS6 would be their last perpetual software release, and there would be no CS7.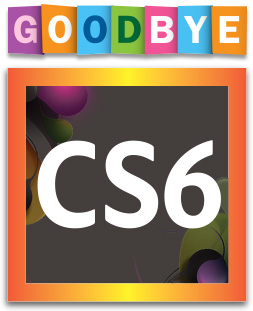 Since then, the Creative Cloud has evolved to include the newer milestone releases CC 2013, CC 2014, CC 2015, CC 2015.5, and now CC 2017. Over this time, thousands of new features and improve­ments have been delivered exclusively to Creative Cloud members, while the original CS6 release has remained largely static. By law, with the purchasing model that CS6 had, Adobe could not legally add significant new features to the traditional release.
By June of 2014, after the first two major Creative Cloud versions, Adobe described new CS6 sales as "de minimis," with customers overwhelmingly choosing subscriptions instead of perpetual model licenses.
Adobe did continue providing maintenance (bug/security) fixes to CS6 and refreshing Camera Raw through July 2015, over 3 years after CS6 came out – but then finally discontinued support in order to evolve the platform and pursue further innovations in image processing and workflow technology.
Thus, CS6 was written before newer operating systems and is not supported on them, meaning that officially Windows 8.1 and Mac OSX v. 10.9 ("Mavericks") are the last compatible OS versions. In fact, none of the CS tools will even install on any macOS past v. 10.14 "Mojave," due to Apple removing all support for 32-bit applications.
In September 2015, Adobe stopped selling Creative Suite 6 entirely on their website… Essentially the reason was because the newer CC rapidly grew and took over. Some CS6 editions could still be purchased from the company after that point, although only by calling an Adobe call center directly and only for older operating systems.
But with the official CS6 software EOL (end-of-life) and end of support, there were no further updates, no bug fixes, and no guarantees it will run on the latest or future operating systems. So finally, earlier this month, Adobe ceased any remaining sales of CS6 for good:
As of January 9, 2017, Creative Suite is no longer available for purchase

Looking for Creative Suite 6? The latest versions of all your favorite apps like Photoshop and Illustrator are only available with a Creative Cloud membership. You'll also get ongoing product upgrades, hundreds of step-by-step tutorials, built-in design templates, your own portfolio website, and more.
That notification comes from this page where you previously could buy CS6:
https://www.adobe.com/products/cs6.html
So really the only path forward for Adobe creative products now is Creative Cloud, which are considered better tools anyway, or you can downgrade them to use CS6 instead – because Creative Cloud subscribers can choose either or both versions (CC plus CS6) with your subscription.
With Creative Cloud, all ongoing upgrades, compatibility updates and product additions are always included – so becoming obsolete will never happen. The monthly payments are also more budget-friendly in the new model than in the old CS model – where the software used to cost many hundreds or often thousands of dollars upfront, and never evolved.
Many of the Creative Cloud desktop applications let you export files to the Creative Suite 6 version of that same application. However, note that new features added to the desktop applications after CS6 may not be supported in the exported file, or by the CS6 application.
Finally, while Adobe no longer makes or sells CS6 in any way, some readers may ask if is it still possible to find it secondhand on sites like eBay or Amazon? The answer is perhaps – but it doesn't matter, because even if you could, you wouldn't even want to try buying it from those places… Because if you do happen to see a copy for sale out there, it's likely neither legitimate nor safe.
Bottom line: Last year we stopped recommending CS6 as a good or viable option going forward, as it is simply not current or future-proof… And as of January 2017, Adobe has finally closed the last door on this. But now you know the full story, and why.
Do you have any further questions about CS6 or CC? Just ask them below and we'll get you answers fast!
See Also

Keep up with the latest on Adobe software — follow us on Facebook or Twitter, or subscribe to our RSS feed… You can also enter your email and have new articles sent directly to your Inbox. We are reader-supported; when you buy through links on our site, we may earn an affiliate commission.