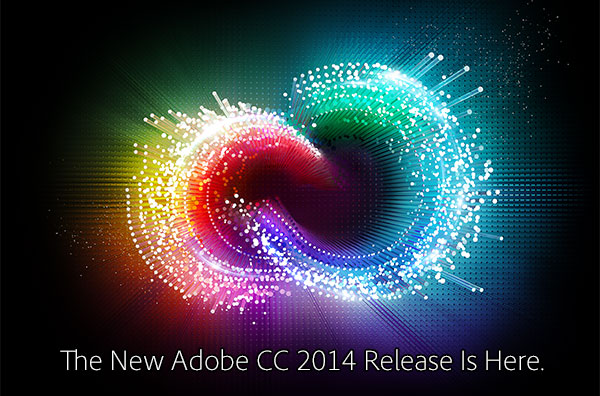 [UPDATE (Oct. 2022) – The all-new Creative Cloud 2023 release has launched and is now available! See what's new in features and all the differences compared to older versions.]
BREAKING NEWS (New York) — Adobe has just announced the immediate availability of the all-new CC 2014 release, with hundreds of new features and enhance­ments across their creative product line (all tools) focusing on workflow, performance, and connectivity. In this fast-paced and rapidly evolving world of technology and platforms, CC 2014 succeeds the CC 2013 version which launched last June, which in turn replaced CS6 from 2012. So thinking in the old terms, this would roughly be equivalent to CS8 (and more).
All current Creative Cloud members will receive an automatic upgrade to the 2014 Release, and all of the new free trial downloads are also now live online. As before, the new tools and services are available via afford­able annual or monthly memberships, rather than higher-priced perpetual licenses. Adobe has been building significant momentum with Creative Cloud, with over 30 million paid customers already having joined.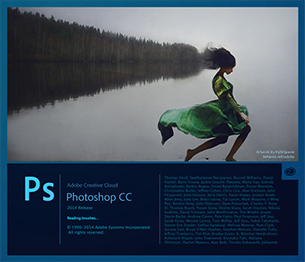 If you're not ready for the complete Creative Cloud now and prefer just a single applica­tion like Photoshop CC 2014, then you can get any standalone CC tool for $9.99 or $19.99 a month with what's known as a Single-App Membership, or (for PS+LR) the CC Photography Plan.
CC 2014 will install and run alongside CC 2013, CS6, CS5, or any older CS versions with no problem – these are brand new builds of the apps and not just feature updates to the existing versions. In fact, all of Adobe's releases can coexist indep­endently and run side-by-side – so you can keep the existing version(s) on your computer and run them both, or you can remove the older release(s) if you want.
Special: Legally download dozens of free Adobe books for a limited time!
If you decide not to sign on for CC 2014 when the free trial period is up, you can just uninstall it and your older tools will continue to run – or you can easily convert your trial to ongoing use without reinstall­ing the software. Meanwhile, Adobe will keep the older CC 2013 and CS6 versions available in an online archive for all Creative Cloud members to access and use if/when needed.
Adobe now describes CS6 sales as "de minimis," with the vast majority of customers choosing Creative Cloud – which is generally getting strong reviews – but for those who still want traditional (perpetual) licensing instead, Adobe continues to sell CS6 for those who wish it (the CS6 free trials are also still available). However if you want to move up to the latest and greatest products, then Adobe is currently offering 40% discounted upgrade pricing to CC for all users of any CS tool or suite going back to CS3 from 2007.
Education customers also receive significant savings of 60-70% off the regular CC prices, for students, teachers, and staff at all levels of school: primary, middle, secondary, college and university… See our guide on how to qualify.
If you need to run CC on multiple computers for a group of users, then Adobe offers Creative Cloud for Teams for the most flexibility and ease of management plus two-year-long 30% upgrade discounts from Creative Suite.
Highlights of the CC 2014 Release
Here's what Adobe tells us the new CC 2014 Release is all about:
The 2014 release of Creative Cloud is about delighting our customers and making their everyday workflow better, as well as helping them address the many big industry shifts and challenges they are facing. It includes:

• To help creatives keep up with the rapid pace of change, we're delivering a milestone release of our desktop apps. This includes all-new versions of 14 CC desktop apps with hundreds of useful new features and improve­ments, tightly integrated with cloud services. Plus, updates to Lightroom and Edge Reflow.

• To provide a more agile way of working and to help creative do serious work on mobile, we're delivering new, Creative Cloud-­connected mobile apps and (introducing) hardware that extend desktop workflows to unlock professional-grade creativity on mobile.

• To address the fact that creatives need to be super connected, with always-on access to everything that makes up their creative identity, we're introducing a new Creative Cloud service experience across desktop, web and mobile. This means your creative identity – your assets, your colors, your fonts, even your community and your collaborators – will be available to you everywhere.

• We're broadening the offering beyond creative pros to include non-pros with a new Creative Cloud Plan for Photography as well introducing a new iPhone app for Lightroom mobile.

• And starting in July, the all-new Creative Cloud Market – a curated collection of high-quality content that subscribers can access for free. It's a broad selection of over 20,000 useful assets and growing: images, artwork, vector graphics, icons, patterns, and more – where you can download up to 500 unique royalty-free assets each and every month for permanent royalty-free use in your own projects.

With brand new versions of 14 desktop applications, tightly integrated with services via Creative Cloud, this is Adobe's biggest software release since CS6 in spring 2012.
As a Creative Cloud member, all of these just-launched apps and services are available to you immed­iately. Just download and install the apps from your Creative Cloud account (com­pletely on your schedule), or start using the new or updated services. Everyone can also run every­thing for free for 30 7 days (or possibly longer), as all trial periods have been reset.
You can find more details about all the new features on the Creative Cloud webpage and blog, or check out Adobe's official press release. The extensive CC FAQ also answers many common questions, and don't miss the broad collection of CC tutorials on Adobe TV.
See Also

Do you have any questions about Creative Cloud? Just ask them below and we'll get you answers fast!
Keep up with the latest on Adobe software — follow us on Facebook or Twitter, or subscribe to our RSS feed… You can also enter your email and have new articles sent directly to your Inbox. We are reader-supported; when you buy through links on our site, we may earn an affiliate commission.