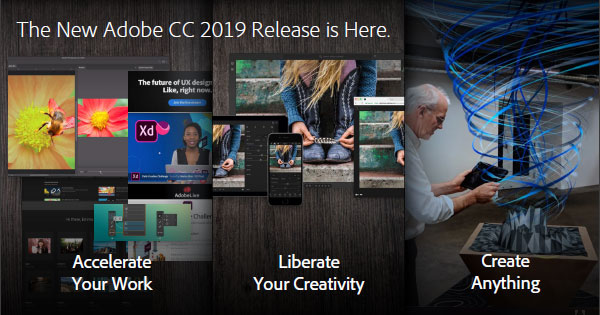 [UPDATE (Oct. 2022) – The all-new Creative Cloud 2023 release has launched and is now available! See what's new in features and all the differences compared to older versions.]
Today Adobe announced the immediate availability of the all-new CC 2019 release, the next generation of Creative Cloud with hundreds of new features and advancements across their product line surrounding three key themes: to accelerate your work, to liberate your creativity, and to help you create anything… CC 2019 is the next major release following the CC 2018, CC 2017, CC 2015, CC 2014, and CC 2013 versions, which in turn replaced CS6 from 2012.
The 18 upgraded CC desktop applications are Photoshop, Illustrator, InDesign, InCopy, Adobe XD, Dimension, Animate, Dreamweaver, Premiere Pro, After Effects, Audition, Character Animator, Media Encoder, Prelude, Bridge, Camera Raw, Lightroom CC and Lightroom Classic. In addition, there's a recently-improved version of Acrobat DC Pro, plus a brand new 1.0 product in Premiere Rush CC for all-in-one, cross-device video editing that makes creating and sharing online content easier than ever – as well as previews of three upcoming apps: Project Gemini for amazing drawing and painting across all surfaces, Project Aero for powerfully authoring AR (augmented reality) experiences, and the much-anticipated Photoshop CC for the iPad (the real deal).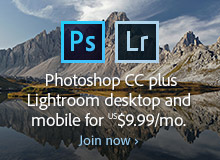 There are also big changes for Adobe's type assets. Typekit is now Adobe Fonts. Starting today, all Creative Cloud subscription plans will include a complete library of over 22,000(!) fonts with full use – a $100/year value. This means users no longer have to pay for premium fonts; they all come automati­cally with your CC subscrip­tion. And there will be no more limits on the number of fonts you can sync, or the number of web font pageviews, or the number of domains you can use them on. And finally, all fonts will be able to be used on both the web and the desktop.
As part of this release, Adobe continues to embed machine learning and artificial intelligence capabilities across the entire suite of tools and services with Adobe Sensei. 74% of creative professionals spend over 50% of their time on repetitive, non-creative tasks. By blending the art of creativity with the science of data, the goal of Sensei is to help free you from mundane tasks and employ technology to accelerate your creativity. And Adobe's Sensei plays a big role in the "that's impossible" new features wowing the audience at the MAX Conference this week.
All current Creative Cloud members receive an automatic upgrade to the 2019 Release, and all of the new free trial downloads are also now live online. As before, the new tools and services are available via budget-friendly annual or monthly memberships. Creative Cloud membership continues to expand at an acceler­ating pace around the world, with now over 30 million paid subscribers.
Install now: Get all new Creative Cloud 2024 direct download links and free trials.
What You Should Know About the 2019 Release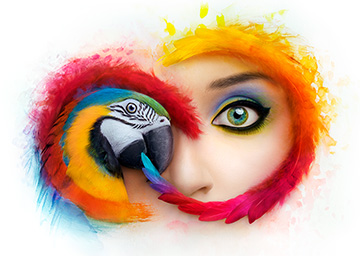 The CC 2019 applications are complete new builds of the tools and not just "in place" feature updates to the existing versions. When upgrading your system, the CC Desktop App will, by default, uninstall prior CC (not CS) versions on your machine, so that you just have the latest release… It will automat­ically migrate your presets, preferences and any compatible add-ons; however it will not migrate third-party plug-ins.
If you do not want it to uninstall your prior versions – for third-party compatibility reasons or just to wait until you're comfortable with the new CC 2019 version – then click on "Advanced Options" and uncheck "Remove old versions." In all cases, per usual, you'll have to reinstall any third-party plug-ins and extension panels after you upgrade. For more information and details, please see this guide. So, it's up to you: if you choose, CC 2019 will install and run alongside CC 2018, CS6, or any older CS versions with no problem (and some people do this), or you can have the the older release(s) removed. Of course, if you use the CC 2019 direct download links instead of the Desktop App, then you have full control of everything yourself.
As a Creative Cloud member you always have access to most older CC 2018, CC 2017, CC 2015, CC 2014, CC 2013, and CS6 application versions available in an online archive for all subscribers to download and use if/when needed. So if you ever uninstall an earlier version that you want back later, it's usually there for you. If you're trying out CC 2019 and decide to join when the free trial period is up, you can easily convert your trial to ongoing use without reinstall­ing the software.
Also important to know is that the system requirements have changed, in order to take advantage of the latest operating system features and technologies… On Mac, the CC 2019 release now requires macOS X 10.12 Sierra or higher. If you're not running the latest macOS yet, then you can get a free upgrade from Apple to the latest version of macOS 10.14 Mojave. On PC, either Windows 10 (version 1703 or higher) or Windows 7 will work for most Creative Cloud applications. But note that Windows 7 is no longer supported for the CC video and audio tools, and Windows 8.1 is not supported at all. For more details, consult the complete CC 2019 System Requirements. If those don't fit for you, then you can instead continue to use the older CC 2018 applications.
Special: Legally download dozens of free Adobe books for a limited time!
Pricing and Availability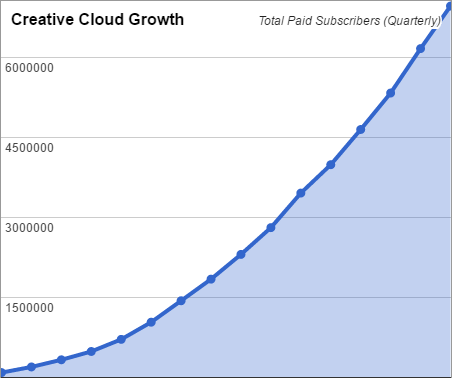 The complete CC 2019 release is now shipping and available for instant download. If you're not ready for the complete Creative Cloud now (US$50/month prepaid) and prefer just a single applica­tion like Photoshop CC 2019, then you can get any standalone CC tool for $10-$20 a month with what's known as a Single-App Membership, or (for both Photoshop + Lightroom) the CC Photography Plan.
Education customers still receive a discount of 60-70% off the regular CC prices, for students, teachers, and staff at all levels of school: primary, middle, secondary, college and university… See our guide on how to qualify.
If you need to run CC on multiple computers for a group of users, then Adobe offers Creative Cloud for Teams for the most flexibility and ease of management, plus other significant advantages over the Individual CC offering such as the groundbreaking Team Projects.
As a Creative Cloud member, all of these just-launched apps and services are available to you immed­iately. Just download and install the apps from your Creative Cloud account (com­pletely on your schedule), or start using the new or updated services. Everyone can also run every­thing for free for 7 days, as all trial periods have been reset from the previous major release.
You can find more details about all the new features on the Creative Cloud webpage and blog, or check out Adobe's official press release. The extensive CC FAQ also answers many common questions, and don't miss the broad collection of CC tutorials on Adobe TV.
What's New in CC 2019? [Video]
See Also

Do you have any questions about Creative Cloud? Just ask them below and we'll get you answers fast!
Keep up with the latest on Adobe software — follow us on Facebook or Twitter, or subscribe to our RSS feed… You can also enter your email and have new articles sent directly to your Inbox. We are reader-supported; when you buy through links on our site, we may earn an affiliate commission.