In late 2012, Adobe acquired Behance – the leading online community and social media plat­form for creative professionals, which is often referred to as "The LinkedIn for Creatives." Since that time, Behance has grown like wildfire: it now has over 3 million members receiving over 160 million page views per month…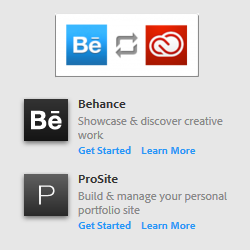 With Behance, you can easily upload your photo­graphs, projects, or portfolios and gain a fantastic way to showcase, share, and get exposure for your work as well as receive feedback from the creative community, and get inspired for future work. You can publish many types of media such as images, illustrations, video and audio, and follow statistics on how many views your projects are getting, and potentially make money. There's even a job list for creatives and freelancers, with hundreds of employment opportunities.
A year ago today, Adobe announced it completed integration of Behance with the Creative Cloud, and it was making the premium-level Behance ProSite (which is normally US$99/year standalone) completely free for Creative Cloud subscribers.
This is one of the great benefits of CC member­ship. In literally five minutes, ProSite trans­forms your online portfolio into a slick, fully-customizable website hosted by Behance with your own URL, without writing any code… You can quickly design a stunning, professional-looking public portfolio site (see some examples here) that automatically stays in sync with your projects on Behance, increasing your efficiency and helping your work get more exposure from Behance's enormous viewership as the premier creative community destination.
And so, as a Creative Cloud member – or even if you subscribe to just one app like Illustrator, you get the ProSite included as part of your mem­bership at no additional cost… Check out these demos to see how easy and fast it is to do this, and to use Behance:
There is also a permanently-free level of Creative Cloud and these folks can join and use Behance, however only paid CC members are able to build and use a Behance ProSite.
Find out more about how to create and publish your own ProSite in a snap – or join the Creative Cloud and get started today:
See Also

Keep up with the latest on Adobe software — follow us on Facebook or Twitter, or subscribe to our RSS feed… You can also enter your email and have new articles sent directly to your Inbox. We are reader-supported; when you buy through links on our site, we may earn an affiliate commission.