Ten years ago, Adobe acquired Behance – the leading online community and social media plat­form for creative professionals, which is often referred to as "The LinkedIn for Creatives." Back then, Behance had about 1 million members. Since that time, with Behance's inclusion into Creative Cloud, growth and participation have exploded – and the Behance community now boasts over 30 million members receiving 180 million project views per month.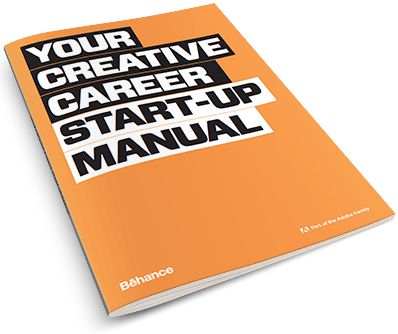 With Behance, you can easily upload your photo­graphs, projects, or portfolios and gain a fantastic way to showcase, share, and get exposure for your work as well as receive feedback from your creative peers, and get inspired for future work. You can publish many types of media such as images, text, illustra­tions, video and audio, and follow statistics on how many views your projects are getting, and potentially make money. There's even a very helpful job list for creatives and freelancers, with over 1,500 available employment opportunities.
Note that you do not need to be a paid member of Adobe's Creative Cloud to join and use Behance… You can be a completely free member of Creative Cloud, and/or use other software tools entirely – and you can still sign up for Behance at no cost.
Free Stock! Download 1,000,000+ premium assets from the new Adobe Stock Free Collection
There are many, many amazing success stories. Russian Illustrator Fil Dunsky says most of his clients come from Behance – he's gotten commercial projects from all over the world after posting his work, and is now able to work as a full-time freelancer. (Bonus: Check out two free freelancer books further below.) Digital artist Patrick Seymour writes, "Usher's production team saw my work on Behance and asked me to create custom illustrations for his next world tour." Saxon Campbell recounts how "Behance turned my freelance gig into a full-time success, and I am now running my own creative studio." Yet another designer reports, "I created custom graphics for the end credits of '22 Jump Street' after my retro-futuristic logos went viral on Behance."
And now, here's a terrific way to help make it happen for you. You can download Your Creative Career Start-Up Manual, a 15-page guidebook to getting started and being successful on Behance. Learn more, go for it, and take your creative career to the next level! As Milton Berle once said, "If oppor­tunity doesn't knock, build a door:"
Here are the reader reviews for this free book: "Good resource. Behance is awesome!" … "Excellent material. Thanks" … "I'm excited to really start my artistic side" … "Wow, very good" … "thank you :)" … "Very excited to know more"… "This is definitely worth a try" … "I wish I knew about this publication a year ago." … "Cheers!"
Bonus

: Download Your Free Copy of "The Freelancer's Roadmap" (68 Pages)

Here's another superb free book that could help you a great deal in your creative career: it's The Freelancer's Roadmap, a 68-page guide from the helpful team at CreativeLive… In this inform­ative eBook, you'll learn about putting together a high-quality creative portfolio, how to build a powerful personal brand, how to calculate your best hourly rate, how to find new clients and write winning proposals, and how top freelancers can earn a very good living.

You can download this step-by-step roadmap here:

UPDATE – Also available from that same page is The Freelancer's Bible: Your Guide to Going It Alone… Whether you're already freelance or thinking of making the jump, this free ebook from Route One Print is full of useful freelance advice, with tips on how to market your business, find your Unique Selling Proposition, license your work, manage client relationships, complete tax returns, and much more.

Special: Legally download dozens of free Adobe books for a limited time!
New Video: Ten Tips to Improve Your Creative Career
See Also

Keep up with the latest on Adobe software — follow us on Facebook or Twitter, or subscribe to our RSS feed… You can also enter your email and have new articles sent directly to your Inbox. We are reader-supported; when you buy through links on our site, we may earn an affiliate commission.