[UPDATE (April 2015) – The next major release of Adobe Acrobat – the new Acrobat DC – is now shipping! Download a free trial instantly or check out what's new in Acrobat DC vs. XI.]
One of the most frequent upgrade questions we're seeing asked is what's new, what's different, or what's changed between the new Adobe Acrobat XI (Acrobat 11) and previous versions? Or more simply put, what are the major new features in Acrobat X (Pro or Standard), versus Acrobat X or 9? Adobe calls it, "a powerful new PDF solution that rises to today's complex document challenges," so these kinds of answers can help decide about upgrading…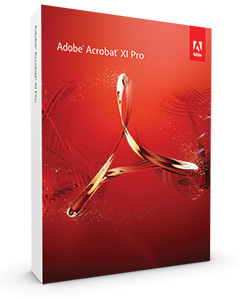 There aren't any complete, formal reviews out yet, but here's what some early test users are saying: "Being able to do complex things on the fly, like signing a document electron­ically or commenting on a document on an iPad, is very attractive," and "makes it even easier and faster to create PDF forms and to auto­matically distribute and collect information with new online forms services," plus "offers advanced document protection capabilities that are easier than ever for our staff to uniformly secure our documents."
[ What's the difference between the editions? See: Acrobat XI Pro vs. Standard vs. Reader ]
Adobe had four overarching goals for this release: (1) increase end-user productivity, (2) streamline collab­oration, (3) lock down information security, and (4) support working with documents on mobile devices.
With those themes in mind, here are some quick highlights of what's new and improved:
User Productivity

Naturally edit text and images in PDFs
Easily convert PDF to Office formats to increase content reuse
Enable users to consistently follow document policies via Actions

Collaboration

Accelerate the process of gathering feedback and approvals
Streamline form creation, distribution, data collection and analysis

Information Security

Protect systems and lower IT costs with advanced application security
Make it easier for users to secure PDFs in Acrobat and Microsoft Office

Working Across Devices

Deploy touch-friendly Acrobat on tablets with Windows 8, or through Citrix XenApp
Enable users to reliably view and interact with PDF via Adobe Reader
For the specifics on how each of these goals was met, here are two itemized version-by-version feature compar­isons vs. previous releases – just click to see either of the two complete charts below… The top one is for Acrobat X Pro, and the bottom is for Acrobat X Standard: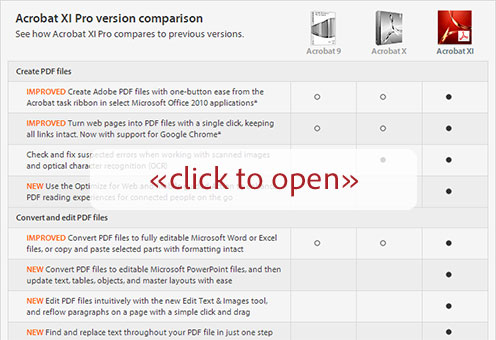 ---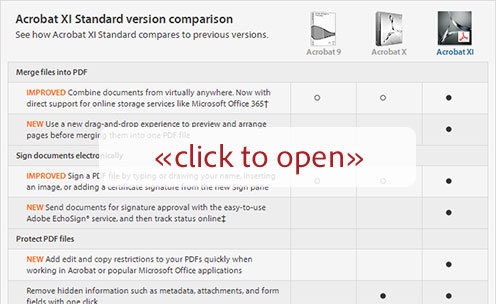 Bottom line, Adobe Acrobat XI looks like a smooth and solid upgrade that will make your life easier, help you get more done, and save you some time. Want to see for yourself? Just download and install the free 30-day trial.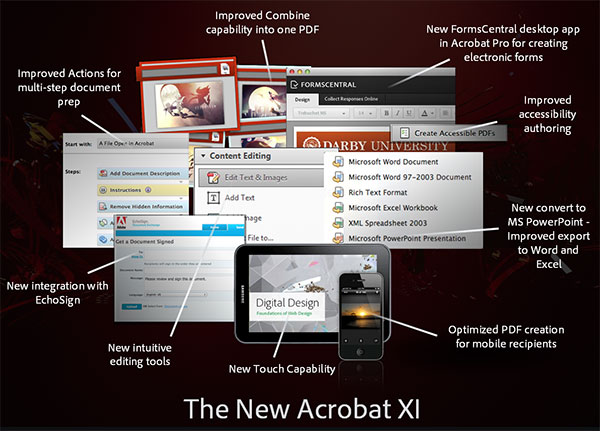 To learn more see the excellent Acrobat XI FAQ or check out the free Acrobat XI tutorials.
See Also

Do you have any questions about Acrobat? Just ask them below and we'll get you answers fast!
Keep up with the latest on Adobe software — follow us on Facebook or Twitter, or subscribe to our RSS feed… You can also enter your email and have new articles sent directly to your Inbox. We are reader-supported; when you buy through links on our site, we may earn an affiliate commission.