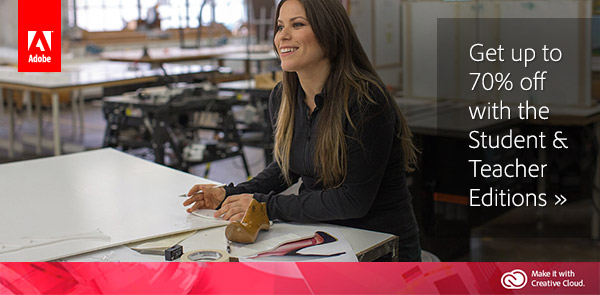 The Adobe Student and Teacher Editions look like a great deal. They offer big discounts, as much as 70% off normal prices. They're available for most of Adobe's most popular products, including the Creative Cloud (CC), Creative Suite 6, Lightroom 6, Acrobat XI, and the Elements line. They can be purchased by anyone who qualifies – primary, middle, and secondary school students, homeschoolers, college or university students, faculty, teachers, and administrators. Even part-time students or teachers can be eligible, and there is no maximum age limitation. They're available pretty much worldwide in many languages on both Windows and macOS, and you don't need any kind of coupon or promotion code to get the deep discounts.
So what's the catch? Is the Academic software different or limited somehow? Is there any sort of time restriction, time limit, or time out – do the perpetual Adobe Student Editions expire? Or are they unusable for commercial purposes or paid work?
The answer to all of these questions is fortunately no: the Education products are identical in features and functionality in every respect to their standard counterparts – the only differ­ences are the prices and some of the licensing terms… The prices, as mentioned, can be a real bargain – for example, instead of US$999 for 2012's Photoshop CS6 Extended, the price is only $349; instead of $1,899 for CS6 Design & Web Premium (the popular suite containing seven creative tools including Photoshop CS6 Extended), you get it for $599.
And for the Creative Cloud – Adobe's current all-inclusive offering which contains the entire "Master Collection" plus much more, essentially the latest-and-greatest versions of every major industry-leading tool that they make – there is also a Student & Teacher Edition available that costs only $19.99 a month (instead of $50) which means you're getting it for less than half the regular price for your first year. So this CC option becomes more affordable for students than the traditional educational versions, plus you get to use every­thing based on an annual membership that includes ongoing upgrades.
Install now: Get all new Creative Cloud 2023 direct download links and free trials.
So What's Different with the Adobe Education Versions?
Since Creative Suite 5, all Student and Teacher Editions can be utilized for personal as well as commercial use, for all academic customers worldwide. So yes, you can sell your services or anything you create, or use these products in developing a side business or online venture. And after graduation or completion of coursework, you can continue to use any perpetual software on your personal systems; there is no usage expiration and those tools will continue to work.
Generally speaking, you can also install the student/teacher versions on up to two computers (desktops and laptops), and move the software between different machines when necessary.
But it's true there are some limitations as compared to the regular versions… though happily they are all fairly minor. Here are the notable differences between the education editions vs. the normal (professional/commercial) versions:
Each eligible person may purchase only one copy of each academic product per platform per year. Fortunately, each tool and suite and release are considered different products. So Photoshop and Dreamweaver (for example) are different titles, as are CS6 and CC, and each suite is a different title, so you could buy these all within one year if you wanted.
Student & Teacher Edition software may be used on your privately-owned computer only.
This software is not transferrable, meaning it may not be resold or given to others.
You validate your status with a copy of your school ID card, transcript, report card, tuition bill, or other suitable document that's dated within the last six months. Or, if you just provide a school-issued email during purchase (like ending in ".edu"), then you will be instantly verified.
The traditional student editions cannot be upgraded to other (future) education editions – but they are entitled to receive Adobe's discounted upgrade pricing to all regular commercial versions, –or– you can purchase another student edition if you still qualify. However the student price on a newer release is often lower than the commercial upgrade price anyway, so you can just choose whichever is the least expensive option for you. Bottom line, this is another savings and benefit of having these editions.
So why take your chances on the risks and malware in a pirated or bootleg version when you can do the right thing instead and get the real deal – legitimate, supported, and completely safe – for up to 70% off, direct via instant download from Adobe?
Special: Legally download dozens of free Adobe books for a limited time!
Finally, here's a very helpful Student & Teacher Eligibility Guide & FAQ that should answer all other questions you may have, including documentation requirements… Importantly, note that any verification documents dated within the last six months are considered current.
See Also

Do you have any questions about Adobe's Student & Teacher Editions? Just ask them below and we'll get you answers fast!
Keep up with the latest on Adobe software — follow us on Facebook or Twitter, or subscribe to our RSS feed… You can also enter your email and have new articles sent directly to your Inbox. We are reader-supported; when you buy through links on our site, we may earn an affiliate commission.