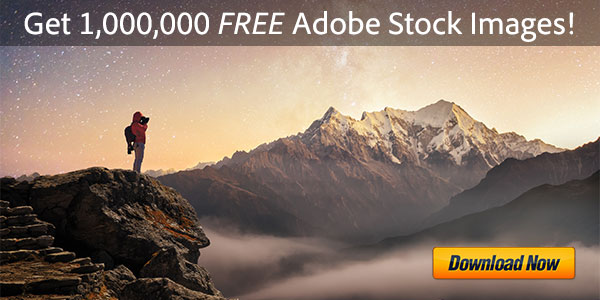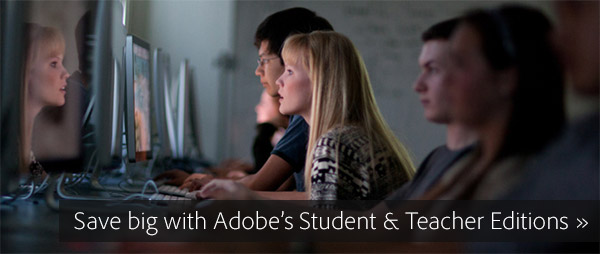 Let's face it, Adobe's traditional product prices seemed expensive over the years, espe­cially if you're on a student's budget. The last perpetual version available, Creative Suite 6 from 2012, historically had full prices ranging from $399 for Dream­weaver through $999 for Photoshop Extended and on up to $2,599 upfront for the Master Collection suite, which contained all CS6 applications. As cool and powerful as this software was, it's hard to afford when you're in school – even after the student/teacher discount.
Adobe stopped selling CS6 several years ago, as the version reached EOL and end of support – but fortunately the company still offers deep discounts for education customers on the latest CC release. A few years ago, in fact, they increased the discount on Creative Cloud to up to 70% off the regular prices. And while there are a lot of misconceptions about CC, the main products like Photoshop, Illustrator, InDesign, Premiere, etc., still download and run on your desktop as normal.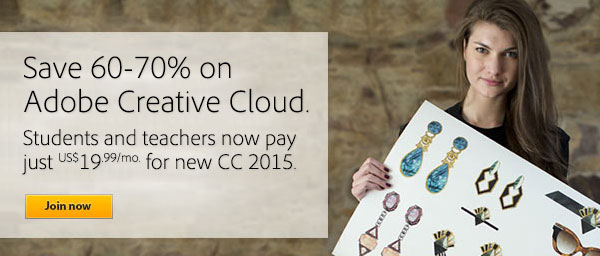 [UPDATE (Oct. 2018) – Students & teachers will now receive Adobe's all-new CC 2020 release of tools & services with Creative Cloud membership – all other information below remains the same.]
The standard pricing for Adobe's new CC 2015 release – their flagship Creative Cloud all-in-one offering – is US$50 a month with an annual membership. But what about education customers? How much is the academic discount?
On price, the offer is even better – all students, teachers, and education staff can now pay just US$19.99/month with an annual plan (under $1/day) for your first year – but importantly, no previous ownership of any Adobe product is required and no coupon code is necessary. Outside of North America, the levels of reduction can be even greater – £16.24 or €19,50 or A$21.99 per month (including VAT), or 60-70% off: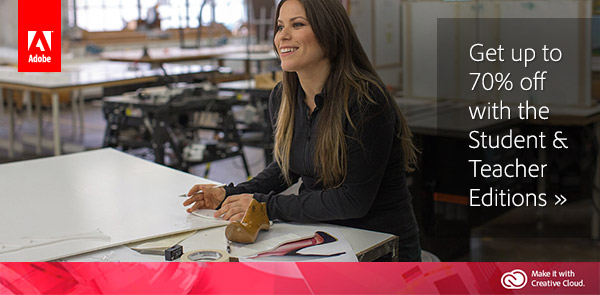 The Adobe Student and Teacher Editions look like a great deal. They offer big discounts, as much as 70% off normal prices. They're available for most of Adobe's most popular products, including the Creative Cloud (CC), Creative Suite 6, Lightroom 5, Acrobat XI, and Elements 13. They can be purchased by anyone who qualifies – primary, middle, and secondary school students, homeschoolers, college or university students, faculty, teachers, and administrators. Even part-time students or teachers can be eligible, and there is no maximum age limitation. They're available pretty much worldwide in many languages on both Windows and Mac OS, and you don't need any kind of coupon or promotion code to get the deep discounts.
So what's the catch? Is the Academic software different or limited somehow? Read more…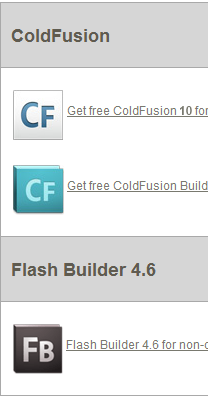 You may have heard of the recent releases of Flash Builder 4.6 (formerly Flex Builder, and part of CS6), plus ColdFusion 10 and ColdFusion Builder 2…
And we've written about this particular offer before, but it bears repeating now that we have these major product refreshes for both Flex and ColdFusion.
Adobe will give you full versions of these premium devel­opment tools (US$249 – $1,499 values) absolutely free world­wide if you qualify! And if you don't, you might know someone who does and could benefit…
Free copies of Adobe Flash Builder 4.6 Standard are given for non-commercial use to: (a) students, faculty and staff of eligible educational institutions, or (b) software devel­opers who are affected by the current economic conditions and currently unemployed.
The ColdFusion products are also available for free to educational customers, to use for learning purposes only and not for production purposes. Complimentary installation support is available, and if you are a teacher and would like ColdFusion 10 for multiple systems in your lab, you can request up to 30 education serial numbers.

[UPDATE – See all of Adobe's current deals & discounts!]
Adobe's Student and Teacher Editions are already a pretty sweet deal. If you're eligible, you can get huge discounts off Adobe's normal prices for software that works the same as the standard editions…
Now, for a limited time, Adobe is offering up to an additional US$200 off their CS5.5 suites and applications for students and educators, on top of the regular discount – with new coupon activation. Here it is:
Save up to US$200 on select Adobe Student & Teacher Editions (Windows or Mac)
Promotion activation link: SAVEONEDU
Offer valid: Hurry – offer ends March 15, 2012
Notes: Full versions, instant savings reflected in shopping cart after adding the products
Conditions: See complete terms here
This is for North America – however for customers in UK/Europe, Adobe is offering a further €50/£40 discount on Education Editions until 16 March 2012.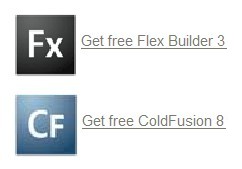 Adobe has just started a new program of giving away full versions of some of its premium development tools ($699 – $1,299 value) absolutely free if you qualify…
If you are an educational customer or an unemployed developer, Adobe would like to lend a hend. Simply certify you are a student, faculty or staff of an eligible education institution, or currently out of work – and the software is yours to download for non-commercial use.
Get your free products here.
UPDATE (August 28, 2012) – With the two new version releases out recently, the products now available for free at this site are ColdFusion 10, ColdFusion Builder 2, and Flash Builder (formerly Flex Builder) 4.6.
[UPDATE (May 3, 2011) – The CS6 Academic Editions are out, and savings are still 80%!]
If you're a student or teacher in some capacity, chances are you can now score eye-popping savings on your favorite Adobe products…
Adobe has recently announced a new policy of student pricing that gives 80% (!) off normal prices. And even teachers and professors can still get up to a healthy 70% off most software.
For example, try Creative Suite 4 Web Premium – an eight-product package with $3,842 of total value that normally goes for $1,699, but for students – only $349. Or CS4 Design Standard – normally $1,399 for the suite, but for students – just $299! Heck, just the regular cost of Photoshop alone is $700 or more…
Speaking of Photoshop, if you want just Photoshop CS4 Extended by itself, it's $199 for higher ed (instead of $999). Or try Dreamweaver, Acrobat, Lightroom, Elements, etc. – all at a fraction of their standard prices.
Such deep discounts couldn't come at a better time… Check them out at Adobe's official Education Store, or follow the clipped image below.