[UPDATE – See all of Adobe's current deals & discounts!]
Adobe's Student and Teacher Editions are already a pretty sweet deal. If you're eligible, you can get huge discounts off Adobe's normal prices for software that works the same as the standard editions.
Now, for a limited time only, Adobe is offering an additional $50 off their CS5.5 premium suites for students and educators, on top of the regular discount – and no coupon or promotion code is required, plus you get free shipping via FedEx direct from Adobe…
So now the pricing works out as follows (see all the applications in each of these suites):
The resulting value is pretty remarkable. For example, the retail cost of all the products in CS5.5 Production Premium (if purchased separately) is $6,391. Just for After Effects CS5.5 alone, the normal price is $999 and the education price is $349. But here with this special, you can get Adobe After Effects plus six other major CS5 applications bundled together (including Premiere Pro and Photoshop Extended) for just $399.
If you want to first try out any these suites before purchase, that's easy – they are all avail­able as instant trial downloads – then just make up your mind before the extra discount runs out. All trials are fully-functional for 30 days after installation.
And in most cases, you can install and run Adobe Student & Teacher Editions on up to two of your own computers.
Even for countries not participating in this special promotion, or after the offer ends, the Adobe Student & Teacher Editions are a smart and safe bargain. They are available in: Australia, Austria, Belgium, Canada, Denmark, Finland, France, Germany, Ireland, Italy, Japan, Luxem­bourg, Netherlands, New Zealand, Norway, Portugal, Spain, Sweden, Switzerland, United Kingdom, and the United States.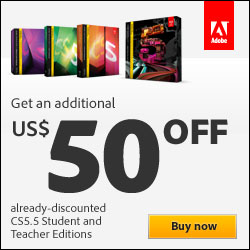 This $50 "back to school" offer is available for one week through Saturday, February 4, 2012, at 11:59pm (PST). The software must be purchased through the Adobe Education Store, and your product can either be downloaded instantly or delivered in boxed form via courier.
This promotion is available only to valid education customers with shipping addresses in the United States and Canada, excluding Quebec. The US$50 savings will be deducted automati­cally from the order subtotal before calculation of tax and shipping fees.
This offer may not be used in conjunction with any other Adobe Store offers. Offer and current prices are subject to change or withdrawal without notice. Offer is not extended for Adobe Volume Licensing purchases. Applicable local sales taxes may apply.
Please share this information with your friends so they can save too!