[UPDATE (October 2012) – Looking for CS6 tutorials? Check out this Photoshop CS6 primer, or 1,000 pages of free CS6 ebooks, or 30 hours of free CS6 videos.]
Adobe Photoshop is a sophisticated tool with a 21-year history and a seemingly-endless array of powerful capabilities. And after spending $549 for the product with discounts (or $199 for students), who wants to pay a lot more to learn how to use it all?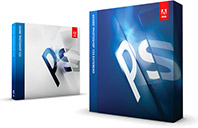 Fortunately there are a number of avenues to get great training and tutorials for free. The first stop is Adobe TV, which has nearly four hours and 37 chapters of 100% free tutorials for Photoshop CS5 alone. There is also a wealth of content for prior versions like Photoshop CS3 and CS4. It's a good place to get started and orient yourself with the major functions, and all of it is gratis.
For learning how to use the best new features added in Photoshop CS5, take a look at our collection of articles with tours of:
We also have a regular page here on the site with a rotating selection of tuts for all versions of Photoshop, stepping through various tips and tricks. And for a terrific set of little-known but very handy techniques, check out Adobe's Photoshop "Hidden Gems" series with Product Manager Bryan O'Neil Hughes.

Lynda.com is the leading independent website providing online video training for Adobe products, with nearly 800(!) hours of coursework for Photoshop – covering all versions dating back to Photoshop 6 in 2002. Courses are extensive, often running several days – and there are always some chapters that are free for anybody to view, with full access starting at $25/month. But we have partnered with them for our readers to receive a free 10-day trial with unlimited access to the entire site, and get one week of all 1,036 courses in their Online Training Library for free.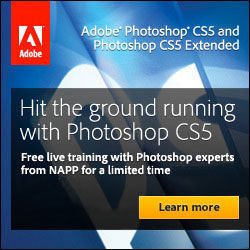 If you'd like a free top-flight course to really get you going in Photoshop from the ground up, check out the three online skills clinics below from the experts at National Association of Photoshop Professionals (NAPP)… These exclusive web-based training sessions with the "Photoshop Guys" are a great opportunity to quickly get up to speed on the timesaving features and breakthrough tools in the latest version.
If you don't already have Photoshop, just download the free trial so you can work side-by-side in these three classes, which were originally given live to customers but are now available free to all users via on-demand replay:
Class 1: Photoshop CS5 – Up & Running in No Time
Class 2: Cool Photoshop Skills – Effects and Retouching Anyone Can Do with Photoshop CS5
Class 3: Photoshop CS5 Street Smarts – Shortcuts, Killer Tips, and Next-Level Skills
These excellent Photoshop tutorial videos run four hours in total.
Ever wonder… What's the difference between Photoshop CS5 vs. Photoshop CS5 Extended?
Have you seen the "sneak peek" demo yet of Photoshop Image Deblurring from Adobe MAX?
Download the complete manual (free documentation) for Photoshop or any other Adobe tool.