Here's the new and updated edition of a very handy resource from James Wamser – a complete reference to all versions of Adobe InDesign ever released… Similar to his Photoshop and Illustrator handbooks, it's called called the Adobe InDesign New Features Guide, 1.0 to CC (2023), and this 140-page ebook is available for free download now: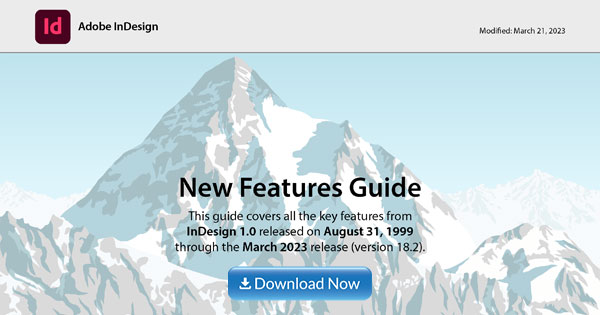 This PDF guidebook comprehensively reviews and compares what's new in each successive revision of InDesign from version 1.0 in 1999 all the way up to the current CC 2023 release – and covers the details of all the major new features and material improve­ments along the way.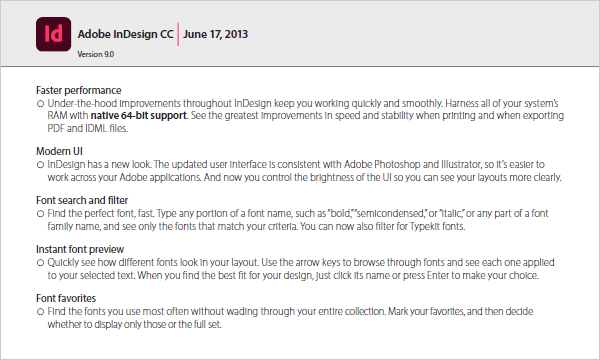 It's an impressive compilation of what many people want to know when they ask what's different between versions… Typically you'll find articles (like this one or this one) that give the primary differences between two single releases, but never before has there been coverage as exhaustive as Mr. Wamser has carefully compiled with this work – and you can get it instantly here:
Just look for the "Download PDF" icon at the lower right of your browser, once you pull up the book.
It's also very helpful to consult when you need to save back to previous versions of InDesign (where the featuresets and file formats are older) – this way you'll know which capabilities prior releases can support, and which they cannot.
Special: Legally download dozens of free Adobe books for a limited time!
If you don't already have InDesign installed on your computer yet, then you can just download a free trial to get started right away – and then run it for at least 7 days free.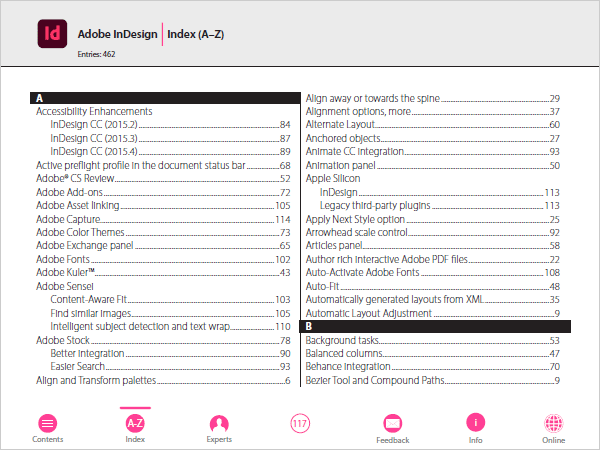 Here's the story on how this guidebook was put together:
About: Created by James Wamser, an Adobe Certified Instructor, to use as a reference while teaching. Feel free to share your comments, any errors, or how you use it:

Thought I would share: Got my first hands-on look at InDesign (K2) in October 1998 to provide feedback on features and output test files.

Community Help: Thanks to Steve Werner and everyone else for their feedback.

New Features: Taken primarily from Adobe.com, Adobe's New Features documents and Adobe Press Releases.

Brief History: Adobe first previewed InDesign in September 1998 during Apple CEO Steve Jobs' keynote at Seybold in San Francisco. On March 2, 1999, Adobe President Chuck Geschke and CEO John Warnock previewed Adobe InDesign duing Seybold Seminars in Boston.

Adobe InDesign 1.0 shipped on August 31, 1999.
Creative Cloud (CC) was announced on May 6, 2013 at Adobe MAX in Los Angeles, and first shipped on June 17, 2013.
The most recent major version – InDesign CC 2023 – was released on October 18, 2022.
Install now: Get all new Creative Cloud 2023 direct download links and free trials.
What's New in InDesign 2023? [Video]
See Also

Do you have any questions about InDesign? Just ask them below and we'll get you answers fast!
Keep up with the latest on Adobe software — follow us on Facebook or Twitter, or subscribe to our RSS feed… You can also enter your email and have new articles sent directly to your Inbox. We are reader-supported; when you buy through links on our site, we may earn an affiliate commission.