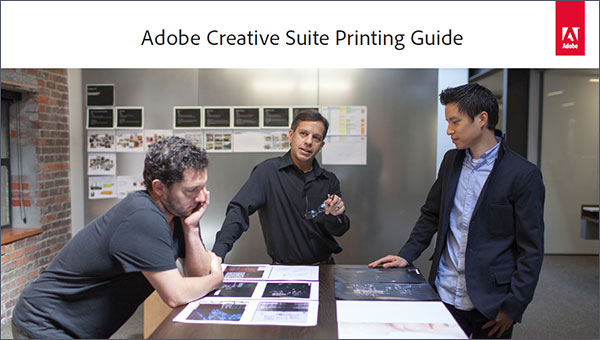 Adobe has made available an excellent resource that's now updated for CS6 (and CC) – a free printing handbook in the form of a 149-page downloadable e-book: The Adobe Creative Suite 6 Printing Guide. Earlier editions of this book have been out for previous releases (see the older CS5.x, CS4 and CS3 links below), but now this is fully refreshed and upgraded for the most recent versions of the products.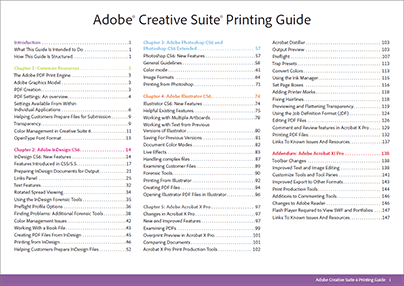 This very handy tome will tell you everything you ever need or wanted to know about getting great print results with your projects in Photoshop CS6 (including Extended), Illustrator CS6, InDesign CS6, and brand new Acrobat XI Pro. All the different tools, setups, settings, options, functions, and formats – what they mean and how to best use them to achieve your goals.
"The Adobe Creative Suite 6 Printing Guide will tell you everything you need to know to produce files that printers will love and published documents that clients will adore. Learn the best ways of handling and preparing CS6 files for print. Use it as a handy technical reference or as a training tool for new staff." So anybody who would like a tutorial on how to print effectively and generate the most optimal output from their designs can gain something here…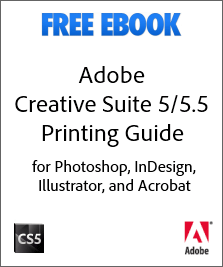 Because some technologies and concepts – such as PDF creation, transparency, and the Graphics Model – are common across all Adobe products used for print design and production, the first chapter of a dozen pages is devoted solely to explaining common terminology and back­ground resources. And with the groundwork laid, the rest goes into comprehensive detail on things you probably have wanted to know at some point but were afraid to ask or didn't know where.
So now, whether you print from Photoshop, InDesign, Illustrator, or Acrobat, this ebook explains all you need to know about successful printing and best practices in output generation.
And luckily, the price is right!
Here is the complete collection of these guides for current and older CS releases:
---
And to continue learning, don't miss dozens more free Adobe books for many popular products, covering recent versions of all major applications (CC, CS4–CS6, Photoshop, Illustrator, InDesign, Dreamweaver, Flash, Acrobat, Premiere, After Effects, Audition, Lightroom, Elements, and more).
See Also

Keep up with the latest on Adobe software — follow us on Facebook or Twitter, or subscribe to our RSS feed… You can also enter your email and have new articles sent directly to your Inbox. We are reader-supported; when you buy through links on our site, we may earn an affiliate commission.