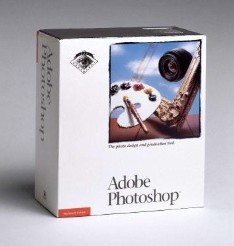 Hard to believe, but on Friday Adobe Photoshop officially celebrated its 20th anniversary (or birthday, depending on how you look at it)… The New York Times writes:
"It's remarkable when a product stays on top of its game for 20 years, and Adobe Photoshop had done just that. The first version of Photoshop shipped on Feb. 19, 1990, at a price of $895. Today it's the go-to tool for professional photographers and graphic designers, and it is used by 10 million people around the world, according to Adobe."
Indeed, the software has traveled a long way. When it first came out, Adobe predicted it would sell just 500 copies per month. Yet now, over 90 percent of creative professionals worldwide have Photoshop on their desktops. The original authors say they knew they had a groundbreaking technology on their hands, but never anticipated how much it would impact the images we see all around us.
The current CS4 version of Photoshop is actually release 11.0 – so there have been ten major versions of the tool over the past two decades. And the flagship product is less expensive now than when it originally came out, even more so (less than half the price) when adjusting to 1990 dollars. Photoshop together with Acrobat and Dreamweaver remain Adobe's top three selling individual desktop products.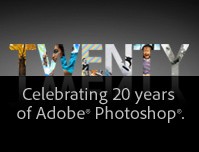 In honor of the celebration, Adobe is offering a couple new specials for the week… The first is free shipping on all Photoshop-family products in the North American commercial store. The second is free shipping on all Adobe products for the Europe and Australia commercial stores, with the promotion code adobeeu. All shipping offers are valid through Sunday, February 28th, and might be stackable with the 10%-off coupon code posted last week.