[UPDATE (May 6th) – The next release is announced! Learn more about new Adobe CC.]
Normally in the weeks before a new version of Creative Suite comes out, we don't have a very concrete idea of what will be in it…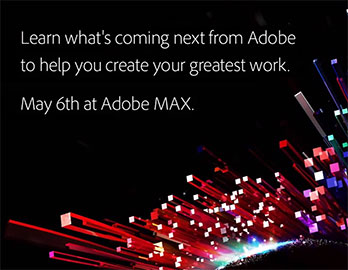 However this year – thanks to the early upgrades already out for Creative Cloud members, some telling blog posts, several "first look" videos, and a "major reveal" at the recent NAB show – we have already a pretty good picture of some of the major new features that CS7 (let's call it) will include. Adobe says all of the new products will be included in the Creative Cloud as soon as they're out.
Here below we've compiled some of the key information on what's new and expected in the upcoming release, and will keep this list up to date as we move forward…
Adobe promises much more will be revealed in the presentation on May 6th – so stay tuned!
What's New in CS7 vs. CS6?
So here's a quick run-through of some of the top new features we expect for the top applications (click the product names for more details):
— Photoshop: Copy CSS support, Image Deblurring, Conditional Actions, plus lots more.
— Illustrator: Package Files and "Unembed" Images functions, Links Panel enhance­ments.
— InDesign: Retina Display and native 64-bit/Cocoa support with dark UI, plus QR Codes.
— Dreamweaver: Improved HTML5 support, new CSS Designer panel, better FTP transfers.
— Flash Professional: 64-bit architecture, native Cocoa, faster, more reliable, + new UI.
— Premiere Pro: Too many to list – see the "NAB Reveal" sneak peek videos.
— After Effects: Impressive new "Refine Edge" Rotoscoping and much, much more.
— Audition: Sound Remover, Preview Editor, Native 64-Bit Performance, Favorites Panel.
— Prelude, SpeedGrade, Media Encoder: See the first looks.
— Inclusion into suite editions of new Acrobat XI Pro, which is already in the Cloud.
— More to come – we will keep this list updated going forward…
[UPDATE (May 21st) – Confirmed: see all of the differences between new "CC" vs. CS6.]
If you want to know what's different in CS6 going back to prior releases, check out the comparisons of earlier versions of the Creative Suite, for example CS6 vs. CS5 or CS4.
See Also

To follow this story going forward, subscribe to our RSS feed or like us on Facebook or Twitter… You can also enter your email and have new articles sent directly to your Inbox. We are reader-supported; when you buy through links on our site, we may earn an affiliate commission.