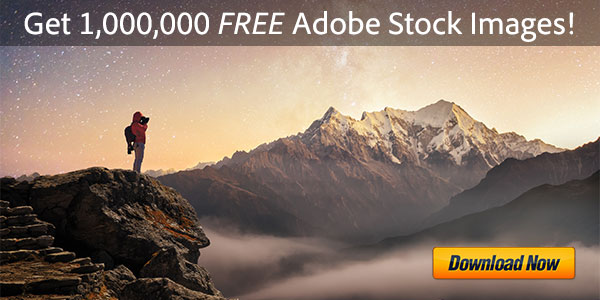 [UPDATE (May 6th) – Major news out: Adobe Unveils New "CC" Release (CS7)…]
Adobe just slipped out a brief sneak peek of the upcoming new version (perhaps CS7?) of its popular InDesign application, "InDesign Sneak Peek: See What's Coming Next." This short preview shows a revamped user interface demoing a new "Generate QR Code" feature.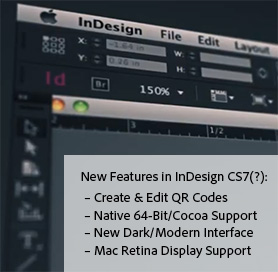 Based on public information, we've previously written on how the next release of InDesign will be a native Cocoa app with full 64-bit support for high performance, and – if it's been fully rearchitected like the similar changes coming for Flash Pro – then it should be much faster.
There's also a customizable new user interface with light and dark themes (similar to what Photoshop got in CS6), as well as the long-awaited support for HiDPI displays (like the MacBook Pro Retina).
Finally, there's now the capability to add and edit QR codes directly in any document, with a new command on the Object menu:
Powerful new features are coming to Adobe's industry-leading video and audio tools. You'll soon be able to work even more creatively, seamlessly, and profitably — from script to screen. Here's an early look at what to expect in the upcoming releases …
[UPDATE (May 6th) – The next release is announced! Learn more about new Adobe CC.]
In recent days Adobe has been slipping out little sneak peeks of new product versions (perhaps CS7?) entitled, "Early Views Into the Next Generations Of Dreamweaver and Flash Professional." These brief first looks show improvements centered on re-architecting the tools for performance, usability, and stability – as well as adding some new features and keeping on top of technological trends.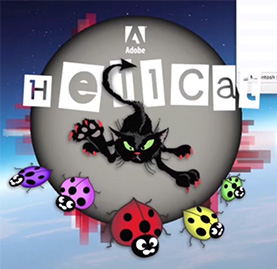 For the next release of Flash Pro (code-named "Hellcat"), there's a blazing new 64-bit archi­tecture, written in native cocoa – making the program modularized, much faster, and more reliable so you can be more efficient. For example, start time has been cut to just 2 seconds, 10X faster than CS6… There's also a new user interface with light and dark themes, plus support for HiDPI displays (e.g. MacBook Pro Retina) – read more details here.
For the upcoming version of Dreamweaver, you'll be getting a modernized, retooled and streamlined user interface with some old features deprecated, and new ones like the CSS Designer added for responsive web design. The CSS Designer is a visual interface to quickly and intuitively work with CSS properties like gradients, box shadows, and media queries to support web content presented in different-sized media. Adobe says this feature will be available later this year and you can find more information in this blog post.
[UPDATE (May 6th) – The next release is announced! Learn more about new Adobe CC.]
One could say that Adobe After Effects is the Photoshop of the video editing world, creating graphics and visual effects for moving pictures… And rotoscoping is effectively cutting an object out from a video so that it can be manipulated separately or placed somewhere else. Creating a perfect mask (or matte) that accurately defines the in-motion object has been particularly challenging over the years, an often painstaking and time-consuming task…
But now enter the next release of After Effects (perhaps CS7?) – which promises a new "Refine Edge" feature to make this work (look like) child's play… Here's the history of rotoscoping technology over the years and what After Effects will be able to do for you in the future – and it's impressive to watch even if you have never before used After Effects: