[UPDATE (August 2018) – These still work to download the old Captivate 8 trials. We also now have the all-new Captivate 2019 Direct Download Links!]
Adobe just announced the launch and immediate availability of Captivate 8, a major upgrade to their industry-leading eLearning and mLearning authoring software. With substan­tial updates throughout the product, the company calls this, "the single most significant release of Adobe Captivate in a decade."
Below we've got the direct download links for Captivate 8 (Windows and Mac OS) without the Akamai Download Manager, for fast and easy access to the new tools… We've also included links to the hugely-expanded collection of assets that come with Captivate 8 which can be used to create terrific looking eLearning content. Whether you're considering buying a full version or upgrading from the prior release, you can use the trials below to install, run, and activate the software on your system.
Here is some of what's new in Captivate 8: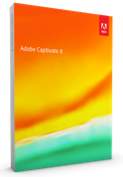 All-new intuitive user interface
Multiscreen responsive eLearning authoring
Gesture-enabled mobile learning
Responsive screen capture
In-product multidevice previews
Geolocation support for location-aware learning
Responsive themes with preset tabs
Native support for HTML5 objects
Use embedded Adobe Edge animations
MinMax object sizing
Scroll for tablets and mobiles
Smart positioning of objects
Mac Retina display support
ELearning made colorful
Native app publisher
Device-aware eLearning delivery
Erase popups even after a video recording
Localize with interactions in seven languages
One tool for all your eLearning needs
Boost productivity with out-of-the-box assets
See the complete list of all new features or read the product FAQ. And for a high-level view, check out the complete comparison chart of what's new in Captivate 8 vs. 7 vs. 6.
Despite some customer requests, Captivate 8 is still not included in Adobe's Creative Cloud or CC offering, and needs to be purchased separately.
Install now: Get all new Creative Cloud 2024 direct download links and free trials.
Note that Adobe's eLearning Suite has not been updated with Captivate 8, and currently remains at version 6.1.
The direct links below go to the auth­entic and original files residing on Adobe's servers, are guaranteed genuine and will not change. For Windows, each program consists of up to two files, an .exe and a 7-Zip file (.7z). The .exe file will only work when the .7z file is fully down­loaded and resides in the same location. For the Mac, it's just a single .dmg file for each program. Languages included are English, French/Français, German/Deutsch, Spanish/Español, Portuguese/Português, Korean and Japanese.
Note:
Very Important Instructions
You need to have a free Adobe account and be logged into it to use the links below, as Adobe sets a session cookie on your browser that allows you to access the direct download links. Otherwise, you will receive an "access denied" or "no permission" message block­ing the connection. So please follow these instructions carefully or the links will not work!
Adobe recommends temporarily turning off any surfing restrictions you might have running, like site or cookie blocking, filtering, firewalls or antivirus software.
Click «HERE» to visit this page first, before clicking any of the links below –

this is critical!

If asked, sign in with your Adobe ID or take a minute to create one for yourself (free).
OK! Now you're logged in at Adobe with the trials cookie set, so you can instantly download any of the software below. Just make sure you have enough disk space.
Download the files either by clicking directly on the DDL links, or by right-clicking and choosing "Save Link As…" on the popup menu – and save all files to the same place.
Then follow the product installation instructions here.
Special: Legally download dozens of free Adobe books for a limited time!
Adobe Captivate 8 Direct Download Links
Adobe Captivate comes in both 32-bit and 64-bit versions… 64-bit offers higher perfor­mance but choose the 32-bit flavor if you're unsure what your Windows computer is.
Captivate 8.0.1 – Windows 32-bit (1.4 GB): File 1 File 2
Captivate 8.0.1 – Windows 64-bit (1.4 GB): File 1 File 2
Captivate 8 – Downloadable Assets – Windows (1.4 GB): File 1
Captivate 8 – NeoSpeech Text–to-Speech Voices – Windows (1.7 GB): 32-bit or 64-bit
---
Captivate 8.0.1 – Mac (2.2 GB): File 1
Captivate 8 – Downloadable Assets – Mac (1.4 GB): File 1
Captivate 8 – NeoSpeech Text–to-Speech Voices – Mac (1.7 GB): Voices for Mac
See the complete system requirements for Captivate 8 to make sure your computer is ready before proceeding with installation.
You do not need to uninstall previous versions of Captivate; some users prefer to keep the older, familiar version(s) around as they come up to speed with the new product's features, and some folks even have five different versions of CP installed all on the same computer.
You can easily convert a free 30-day trial installed on your computer to an unrestricted version by purchasing the software and entering the serial number.
We suggest using a browser other than Internet Explorer to download the files above. They can be quite large and IE has been known to drop the extension (like ".exe") from the Windows filename. If this happens and you can't open a file, then just rename it to add back the extension. But generally, using Firefox or Chrome will work better – and if you have any issues getting the downloads to work with one browser, then try another.
Free Stock! Download 1,000,000+ premium assets from the new Adobe Stock Free Collection
Introducing the New Adobe Captivate 8
What's the Difference Between Adobe Captivate 8 vs. 7?
See Also

Did these links work for you? Hope they helped out; please let us know with a comment below…
Keep up with the latest on Adobe software — follow us on Facebook or Twitter, or subscribe to our RSS feed… You can also enter your email and have new articles sent directly to your Inbox. We are reader-supported; when you buy through links on our site, we may earn an affiliate commission.