Following onto a successful public beta period, the long-awaited Adobe Lightroom 4 final release began shipping earlier this week, and has some folks pretty excited about the new features and capabilities. There's a complete list further below, but some of the biggies include much better video support, soft proofing, integrated maps and photo books, enhanced sharing & exporting, and some amazing improve­ments to the Develop module.
We've got a new video set from the popular Julianne Kost giving a thorough review of what's new and improved… (2 hours of coverage; see Table of Contents)   If you want to try out the software for yourself, the 30-day free trials are also now available for download.
New Features in Lightroom 4 (Video Collection)
What's the Difference between Lightroom 4 vs. Lightroom 3?
First off, we should mention something a little controversial regarding older computers: Adobe is dropping support for the ten-year-old Microsoft Windows XP with this release… The official LR4 system requirements call for Windows Vista or 7, or if you're running Mac OS then it must be a 64-bit capable (how to tell). And if you're wondering why they did this, Adobe recently put up a new post explaining why.
So here's the punch list of what's changed, the top-level new features in LR4 (courtesy of Ian Lyon's excellent review):
| | |
| --- | --- |
| Library & Workflow: | Native video support including basic editing |
| | Manage images by location (geotagging) with the new Map module |
| | Reverse Geocoding (new since LR4 beta version) |
| | Enhanced DNG support |
| | |
| Develop: | New Process Version 2012 (PV2012) |
| | Simplified Basic Adjustments (tone controls) |
| | Per-channels Curves adjustments |
| | Updated Clarity adjustment |
| | Additional local adjustments |
| | Automatic Chromatic Aberration correction |
| | Soft Proofing |
| | |
| Output: | Integrated Photo Book production (Blurb) in the new Books module |
| | Enhanced output model for storing settings applied in Web, Slideshow, Print and Book modules |
| | Video publishing via Publish Collections |
| | Email directly from within Lightroom |
| | Adobe Revel (formerly Carousel) export |
Adobe says most of these features remain the same from the Lightroom 4 beta version – except for a large number of tweaks and bug fixes.
Compare Versions: LR4 vs. LR3 vs. LR2
Click on the chart below for a release-by-release feature comparison: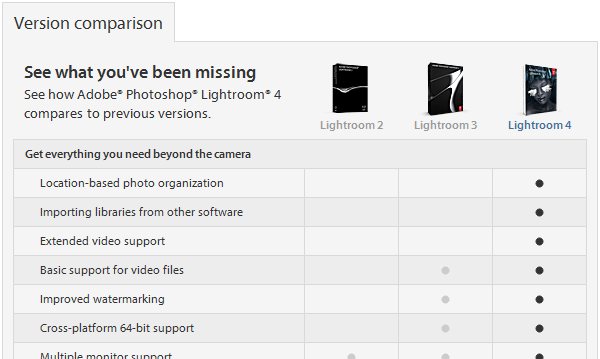 And for more in-depth on each of those new features, check out this detail page.
[ See also – Lightroom 4: Top 10 Techniques, or 4 hours of free tutorials for Lightroom 4. ]
Do you have any questions about Lightroom 4? Just ask them below and we'll get you answers fast!
Keep up with the latest on Adobe software — follow us on Facebook or Twitter, or subscribe to our RSS feed… You can also enter your email and have new articles sent directly to your Inbox. We are reader-supported; when you buy through links on our site, we may earn an affiliate commission.