[UPDATE (April 23rd) – Creative Suite 6 is out!]
Wondering what's coming soon in Adobe's world-class video suite CS6 Production Premium, before it comes out next month? Read below for the latest details on what's new and improved in CS6, and what's different compared to CS5.5…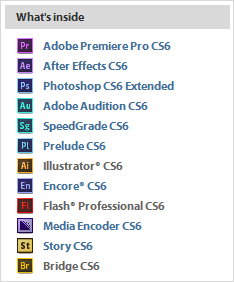 This information is being revealed in advance of the 2012 NAB Show in Las Vegas next week, where the company is planning to make a really big splash with these new tools.
Adobe CS6 Production Premium introduces a sleek, fresh editing environment in Premiere Pro – the hub of your post-production workflow. Freely iterate creative ideas with the new Content-Aware family of technologies in Photoshop Extended and with new 3D advancements in After Effects, where the Global Performance Cache lets you work as fast as you can think. New components – Adobe Prelude, a logging and ingest tool, and Adobe SpeedGrade, for color grading and finishing (originally published by Iridas) – offer superior solutions to common production challenges. Adobe Audition adds dozens of enhanced editing features and support for control surfaces so you can produce audio more efficiently. From planning to playback, CS6 Production Premium gives you tools that help your workflow.
[UPDATE – Adobe's CS6 was awarded NAB 2012 Best Editing Software by Videomaker Magazine for good reason… The new features that CS6 Production Premium brings together make the suite a complete post production solution.]
Top 16 New Features in Adobe CS6 Production Premium vs. CS5.5
Sleek Adobe Premiere Pro user interface – See more of your video and less clutter, thanks to an efficient, highly intuitive interface featuring customizable Project panel views, transport controls, Audio Meter panel, and track headers. Play clips directly in the Media Browser.
Global Performance Cache in After Effects – Create more in less time. Adobe After Effects intelligently optimizes and preserves your previews by taking full advantage of the 64-bit power in your computer's hardware. Now you can beat deadlines instead of waiting for frame updates.
Photoshop imaging magic – Retouch images with the new Content-Aware family of technologies. Experience fast performance when working with large files using the new Mercury Graphics Engine in Photoshop CS6.
Creative tools in After Effects – Extrude fully ray-traced text and shapes natively while adding reflections, environment maps, and more. Track elements in 3D space with depth of field, shadows, and reflections, and apply 3D track points to 2D footage.
SpeedGrade for crafting the perfect look – Manipulate light and color. Broad format support includes raw, HDR, and stereoscopic. Apply precise HDR grades to source, or import sequences from Adobe Premiere Pro for more in-depth color grading.
Faster audio editing in Adobe Audition – Get high-performance and intuitive audio editing. Powerful new tools such as automatic audio alignment, real-time clip stretching, pitch and speed control, and control surface support help you deliver projects faster.
Logging and ingest in Prelude – Ingest nearly any file-based format and begin logging immediately with searchable temporal markers that flow through post-production, enabling you to work faster and stay organized.
Creative enhance­ments in Adobe Premiere Pro – Take editing in new directions with adjustment layers to apply effects to multiple clips, expanded multicam editing, and the redesigned Three-Way Color Corrector. Send sequences to Adobe SpeedGrade for more in-depth color grading.
Stabilized footage without rolling shutter – Remove unwanted camera movement with GPU-accelerated Warp Stabilizer in Adobe Premiere Pro. Rolling shutter repair, available in After Effects and Adobe Premiere Pro, eliminates wobbly artifacts.
GPU-accelerated performance – Speed up your workflow thanks to support for MacBook Pro OpenCL-based GPUs and NVIDIA Maximus configurations provided by the Adobe Mercury Playback Engine in Adobe Premiere Pro. Plus, get GPU-accelerated features in Adobe Photoshop, SpeedGrade, and After Effects.
Expanded format support – Edit anything. New support for ARRIRAW, RED EPIC, and RED Scarlet-X adds to the extensive list of natively supported formats in Adobe video and audio tools.
Interoperability with third-party tools – Preserve your creative intention with high-fidelity exchange between components of Production Premium and third-party software and hardware.
Adobe Story for script development – Develop your scripts from the desktop to speed up the post-production process with Adobe Story CS6.
Faster, more flexible Adobe Media Encoder – Quickly and easily output to virtually any screen. Create and organize your favorite presets in the new Preset Browser for faster export and batch encoding in the background.
Robust metadata for production management – Enjoy rich metadata support throughout Production Premium for efficient editing and project management. Ingest and log media with Adobe Prelude. Use metadata-rich scripts to track complex productions with Adobe Story.
Fast Blu-ray Disc, DVD, web DVD authoring – Send Adobe Premiere Pro projects directly to new 64-bit Adobe Encore without rendering. Speed up your authoring workflow with rock-solid performance and stability. Open and save large and high-resolution projects faster.
---
See the differences in each individual application, including more details on the two new tools:
What's New in CS6: Premiere Pro, After Effects, Audition & More
Frequently Asked Questions (FAQ)
 Q: 
Why should I switch to Production Premium if I'm using another NLE?
 A:  
CS6 Production Premium goes beyond a new NLE, with the full post-production pipeline for virtually any type of production. Tight integration between Premiere Pro, After Effects, and Photoshop expands your capabilities and saves time, and seamless project exchange with Premiere Pro and Final Cut Pro or Avid Media Composer makes it simple to switch.
 Q: 
Can you tell me more about integration in Production Premium?
 A:  
Premiere Pro is not only designed to let you work easily between the editing timeline and After Effects or Photoshop, with support for a wide number of formats and Adobe Dynamic Link, but it is also part of a full production pipeline. You can ingest and organize footage in Adobe Prelude before bringing it into Premiere Pro, and while working on an edit, you can refine audio in Adobe Audition and color grade and finish in Adobe SpeedGrade before batch encoding the result in Adobe Media Encoder. After Effects is closely integrated with Photoshop and Adobe Illustrator as well.
 Q: 
Why should I buy Production Premium over After Effects on its own?
 A:  
CS6 Production Premium offers more value for your money than After Effects, without adding premium cost. Premiere Pro supports working with After Effects projects like no other NLE can, and Photoshop and Illustrator are closely integrated with After Effects, which now includes the ability to bring Illustrator vectors into After Effects as Shape Layers. SpeedGrade adds color grading and finishing, and Adobe Media Encoder is a superset of the Render Queue that works in the background.
 Q: 
What are the newest components in Production Premium?
 A:  
CS6 Production Premium includes two entirely new applications. SpeedGrade is a sophis­ticated color grading and finishing system. Prelude is designed for on-set ingest, the addition of metadata, and rough edits that can be imported and improved in Premiere Pro. Prelude is available only in the Production Premium or Master Collection suite editions.
Watch the CS6 Demos
Here are 13 sneak peek chapters covering many new features in the different CS6 video products (25 minutes runtime):
Production Premium Overview
Premiere Pro Overview
Premiere Pro Streamlined User Interface
Premiere Pro High Performance Editing Workflow
After Effects Overview
After Effects Ray-Traced Text
After Effects Global Performance Cache
After Effects Rolling Shutter Repair
Adobe Audition Overview
Adobe SpeedGrade Overview
Adobe Prelude Overview
Adobe Story Plus Overview
Adobe Photoshop Overview
Check out this page for more CS6 walkthroughs in greater detail!
See also
— CS6 Grace Period! Buy CS5.5 Now + Get Free Upgrade to CS6 When It Ships
— Adobe: CS6 on Track for "Late in Q2" with Very Compelling New Features
— Sneak Previews of CS6: Dreamweaver, InDesign, Flash Pro, Illustrator & Premiere
— Win New Photoshop CS6 + Lightroom 4 FREE! ($1000 Giveaway)
— What's the Difference Between Photoshop CS6 vs. CS5 – What's New in Features?
To follow this story going forward, subscribe to our RSS feed or like us on Facebook or Twitter… You can also enter your email and have new articles sent directly to your Inbox. We are reader-supported; when you buy through links on our site, we may earn an affiliate commission.