Last week Adobe unveiled Creative Suite 5.5 and held an expert session to address common questions and answers about the new release. We covered part of this session in our earlier piece on the free-upgrade grace period for CS 5.5…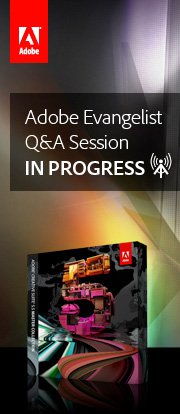 And here, without further ado, is the rest of the shared knowledge from those Adobe Evangelists.
If you have any questions at all about the release that are not answered here or by our CS5.5 launch overview, or comparison to CS5, or new product feature articles, just leave them in the comments below and we'll get answers!
Topics
Upgrading to CS5.5
With Multiple Versions
CS5.5 Subscriptions
General Questions
Acrobat X
Audition CS5.5
Dreamweaver CS5.5
Fireworks CS5
Flash CS5.5
Illustrator CS5
InDesign CS5.5
Photoshop CS5
Premiere & AE CS5.5
Soundbooth CS5
Other Questions?
If you have any questions about Creative Suite 5.5 that are not answered above, please ask them in the comments below and we will get you speedy answers!