[UPDATE – For a quick tutorial with CS6, see Ten Steps to Building a Website with Adobe Dreamweaver CS6 — or download the free new ebook, Dreamweaver CS6 Basics.]
For some months now, Adobe has had a great set of videos out (17+ hours) covering the highlights and new features of all products in Creative Suite 5… Now comes a terrific new course specifically on getting started from the ground up with Dreamweaver CS5. This 15-chapter step-by-step tutorial really covers all the basics and key topics – not just for Dreamweaver, but for developing websites in general.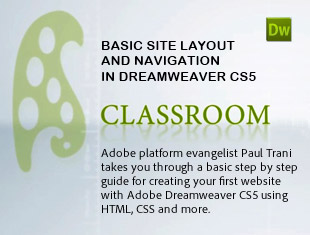 So, it's a helpful and complete background and introduction for getting started with HTML, CSS, Spry, JavaScript, XML, and rich media content such as Flash, video, and online maps. Some of the many fundamen­tal topics covered include images, fonts, layout, hyperlinking, navigation, menus, panels, templates, animation, testing, and uploading. But note that this class is not just for beginners – even experienced Dreamweaver users are learning some­thing new here… (see reviews below)
Basically, if you're looking to get going with website design and development, this is a nice way to get your feet wet (or expand your existing knowledge) with the industry-standard product in just three hours for free – regardless of whether you keep using it. If you want or need a free copy of Dreamweaver CS5 to walk through during the training, you can just download the fully-functional 30-day free trial.
Here is the new course:
Basic Site Layout and Navigation in Dreamweaver CS5
Play this Free Class Now »
Ch
Topic
Runtime
01
Introduction
05:32
02
Creating Your First Webpage
12:26
03
Setting Up a Local Site
04:17
04
Creating and Importing Images
06:53
05
Linking to Websites
05:33
06
Changing Visual Properties of HTML Content
09:18
07
Understanding and Using Cascading Style Sheets (CSS)
18:16
08
Website Navigation
09:13
09
Using Pre-Built Templates
15:55
10
Creating Multiple Pages
24:27
11
Adding Flash/SWF Content
17:59
12
Adding Media
10:17
13
Adding Advanced Interactivity with Spry
12:36
14
Testing and Troubleshooting the Site
10:53
15
Uploading the Site
08:44
It just came out this month and has already been rated five stars by most viewers…
Troy says, "This is a great tutorial series. I use Dreamweaver to build and keep up our depart­ment's web site, and have for many years, but I learned many new things watching this series. The instructions are very, very clear and easy to follow."
Wes writes, "I really enjoy and appreciate this entire series that Adobe has put together. I had no knowledge of HTML or Dreamweaver, but even this introduction series has excited me about continuing to learn the language and Adobe's other products. Great job!"
Manu comments, "Simply superb! Easy to learn with clear visual aids! I've gone through a few others to learn but this tops the most!"
So go for it and watch it now – it's completely free. There are also sample files to download that go along with the course.
---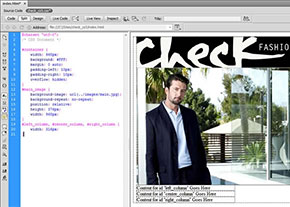 If you prefer training in written form instead of (or after) the above, here is an excellent and extensive six-step visual tutorial for Dreamweaver CS5 on building your first website: setting up your site and project files, creating the page layout, adding content to pages, adding the main image text, adding the Spry menu, and publishing your website.
As a next step, if you'd like to learn how to make a site which draws its content dynami­cally from a database (using Dreamweaver, PHP, and MySQL), see this three-part guide on creating your first dynamic website: setting up the site and database, developing the back end (including activating the forms to insert, update, and delete records), and displaying content from the database on a changing news page.
---
Each of the three series above include downloadable sample files to use as you follow the instruction, so be sure to look for those.
See here for a comprehensive set of Adobe CS5 tutorials for all products.