If you'd like to learn how to use Adobe's Creative Suite tools to easily and portably create websites and apps for tablets, smartphones, and mobile devices there's a new 2¼-hour course you'll be interested in…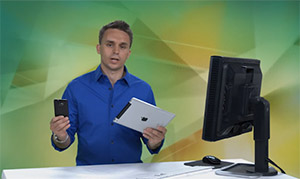 Guru Paul Trani teaches an extensive free class with 18 video chapters that will take you step-by-step on how to create portable content that will run on both Apple iOS and Google Android devices with a wide variety of screen sizes using a single code base. Basic usage of HTML5 and CSS3 is covered, as well as how to bring in Adobe's recent additions PhoneGap (for building fast, cross-platform mobile applica­tions) and Typekit (for delivering custom web fonts).
The first half of the video series employs Adobe Dreamweaver CS5.5 to develop both websites and apps, with steps on how to convert a website into a portable mobile app. The tutorials then move on to using Flash-based tools (with Adobe AIR) to build multi-platform mobile apps. We already know that Flash Professional CS5 can be used to build apps for the iPad and iPhone, but this takes it a step further. The videos guide you all the way through to how to publish your app to your device and to the Android Market (which shows immediately) or to the Apple App Store.
If you don't own the Adobe software yet but would like to use it to follow along with the training, you can easily download the free trials, which will be fully-functional for 30 days. The tutorials also include downloadable sample files to use as you go along, so be sure to look for those.
The CS5.5 Web Premium suite is used in the demonstrations – which coincidentally we're also giving away for free!
Here's the 2¼-hour course:
Creating Websites and Apps for Mobile & Tablets
Play this Free Class Now »
Ch
Topic
Runtime
01
Overview
08:18
02
HTML5 Content in Dreamweaver
08:03
03
Styling Web Content W/ CSS3
13:40
04
Adding Custom Fonts Using Typekit
06:35
05
Adding HTML5 Video
05:11
06
Creating a Gallery
05:40
07
Customizing for Different Screens
08:29
08
Creating a Mobile Specific Website
08:56
09
Creating a Mobile Application
13:08
10
Creating and Testing Your First Mobile App
05:13
11
Quick Development with Code Snippets
12:57
12
Using the Accelerometer
05:31
13
Resizing Content for Multiple Screens
07:07
14
Optimizing Graphics for Mobile
04:29
15
Creating a Tablet Optimized App
05:13
16
Sharing Assets Across Files
05:49
17
Debugging the App on the Device
02:49
18
Publishing for iOS and Android
07:24
And here is the first segment (the Overview chapter) to get you started:
Also check out a comprehensive set of free CS5 tutorials for all products and purposes. If you're interested in longer-term design study (digital, visual, web, video), check out the free year-long Adobe CS5 curriculums for students, teachers, and all.