The new Creative Cloud (CC) is the most sophisticated and powerful toolset Adobe has ever released and recently readers have been asking for solid training materials to learn how to best use these applications…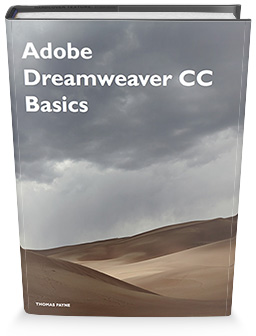 A while back, we spread the word on over 30 hours of free video tutorials for CS6, and last year we published details on a fantastic new ebook for getting started learning the Adobe CC/CS6 Design Suite (202 pages). But if you're looking for a solid primer or helpful beginner's lessons for Adobe Dreamweaver, that's harder to find.
Fortunately there are two new books you can download that will teach you the essentials of Adobe Dreamweaver for free, thanks to the generosity of author Professor Thomas Payne… He writes:
"These tutorials are designed to get you through the basics of making web sites in Dreamweaver with the most flexibility and the least amount of work. Think of them as supplying you with a toolbox full of tools to start making good websites.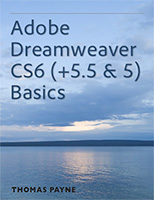 They are deceptively packed with informa­tion, and they are designed to also act as future reference after you are finished completing them. Web pages across the Internet have a lot of similarities, and the information here is designed to cover many of these similarities."
There are two versions of the free book – just pick which works best for you: one for the 2015 Dreamweaver CC release, and the other for 2012's Dreamweaver CS6. With the older edition, the tutorial examples and illustrations are from CS6, but should still be able to work with CS5.5 and CS5 as the core panels and buttons covered are functionally similar.
You can download either book in PDF format after signing in with your Adobe ID (which is easy to create if you don't already have one). The full digital book file for the CC edition is less than 10MB in size, so shouldn't take long for you to grab:
You'll need Dreamweaver to complete everything as outlined. If you don't have the software yet, just download a free working trial for any CC 2015 product for Windows or Mac (or try the complete Creative Cloud) – then install and start right away.
If you prefer video training instead (or in addition), then check out the free Adobe Learn Series for Dreamweaver CC.
Plus there are other free step-by-step primers as well.
Install now: Get all new Creative Cloud 2023 direct download links and free trials.
To continue learning, don't miss dozens more free books for many Adobe products, covering recent versions of all major applications.
And if you're looking for solid web hosting, ProDesignTools is powered by Kinsta Managed WordPress Hosting, with highly optimized and secure servers… It's one big reason why our site is both lightning fast and exceptionally reliable.
Go Farther with Dreamweaver
To bring your Dreamweaver skills to the next level, try this excellent Dreamweaver CC Essential Training course from Lynda.com… It's a premium-level class – so not free – but Lynda.com does offer a free 30-day trial during which you can watch or take any courses you want at no cost:
Watch preview above: Dreamweaver CC Essential Training by David Powers
See Also

Do you have any questions about Creative Cloud? Just ask them below and we'll get you answers fast!
Keep up with the latest on Adobe software — follow us on Facebook or Twitter, or subscribe to our RSS feed… You can also enter your email and have new articles sent directly to your Inbox. We are reader-supported; when you buy through links on our site, we may earn an affiliate commission.