Adobe today has launched Creative Suite 5.5 and we just took a high-level look at how CS5.5 is different from CS5 – and so now here we'll step through the significant new features at an individual product level, product-by-product…
The upgraded applications and their key new functionalities are detailed below. If you're coming from further back and would like to know the differences between older versions – like an upgrade from Adobe CS4 to CS5.5, or from CS3 to CS5.5 – the last section will also help.
Major Changes to the Creative Suite Products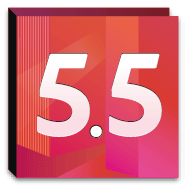 What's New in Photoshop (Extended) CS5.1
Is there a new Photoshop CS5.5? Actually, Photoshop's revision officially remains at "CS5" for this release, but under the hood it gets a minor upgrade to CS5.1 (version 12.0.4) and comes with CS 5.5 suites… Adobe has updated its internal scripting engine to open the door for applications and devices like iPad, Android, and other computers to drive and communicate with the desktop version of Photoshop CS5. A new cross-platform Photoshop Touch SDK (Software Development Kit) will enable developers to take advantage of these functions.

This new capability provides a direct link between Photoshop CS5.1 and mobile devices and tablets, allowing the creation of companion apps. Some example apps: creating paintings and sketches (Adobe Eazel) or mixing colors (Adobe Color Lava) and seeing these results back in Photoshop, controlling Photoshop's tools using the iPad as a new input surface (Adobe Nav), and so on. This expandability lets you work directly with your iPad to boost your in-the-moment creativity and inspire your best work. Read more + watch a demo.
For a bigger upgrade to Photoshop we'll look to when CS6 is released.
Note that CS5.5 will have no impact on the Camera Raw plugin.
What's New in InDesign CS5.5
Design more engaging digital publications for consumption on any device. Build engaging publications for tablet devices using Folio Producer tools that can integrate with Adobe Digital Publishing Suite. Create eBooks with embedded audio and video, logical flow, improved typography, and images that resize automatically to fit the viewer's screen. Reduce the time it takes to create PDF documents that are accessible to people with disabilities. Take advantage of built-in tools for design, preflight, and deliver of documents for print or digital distribution.
New features:
Folio Producer tools – Create, preview and bundle engaging digital documents for tablets
Access to the Adobe Digital Publishing Suite – For production, distribution, and analysis
Enhanced eBook/EPUB authoring – Dynamic image resizing and embedded video & audio
New Articles panel – Control the sequence of text, images, and graphics when you export
Linked text – Link identical text blocks within a layout for consistent changes across doc
Styles mapped to tags – Map styles directly to HTML, EPUB, and PDF tags for standards
Dragging and dropping of anchored objects – Add objects quickly and intuitively
PDF accessibility enhance­ments – Streamline the creation of documents accessible to all
Open source dictionaries – Use freely accessible open-source dictionaries in your work
…plus more, or download a free trial
What's New in Dreamweaver CS5.5
Design, code, and package websites for phones and tablets. Build cutting-edge HTML5 and CSS3 websites with code hinting and Live View rendering. New levels of interactivity are now easier with jQuery hinting support. The Multiscreen Preview panel allows you to design for multiple devices concurrently. Deploy more securely with new FTPS and FTPES support and enhanced Subversion software functionality. You can now package for iOS and Android with PhoneGap functionality integrated directly into Dreamweaver. Enhanced code hinting includes custom function introspection and PHP 5.
New features:
jQuery Mobile integration – Simple to add a wide range of interactivity to web pages
PhoneGap integration – Build, convert, and package native apps for Android and iOS
W3C validation – Ensure the accuracy of your standards-based web designs with W3C
FTPS and FTPES support – Deploy files more securely with enhanced FTP support
Improved Multiscreen Preview panel – Design for a range of devices in a single panel
Enhanced CSS3 and HTML5 support – Code for the future with the latest features
Cutting-edge Live View rendering – Now with an updated WebKit rendering engine
Better CSS inspection – Without reading code or needing to use a separate utility
…plus more, or download a free trial
What's New in Flash Professional CS5.5
Simplify the creation of immersive experiences that present consistently across desktops, smartphones, tablets, and televisions. Target the latest platforms, including Adobe Flash Player 10.2, Android, Apple iOS, webOS, and Adobe AIR 2.5. Manage multiple FLA files that target various devices, and efficiently create, test, package, and deploy content. Use the improved Code Snippets panel to visually preview and add over 20 new code snippets, including ones optimized for mobile and application development. Help ensure the integrity of your files with a new auto-save and file recovery feature, copy and paste layers, and intelligently scale artwork.
New features:
Expanded platform & device support – Reach audiences on the latest players & runtimes
Efficient workflows for mobile dev – Manage multiple FLA files for different devices
Content scaling when resizing stage – Quickly optimize for different screen sizes
New code snippets & improved code snippets handling – Speed with the new pick whip
Seamless mobile testing – Run and test content directly on the device over USB
Incremental compilation – Use asset caching to reduce compile time and deploy faster
Pinning support for inverse kinematics – Define more complex kinematics movement
Enhanced layer controls – Copy and paste layers across multiple files and projects
Symbol rasterization – Use new options to easily export content as bitmaps
Work with the latest device profiles – With Adobe Device Central CS5.5 emulation
Streamlined publishing and document settings – Change settings quickly and efficiently
Auto-save and file recovery – Protect your work with this new safeguard
…plus more, or download a free trial
What's New in Flash Catalyst CS5.5
Rapidly prototype user interfaces for Flex based websites and applications. Collaborate intelligently, and roundtrip projects with developers who use Flash Builder 4.5. Create resizable applications and components, craft more precise and expressive transitions and effects, and efficiently design developer-built custom components. Build wireframes faster with a new Common Library panel, a new Align panel, and numerous user-requested enhance­ments. Publish projects as SWF or Adobe AIR files, and leverage the reach and consistency of the Adobe Flash Platform.
New features:
Full designer-developer workflow – New bidirectional collaboration with FB 4.5
Resizable applications and components – Fit various screen sizes or resolutions
Enhanced timelines and animations – Easily craft expressive transitions and effects
Common Library panel – Quickly design with native components and placeholder graphics
Custom skinnable components – Craft the visual appearance of custom components
Global interaction targeting – Define user interactions more efficiently
New Align panel – Better align and distribute objects with the new Align panel
…plus more, or download a free trial
What's New in Flash Builder 4.5
Take advantage of new support for mobile application development and testing, significant coding productivity improve­ments, and a new roundtrip workflow. Using Flash Builder 4.5 Premium and Adobe Flex 4.5 ("Hero"), you can leverage a common code base to write appli­cations for Android, Apple iOS, and BlackBerry Tablet OS, while sharing code from your web and desktop applications. Code faster using new code templates, code completion, and code-generation features. Target multiple versions of the Flex framework, leveraging new Premium features to help accelerate the development and maintenance of older versions of Flex.
New features:
Mobile application development for multiple mobile platforms – Major mobile support
Preview, debug, and profile mobile applications – One-click using emulator or device
Package and sign mobile applications – Deploy, package, and sign required resources
Code templates – Leverage best-practice code templates (snippets) for ActionScript
Metadata code completion – Suggestions enhance existing content assist functionality
Code generation – Use Quick Assist/Fix to access a wide range of development aids
Designer-developer project workflow – New roundtripping with Flash Catalyst CS5.5
Custom Spark component creation for designer skinning – Rapidly prototype and build
Customizable Flash Builder – Customize how Flash Builder generates code and keys
Design View improve­ments – Accelerate development with enhance­ments to Design View
Latest platform support – Benefit from broad new platform support
Improved performance to support large-application development – In 60% less time
…plus more, or download a free trial
What's New in Premiere Pro CS5.5
Edit video faster than ever with Premiere Pro CS5.5's robust toolset. Experience the benefits of true native format support and breakthrough performance with the Adobe Mercury Playback Engine (see all supported graphics cards), now offering 64-bit support and GPU acceleration on workstations and laptops. Efficiently export to a wide range of devices, work easily with dual-system sound, enjoy enhanced project exchange with Final Cut Pro and Avid software, as well as other Adobe software and gain a highly efficient editing workflow that dramatically boosts your productivity.
New features:
Flexible, precise, and reliable editing tools – Edit powerfully the way you want
Even faster Adobe Mercury Playback Engine – Now on laptop and desktop computers
Speedy, reliable encoding for multiscreen delivery – With Adobe Media Encoder CS5.5
Roundtrip workflows with Adobe Audition – Audio workflows with new Audition CS5.5
Direct integration with Adobe Story – Import Adobe Story scripts, including metadata
Closed-captioning support – Play back and display 608 and 708 closed captions
Enhanced Canon XF native support – Preview Canon XF footage + use camera metadata
Streamlined collaboration – enhance­ments with Final Cut Pro and Avid Media Composer
…plus more, or download a free trial
What's New in After Effects CS5.5
Smooth unstable camera moves with the new, high-quality Warp Stabilizer, and create beautiful depth-of-field effects with the Camera Lens Blur effect integrated with the camera. Timecode support takes the guesswork out of editing source footage. Quick stereo 3D setup adds to a fast, native 64-bit workflow, while Roto Brush and Imagineer Systems' mocha (included) streamline compositing projects. Continue to work smoothly with colleagues who have not yet upgraded with the option to save the project in After Effects CS5 format. Add natural falloff to 3D lights. Work with a wide variety of formats, including RED Rocket with RMD metadata, XDCAM EX, and CinemaDNG.
New features:
Warp Stabilizer – Make your footage look like it was shot on a Steadicam or camera dolly
Camera Lens Blur – Create soft-focus effects with fantastic depth-of-field control
Source timecode support – Take the guesswork out of source footage edits
Stereoscopic 3D workflow improve­ments – Animate & composite 3D projects more easily
Light falloff – Control how light intensity falls off across 3D distances, like in real life
RAW digital cinema workflow improve­ments – Gain instant access to HD source formats
Color LUT support – Get consistent color in your workflow by using industry standards
XDCAM EX export – Lets you roundtrip footage shot on popular Sony cameras
Save As After Effects CS5 – Work on projects with colleagues still using AE CS5
More efficient rendering – Benefit from improved disk caching + other performance wins
…plus more, or download a free trial
What's New in Audition CS5.5
Bring new efficiency and editing power to your post-production project with Adobe Audition CS5.5, now available for both Mac OS and Windows. A supercharged, new audio engine helps you get more done quickly with background processing, simultaneous multiple sessions, and effects-editing during playback. Native, multichannel file support lets you apply the best editing and effects in the business to your surround projects. New and improved noise reduction and sweetening make it easy to clean up production audio. With the versatility that fast-turn projects require, Adobe Audition gives you complete control over every aspect of your audio.
New features:
Audition joins the Creative Suite family – New Audition replaces Soundbooth in the suite
Native Mac OS support – Record, mix, edit, and master with new cross-platform toolset
High-performance audio engine – Work faster throughout the audio production process
Roundtrip editing with Premiere Pro – Sweeten audio for video easily with full integration
Project exchange with third-party NLEs & popular DAWs – Move sessions + share files
Native 5.1 multichannel support – Edit multichannel and mix your projects in 5.1 surround
Royalty-free content in Adobe Resource Central panel – Thousands of sound effects
Native audio effects – Improve performance with native support for audio effects
Simplified XMP metadata panel – View and edit XMP metadata using a simplified interface
Auto-saved XML session files – Save your sessions in the robust and flexible XML format
High quality DSP effects – Improve audio with professional effects
History panel – Edit, arrange, and mix with confidence, knowing you can easily revert back
…plus more, or download a free trial
What's New in Acrobat X Pro
Experience the full power of Adobe Dynamic PDF to deliver next-generation PDF communica­tions. Customize PDF Portfolios with an all-new collection of professionally designed layouts, visual themes, and color palettes. Use the new Action Wizard to automate, standardize, and share multistep tasks. Search and reuse scanned content with greater accuracy through improved optical character recognition (OCR). Seamlessly integrate PDF files into SharePoint workflows. Confidently send large files with easy-to-use services at Acrobat.com.
New features:
Assemble PDF Portfolios – Quickly assemble content using the new PDF Portfolio Wizard
Automate tasks with the Action Wizard – Create, manage, and execute frequent steps
Improve scanning results – Enjoy improved scanning, OCR, and export to Word or Excel
Integrate with SharePoint – Work seamlessly with PDF files stored in Microsoft SharePoint
Streamline commenting – Access comments and markup from a single, unified tool pane
Access frequently used tools – Add your favorites to the Quick Tools area for fast access
Optimize PDF file viewing – Maximize screen with new Reading Mode heads-up display
Improved web experience – Open and view online PDF documents faster and easier
Work with Office 2010 – Create PDF files with a single click from within Microsoft products
Share files online at Acrobat.com – Now send large files easily and with confidence
…plus more, or download a free trial
And Illustrator, Fireworks, Contribute CS5
These tools stay at CS5 for this release. See when CS6 could be available.
What's New in the CS5.5 Suite Editions
The new suite offerings remain structurally similar to CS5… There are five suites: CS5.5 Design Premium & Standard, CS5.5 Web Premium, CS5.5 Production Premium, and CS5.5 Master Collection. The different suite configurations are the same as before except Audition CS 5.5 merges with and takes over for Soundbooth CS5, and then all the other components enjoy the upgrades detailed above. Flash Builder 4.5 also moves to the Premium version from the Flash Builder 4 Standard which was included in the CS5 suites.
Differences from Older Versions (CS4 or CS3)
What if you're not currently on CS5, but would like to compare from prior versions of Creative Suite? Like upgrading from CS3 to CS5.5, or from CS4 to CS5.5…
To answer that, check out the differences between Adobe CS3 vs. CS4 vs. CS5 vs. CS5.5 – for the complete picture!
---
Read more about how CS 5.5 is different in other ways, or on the key launch details…
Or see a replay and transcript of Adobe's "What's in CS5.5 for Me?" Q&A session.
If you're interested in Adobe products, try subscribing to our RSS feed or follow us on Facebook or Twitter… You can also enter your email and have new articles sent directly to your Inbox. We are reader-supported; when you buy through links on our site, we may earn an affiliate commission.