[Now updated for CS 5.5… Also find out more on the complete differences from CS5.]
One of the most common upgrade questions we see out there is asking what's new, what's different, what's better, what's changed between Adobe CS5.5 and CS5 or CS4? Or more fundamentally, what are the key new features in CS5.5, versus earlier versions, even CS3?

Creative Suite 5 contains hundreds of new or enhanced features and func­tions across the 13 point products that comprise it. So the easiest way to look at it is by major product… For example, Photoshop CS5 Extended con­tains 18 new features that CS4 didn't have, plus a further 14 more that have been enhanced. The numbers are similar for other products and even greater over CS3 of course – although generally speaking CS5 has significantly more improve­ments and innovation compared to CS4 than CS4 had over CS3.
Creative Suite 4 was certainly a capable release (we used it here every day), but some folks have com­mented that CS5 is really the release they wanted when CS4 came out and that CS5 is a game-changer over both previous versions… On that account, we haven't seen a bad review of CS5 yet.
Creative Suite 5.5 adds further to this with significant new features and enhance­ments in the areas of mobile, publishing, HTML5, video, audio, and Flash… Read our full release guide for CS5.5, or find out even when CS6 is due.
So here they are, the breakouts by individual product – the CS5.5 vs. CS5 vs. CS4 vs. CS3 version comparisons: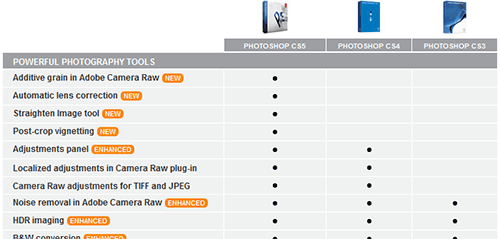 See also our new focused comparison of CS5 vs. CS5.5, including specific details on all the new features added.
Keep up with the latest on Adobe software — follow us on Facebook or Twitter, or subscribe to our RSS feed… You can also enter your email and have new articles sent directly to your Inbox. We are reader-supported; when you buy through links on our site, we may earn an affiliate commission.