[UPDATE (May 2012) – Creative Suite 6 is now shipping!]
It's common for folks to want a sense for when Adobe's new releases of Creative Suite are coming out. And we've covered this topic before for CS5, ahead of its launch date.
But regarding the future now…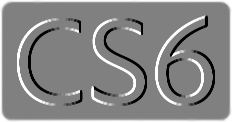 On Tuesday much was shared, as we learned Adobe is preparing a "mid-cycle release to CS5," which will be available later this year is out now (CS5.5).
On the same publicly-available conference call, Adobe CEO Shantanu Narayen also gave some guidance on the possible roadmap for the company's CS products going forward… And the news is: the CS5 cycle still has a lot of time and runway left:
Question

And with respect to the CS5 mid-cycle release, is that going to impact the timing of CS6?

Adobe CEO

Well, I think the way you can look at that is the real goals for the mid-cycle release are to continue to enhance the functionality, as I mentioned… [see the features hinted for a likely CS5.5]

And then you can expect another release in 2012.
So right there he's implying Adobe CS6 would ship sometime next year, a good ways down the road…
Of course, Adobe develops this software on a continual basis, so there is always the next version of Creative Suite coming at some point… It's easy to get paralyzed by that. As with any technology (software or hardware), steady evolution means that anything you buy today will eventually be supplanted with a future release or model. But, we all still have to get our daily work done – and the software saves time (equals money), so arguably there's good benefit to running the most productive (latest) versions sooner rather than later.
More on timing:
Question

I remember a mid-cycle release between CS2 and CS3. That was a 24-month cycle between 2 and 3, obviously with 2.3 in between. Have there been other meaningful mid-cycle releases since then, or is this going to be the first time since that point?

Adobe CEO

No, I think traditionally we've added Acrobat because Acrobat is on a different product cycle than Creative, because Acrobat is also used a lot by the Creative community in terms of updating the releases. But for the most part, I would say that this is really a new strategy and given all of the functionality that we're putting in with respect to multiple screen as well as Digital Publishing Solution. We also did things like bundled the Macromedia products when we acquired Macromedia, but I would say this is really the first significant mid-cycle release.
So Adobe is clearly indicating this CS5.5 is going to be a bigger upgrade than CS2.3 and CS3.3 were in their time… But the company is also saying their release strategy is actually shifting here, and they are being open about it:
Question

How should we think going forward here with your recent commentary over the past couple of quarters of more incremental updates and releases to Creative Suite? Should we think of 24-month cycles now, with 12-month (call it) interim releases? Is that kind of the cycle we should start thinking about going forward?

Adobe CEO

Yes, I think order-of-magnitude that's a good way to think of it. We want to continue to deliver value to our customers and keep them on the current releases. And I think we've talked about for the amount of fundamental innovation that continues to go in, a 24-month cycle is a good timeframe for us to update most of the customers. But there's significant value that we can continue to provide on an annual basis, and that really is our goal.

Question

So then just to confirm, you said the next milestone release after the mid-cycle release will be in 2012. Is that correct?

Adobe CEO

That's correct.
[UPDATE (April 11th) – Adobe now confirms: A new release strategy for Creative Suite.]
See Also
— CS6 Grace Period! Buy CS5.5 Now + Get Free Upgrade to CS6 When It Ships
— Adobe: CS6 on Track for "Late in Q2" with Very Compelling New Features
— Sneak Previews of CS6: Dreamweaver, InDesign, Flash Pro, Illustrator & Premiere
— Win New Photoshop CS6 + Lightroom 4 FREE! ($1000 Giveaway)
— What's the Difference Between Photoshop CS6 vs. CS5 – What's New in Features?
Give your input before it ships – what would
you
like to see in CS6? Please share your thoughts below or at Adobe's
official feature request "wishlist"
…
To follow this story going forward, subscribe to our RSS feed or like us on Facebook or Twitter… You can also enter your email and have new articles sent directly to your Inbox. We are reader-supported; when you buy through links on our site, we may earn an affiliate commission.