We've seen a few sneak peeks already of what Adobe's working on now in Photoshop – but this new one is the best to date, it's pretty incredible… They don't say which release these capabilities could make it in (or when), but presumably it's Photoshop CS6.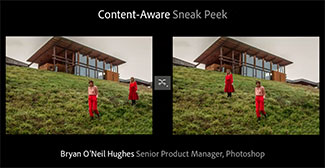 This new demonstration takes the much-praised concept of Content-Aware Fill that was introduced in Creative Suite 5 and carries it much further with new Content-Aware Move, Extend, and Patch tool features. It's hard to explain but you can see how it works with the 2½ minute video below.
Last month we actually put together a guide to getting the best results with Photoshop CS5's Content-Aware Fill, but these new tools clearly make the work much faster, simpler, and more flexible… and dare we say magical (see the "before and after" screengrabs below the video).
See more advanced features of Photoshop Content-Aware technology. Straight from Photoshop Senior Product Manager Bryan O'Neil Hughes, this video shares how to seamlessly move, extend, remove, or patch an object from an image.
Roll over the image with your mouse (or tap) for the before and after results – wow: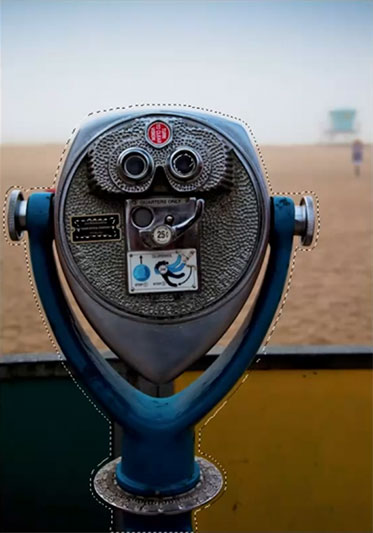 Bonus! Another new sneak peak here: the next version of Photoshop should be able to smoothly migrate presets from your previous version(s), as well as import and export these settings for easy sharing. There will also be the ability to duplicate multiple selected layers and layer groups with Cmd-J, plus Adobe is bringing back Contact Sheet and PDF Presentations in Photoshop. Finally, they've knocked out many smaller "JDI" requests (meaning Just Do It) from customer feedback – like brush improve­ments, new file formats, and better printing:
See the 3 earlier Photoshop Sneak Peeks, and the 3 later ones, or when we estimate that CS6 will be shipping.
Check out the Photoshop Image Deblur demo from Adobe MAX in L.A. – plus more before-and-after photos deblurred by the technology.
Watch tutorials with current Content-Aware Fill tricks & techniques.
Give your input before it ships – what would
you
like to see in CS6? Please share your thoughts below or at Adobe's
official feature request "wishlist"
…
To follow this story going forward, subscribe to our RSS feed or like us on Facebook or Twitter… You can also enter your email and have new articles sent directly to your Inbox. We are reader-supported; when you buy through links on our site, we may earn an affiliate commission.