[UPDATE – See all of Adobe's current deals & discounts!]
Adobe recognizes that many people use both Lightroom and Photoshop in their workflows, and so is offering a special deal where you can save 30% off the full version of Lightroom 4 if you purchase it together with the new Photoshop CS6 in any form. This means if you buy Photoshop CS6, Photoshop CS6 Extended, or any CS6 suite edition (which all contain PS), you'll get 30% off Lightroom when you buy them at the same time.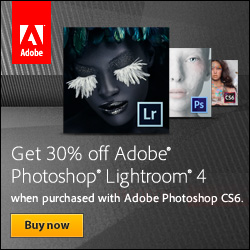 And it works for either buying the full version or upgrading from an older version of Photoshop or the CS suite… So if you are buying Lightroom for the first time, you'll get 30% off the price of the full version (normally $149/€109/£87) – and in the U.S. they round this down to just $99. No promotion code is required to activate the discount, which will be reflected in your shopping cart just prior to checkout. This offer is valid worldwide until Decem­ber 31st, 2012, but pricing is available only through the online Adobe Commercial Store (in other words, Volume and Education customers are not eligible, perhaps because the LR4 student edition is already US$79).
These are both brand-new releases – for what's changed, see What's New in Lightroom 4 and What's New in Photoshop CS6…
Lightroom with Photoshop – Frequently Asked Questions
What is the difference between Lightroom and Adobe Photoshop?
Lightroom is an end-to-end photography solution designed expressly for digital photograph­ers, helping them work faster and more efficiently with one image, an entire shoot, or a large image library, while maintaining the highest quality. Photoshop is the industry standard in digital image editing, with advanced tools used by photographers, graphic designers, and other professionals for detailed, pixel-level editing and compositing, and working with multi­layered files.
Why should I use Lightroom if I already have Photoshop, or vice versa?
Lightroom is designed to boost your efficiency by handling the essential tasks a digital photo­grapher faces in one intuitive environment. It includes powerfully simple one-click adjustments, as well as the widest range of advanced tools for efficiently processing entire shoots, manag­ing photo libraries, and showcasing images. When you need it, tight integration between Lightroom and Photoshop lets you easily take advantage of the power of Photoshop for more complete creative control, high dynamic range photos, and panoramas, all with pixel-level accuracy and precision.
Is Lightroom included in Adobe Creative Suite?
No. On the whole, Lightroom and Adobe Creative Suite address different audiences. Creative Suite is primarily focused on design and the delivery of rich creative experiences while Light­room addresses the needs of advanced amateur and professional photographers.
What is Adobe Bridge, and what is the difference between Bridge and Lightroom?
Adobe Bridge is a file browser and file management application that is included with Photoshop CS2 or higher and Adobe Creative Suite. Bridge is designed to work with a wide variety of graphics, image, and video file types to manage files in varied workflows involving all the applications in Creative Suite. Lightroom and its file management functions are tailored specif­ically for the digital photography workflow. Lightroom unites your key photography essentials, including image editing, in one intuitive application. Lightroom uses file importing and a data­base structure that speeds up searches and enables Lightroom to store information about as well as display images on offline media. Bridge cannot display offline images.
To learn more, see the Complete Photoshop Family page, as well as a more detailed comparison on the major differences between Photoshop vs. Lightroom.