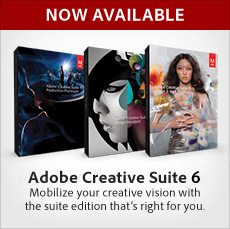 Creative Suite 6 was released today – and is now available through Adobe's Business Store, which was formerly called the Volume Licensing Store…
But this online store is not just for businesses or big volume – it's for anyone who would like to run more than one copy of the CS6 software at one time, or has multiple concurrent users. The standard licensing for Adobe's off-the-shelf retail products permits only a single user running on up to two installed computers – which is usually not enough for most members of a company, group, office, team, school, or enterprise. And it's occasionally not enough for some homes!
[UPDATE (February 2013) – Adobe is no longer offering the older option described here, so now customers who would like to buy multiple copies of creative software for their groups or teams are using this solution instead.]
Regardless, the benefits of going with an Adobe CS6 volume license even for a simple or small purchase are numerous and clear:
A single serial number for all installations, open and switchable.
The license management and maintenance is easier and flexible.
The number of seats you buy is how many users can run the product.
Adding new users or additional computers (as needed) is simple and fast.
You can install on both the Windows and Mac platforms simultaneously.
You can access and run older versions if you need to, like Creative Suite 5.
There is no paperwork and no signature "contracts" to sign.
You can buy online with a credit card with no minimum order size.
PayPal and purchase orders are also accepted, if you prefer.
You can get just a single copy (one user license) if you like, not volume.
Instantly download the software online for free (or get media by mail).
All CS6 suites & products (Photoshop, Dreamweaver, Acrobat, etc) qualify.
Easy web-based license management tool for all seats in your organization.
Just like elsewhere, each user's license can install on up to two computers.
Convert a standard Adobe trial to volume-licensed just by entering the key.
In some cases, set up a flexible or floating license scheme across a network.
Gain access to the Adobe licensing community and associated resources.
Volume licenses are transferrable or resellable to other users, if necessary.
Can get credit for past qualifying purchases of retail or off-the-shelf versions.
No sign-up or membership or subscription costs, no hidden or extra fees.
Despite the name, the online store is not just for businesses or large purchases.
Called TLP (Transactional Licensing Program), it gives options not found elsewhere.
Offered for all: individual, commercial, academic, or government customers.
Now open for education too: schools, colleges, universities, students & teachers.
Available direct from Adobe all over the world – with no reseller needed.

Questions about how it works? Please see our previous in-depth article on Creative Suite volume licensing for all the answers and details on the program.
Or go right to the Adobe Business Store to see all the CS6 products plus more information, including an Instant Quote for the applications you're interested in, no matter how many seats for your group or site.
Not in the U.S.? No worries… Adobe now has online volume licensing stores all over the world – in North America, Europe/UK, Asia, and Africa… Just visit the Adobe Store Selector and choose your country, and then "Business Store." That's it – buy and download (or ship) your volume-licensed product in your local currency with your local address.
See Also

Do you have any questions about CS6? Just ask them below and we'll get you answers fast!
Keep up with the latest on Adobe software — follow us on Facebook or Twitter, or subscribe to our RSS feed… You can also enter your email and have new articles sent directly to your Inbox. We are reader-supported; when you buy through links on our site, we may earn an affiliate commission.