[UPDATE – Also see our new Spring Creative Cloud 2023 Giveaway!]
There's no doubt that Creative Suite 6 will be out sometime later this year… We have a pretty good sense of when, but we'd like to get a leg up on the release and give out a brand new boxed copy of Adobe's forthcoming top-of-the-line CS6 suite to our amazing readers who have helped build our site to what it is today…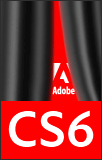 Yes, that's right, this is it: the big enchilada, the numero uno, the biggest of the best Adobe premium suites – it's CS6 Master Collection, containing nearly every great application that Adobe makes! It includes Photoshop Extended, Dreamweaver, Acrobat Pro, InDesign, Illus­trator, After Effects, Premiere Pro, and many more – see all the applications it will likely contain when released.
We've given away a lot of software over the years, but this prize is our largest ever… And it's not an upgrade or an education version – this is the shrinkwrapped, full commercial English release of CS6, which has been generously furnished by Adobe. Master Collection currently sells for $2,599 / €2,899 / £2,303 – and collectively the 15+ major programs within are worth $7,587 if purchased separately.
So what new features will be in CS6, compared to CS5.5? Well, we have a good sense of Photoshop CS6 already through the free beta release download… For the other products, Adobe's CEO dropped some hints recently, in addition to nearly a dozen sneak peek videos, plus the inside scoop on the CS6 video products.
How to get it? Well, it's easy to enter. The contest is open to residents of North America, U.K., Europe, Australia, New Zealand, and South Africa – and all you need to do for a chance to win is one (or more) of the following:
(1) Like our Facebook page (see Like in "Subscribe" box at upper right) — and then also
Share this post by clicking the blue Share button just above.
 = and/or =
(2) Follow us on Twitter (can use Follow in the "Subscribe" box up top) — and then also
Tweet this post by clicking on the grey Tweet button just above.
 = and/or =
(3) Enter your email for our free exclusive Adobe Special Offers e-Newsletter in the sidebar to the lower right (with important news and coupon codes, never spam, and unsubscribe at any time)… Current subscribers can just re-enter their address.
 = and/or =
(4) Leave a comment below answering this question: "What do you plan to do with Adobe Creative Suite 6?"
That's it! Each of these actions counts as a single entry into the drawing – so if you do all four, you would receive 4 different chances to win the CS6 Master Suite. Be sure your email is correct and current so that we can contact you. One entry per reader for each method, but please do share and tell your friends and colleagues who would like the software as well.
Submissions are open until 11:59pm EDT on Wednesday, April 18th, 2012. The winner will be drawn at random from all valid entries, and contacted via email – and we'll announce the lucky recipient (first name only) right here the following week. If you're the one, we'll ship you a shiny new box of Adobe CS6 Master Collection the moment it's available, for free!
See Also
— CS6 Grace Period! Buy CS5.5 Now + Get Free Upgrade to CS6 When It Ships
— Adobe: CS6 Due Out "Late in Q2″ with Very Compelling New Features
— Revealed! What's New in CS6 for Premiere Pro, After Effects, and Audition
— Sneak Previews of CS6: Dreamweaver, InDesign, Flash Pro, Illustrator & Premiere
— What's the Difference Between Photoshop CS6 vs. CS5 – What's New & Changed?
And in the meantime check out these great resources for Creative Suite 5:
Good luck and please spread the word!
---
Terms & Conditions
Contest is open to residents of USA, Canada, Mexico, Europe, United Kingdom, Australia, New Zealand, and South Africa, with up to four entries per person as outlined above. The sweepstakes winner will be determined at random from all valid entries. The participant whose name is drawn must respond to email notification within 72 hours after sending. Estimated retail price of the prize is US$2,600. By entering, all entrants agree to release prodesigntools.com (the Sponsor), and its employees from all liability and claims relating to participation in the contest. No substitutions or transfer of prize or cash redemptions permitted by winners. Sponsor reserves the right, in its sole discretion, to cancel, suspend or alter the rules and parameters of the sweepstakes. Sponsor also reserves the right to substitute a prize or prizes as Sponsor deems suitable in the event that prize becomes unavailable for any reason.
All federal, state and local taxes, as well as any customs duties, other taxes, fees and/or sur­charges will be the sole responsibility of the prize winners. Winners under the age of 18 (as of winner announcement date) must have their parents' and/or legal guardians' consent to accept prize. By acceptance of prize, the winners agree to release prodesigntools.com from any and all liability claims or actions of any kind whatsoever for damages. Offer void where prohibited, regu­lated or restricted by law in a manner inconsistent with the purposes and rules hereof. This promotion is in no way associated or connected with Facebook or Twitter.