[UPDATE – See all of Adobe's current deals & discounts!]
If you've been thinking of buying or upgrading to the latest version of Adobe Photoshop Lightroom, we have an exclusive coupon code that will save you 15% off the already low price of this industry award-winning product…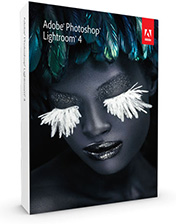 Lightroom used to sell for US$299 as recently as last winter, and then with the release of version 4 in March, Adobe dropped the price by 50% to US$149…
Now, using our new coupon code, you can get an additional 15% off that price, bringing the full version to just $127 – and the upgrade version (from LR 1, 2 or 3) to only $67! These are the lowest Adobe prices ever available for this software.
Grab this unique promotion now before it expires at the end of the month. If you're a student or teacher, you can get an even better deal with $20 off the education version of Lightroom.
Here are the details for this special clickable coupon – and note there is a different coupon code internationally:
Get 15% off Adobe Lightroom 4, full and upgrade versions.
Hurry! Ends Aug. 31st.
Promotion code and link:
PRODESIGNTOOLS15
Versions valid:
Full or Upgrade
Offer valid:
August 15, 2012 – August 31, 2012
Countries valid:
North America (USA, Canada, Mexico)
Get 15% off Adobe Lightroom 4, full and upgrade versions. Also valid internationally!
Promotion code and link: LIGHTROOMDEAL
Versions valid: Full or Upgrade
Offer valid: August 15, 2012 – August 31, 2012
Countries valid: Europe (Austria, Belgium, Bulgaria, Cyprus, Czech Republic, Denmark, Estonia, Finland, France, Germany, Greece, Hungary, Ireland, Italy, Latvia, Lithuania, Luxembourg, Malta, Netherlands, Norway, Poland, Portugal, Sweden, Slovakia, Slovenia, Spain, Switzerland, United Kingdom), Singapore, and South Africa
Once the coupon is activated above, the price discount will show when you add Lightroom to your shopping cart… One discount per customer per order please!
Learn more with our Lightroom 4 Launch Guide, or compare the version differences between Lightroom 3 vs. Lightroom 4 (what's new). If you'd like some free training to really get going with the program, check out four hours of free tutorials for LR4.
To hear about future Adobe sales & deals, follow us on Facebook or Twitter, or subscribe to our RSS feed… You can also enter your email and have new articles sent directly to your Inbox. We are reader-supported; when you buy through links on our site, we may earn an affiliate commission.