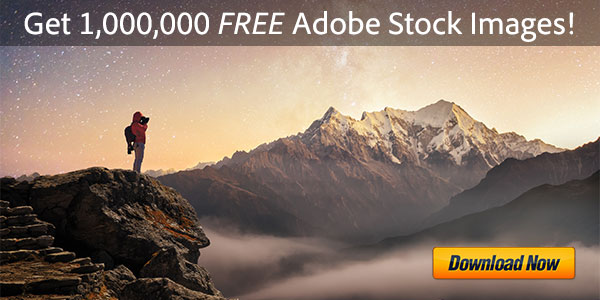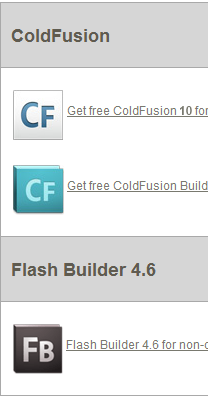 You may have heard of the recent releases of Flash Builder 4.6 (formerly Flex Builder, and part of CS6), plus ColdFusion 10 and ColdFusion Builder 2…
And we've written about this particular offer before, but it bears repeating now that we have these major product refreshes for both Flex and ColdFusion.
Adobe will give you full versions of these premium devel­opment tools (US$249 – $1,499 values) absolutely free world­wide if you qualify! And if you don't, you might know someone who does and could benefit…
Free copies of Adobe Flash Builder 4.6 Standard are given for non-commercial use to: (a) students, faculty and staff of eligible educational institutions, or (b) software devel­opers who are affected by the current economic conditions and currently unemployed.
The ColdFusion products are also available for free to educational customers, to use for learning purposes only and not for production purposes. Complimentary installation support is available, and if you are a teacher and would like ColdFusion 10 for multiple systems in your lab, you can request up to 30 education serial numbers.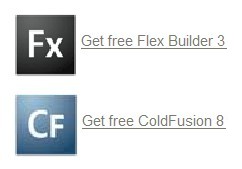 Adobe has just started a new program of giving away full versions of some of its premium development tools ($699 – $1,299 value) absolutely free if you qualify…
If you are an educational customer or an unemployed developer, Adobe would like to lend a hend. Simply certify you are a student, faculty or staff of an eligible education institution, or currently out of work – and the software is yours to download for non-commercial use.
Get your free products here.
UPDATE (August 28, 2012) – With the two new version releases out recently, the products now available for free at this site are ColdFusion 10, ColdFusion Builder 2, and Flash Builder (formerly Flex Builder) 4.6.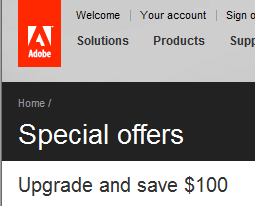 Were you aware there's a place you can go anytime 24×7 that will always show you (most of) the latest and up-to-date specials running for Adobe products?
There is. Here is the current special offers page for North America and here it is for the United Kingdom. There's also pages for Germany and France. More may be coming in the future.
Typical deals are like 10-20-30% off, or anywhere from a $25-$200 discount, or maybe a free book with purchase, depending on what's running… In recent months there have been coupon savings on the different suite editions, Photoshop, Acrobat, Dreamweaver, Lightroom, Illustrator, InDesign, Flash Pro, and Elements. The promos are always changing, so feel free to check back for updates.